In this post you will find a collection of recipes for your Gluten free Christmas Menu, that are also dairy free, egg free and corn free!
A menu for the Holidays that meets the needs of those who suffer from food allergies or sensitivity and makes meals better and tastier for everyone!
I really hope these recipes can be helpful and inspire you in the kitchen for a gluten free Christmas without sacrificing taste!
The recipes you will find are all vegan as they are free from animal ingredients and this is mostly to meet the needs of those who suffer from dairy and egg sensitivity, but of course you can adjust them to your tastes and diet.
For instance, the yeast free flat bread goes amazingly well with soft cheese. And the cannelloni and lasagna can be filled with anything from ricotta, mozzarella to a meaty ragu. No judgement here 😉
Well, here are the recipes for your gluten free Holidays! Bon Appetit!
Jump to:
Don't forget to pin this post to your favorite Pinterest recipe board!
∼ Appetizers ∼
Chickpea Fries (w/ baked option)
Call them chickpea flour fries, panisse or simply chickpea fries, these are the perfect gluten free vegan appetizer to go with your aperitif!
Grab the recipe!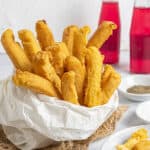 Crunchy Flatbread
This gluten free crunchy flat bread is easy and quick to make, a must have in your cheese board and perfect as an appetizer with sauces and hummus!
Grab the recipe!
Baked Veggie Tots
These Baked Veggie Tots are soft inside and nice and crispy outside, delicious when dipped in salsa or a creamy cashew sauce!
Grab the recipe!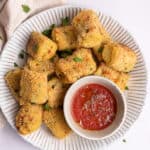 Creamy Cashew Cheese Sauce
This Creamy Cashew Sauce is a great vegan alternative to cheese sauce. It pairs amazingly with the crunchy flatbread and the veggie tots!
Grab the recipe!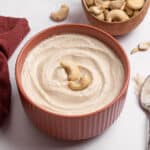 If you want more gluten free vegan appetizers, check out this roundup of recipes from all around the world!
∼ First Course ∼
Homemade Vegan Gluten free Lasagna Noodles
Easy and quick recipe for fully homemade egg free gluten free lasagna noodles, perfect for making delicious Italian lasagna or other baked pasta!
Grab the recipe!
Homemade Gluten free Ravioli Pasta (Egg free)
Easily make vegan gluten free ravioli from scratch! Egg free gluten-free homemade ravioli dough that is simple and quick to make. Perfect for your favorite gluten free filled pasta!
Grab the recipe!
Spinach Mushroom Crepes Cannelloni
The crepes cannelloni are easy to make and the gluten free and dairy free bechamel is creamy and delicious. Also, spinach and mushrooms are always a great match, aren't they?
Grab the recipe!
∼ Main Course ∼
Vegan Creamy Vegetable Casserole
This gluten free veggie casserole is creamy, dairy free and a delicious vegetarian main course for every occasion! Everyone will love it!
Grab the recipe!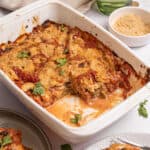 Soy free Vegan Quiche
Make your dairy free gluten free quiche with a brown rice flour base and cashew cream filling, without tofu, nutritional yeast and egg substitute!
Grab the recipe!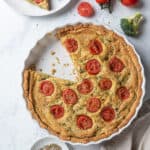 ∼ Dessert ∼
Chocolate Yule Log Cake
This gluten free yule log cake is going to be the perfect Christmas dessert, easy to make and vegan too, will make everybody happy!
Grab the recipe!
Italian Christmas Sweet Bread
This sweet bread is a simple, delicious Italian recipe for a Christmas dessert. It's also yeast free and easy to make!
Grab the recipe!
Creamy Vegan Limoncello Dessert | Soy free
This 5-ingredient vegan limoncello cream is ready in literally 5 minutes and it's soy free too. Serve it with fresh fruit and crumbled cookies for a delicious dessert!
Grab the recipe!
∼ To close the meal ...! ∼
Easy Gluten free Vegan Gingerbread Cookies
These cookies are a delicious way to close the Christmas dinner (or lunch) and a nice gift idea for your guests too 😉
Grab the recipe!
Spiced Wine Liqueur
This Spiced Wine Liqueur is easy to make, rich, dense and oh so aromatic, the perfect spirit to serve during the Holiday Season!
Grab the recipe!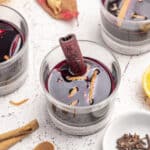 ∼ I wish you the most serene and scrumptious Holidays! ∼
If you make this recipe or have questions, leave me a comment down here! And a 5 star rating if you have loved it would help me grow the blog 😉
For all the updates, follow me on Facebook and Pinterest and tag me on Instagram if you make this or any of my recipes! I absolutely LOVE to see what you make and share it in my stories!

Ciao!
Sonia