This Gluten free Yule Log Cake is such a great dessert, easy to make and perfect for the Holidays!
You are going to need few simple ingredients to make this gluten free cake and it will make a better Christmas for those who can't have all the gluten-filled Holiday goodies!
The cake is very quick to whip together and bake, it is going to take some extra care when rolling it once it's out of the oven and when you'll add the filling and roll it back, but I'll tell you everything in the instructions, so keep scrolling for the recipe!
I really hope you will enjoy this gluten free yule log cake and if you are looking for some more gluten free treats for Christmas have a look at my Italian Pandolce: Christmas Sweet Bread and my gluten free vegan Gingerbread Cookies!
Don't forget to follow me on Instagram and to tag me when you make this or any of my recipes! I love seeing your photos!
Ciao!
Sonia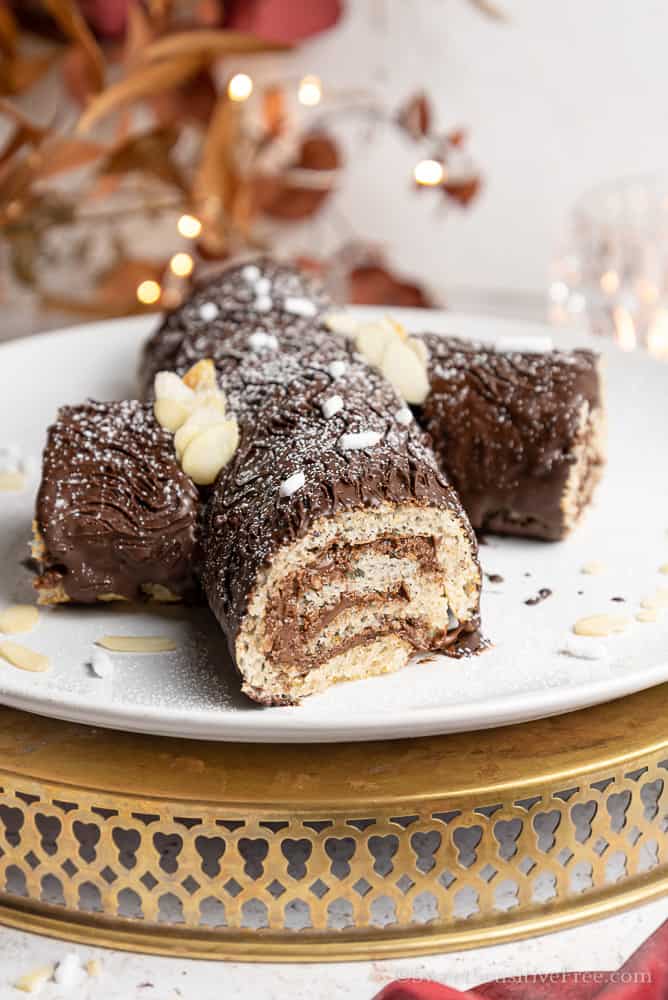 📖 Full Recipe
Print Recipe
Chocolate Yule Log Cake | Gluten free * Vegan
This gluten free yule log cake is going to be the perfect Christmas dessert, easy to make and vegan too, will make everybody happy!
Ingredients
40

gr

Gluten free potato (or other) starch

100

gr

Gluten free white rice flour

30

gr

Brown sugar

2

teaspoon

Baking powder

⅓

tsp

Guar gum (optional)

1

teaspoon

Vanilla extract

30

gr

Seed oil

140

gr

Gluten free plant based milk

(best if soy)
To moisten the cake
a mix of water + sugar / water + rum / orange juice
For the filling
you

can

use either whipped cream, custards, spreads or jams
For the decoration
dairy free dark chocolate

powdered sugar

sliced almonds

berries / pomegranate seeds
Instructions
Pre heat the oven at 160° C / 320 F

in a bowl mix starch, flour, sugar, baking powder (guar gum if you want to) and mix well

add vanilla extract, oil and milk and whisk well until you have a smooth, clump-free batter that is not too liquid and that can be spread with a spatula

cover a baking sheet with parchment paper (I used a 35*25 cm one) and spread the batter on it until you have a rectangle that is less than half inch thick

bake for 12-15 minutes max, the cake needs to be golden and soft (or it will crack when rolling)

once it's out of the oven, wait a couple minutes then very carefully remove it from the parchmament paper and place the cake on top of it again

place a napkin on top of the cake and carefully roll them together along the longer side

let the cake roll rest for at least 10 minutes

in the meanwhile prepare your favorite filling, I've used a simple vegan chocolate spread, but you can go for whipped cream, custards or simply jam

you will also need a liquid mixture to moisten the cake before filling it: you can either mix some water with sugar, or water and rum or some orange juice aswell

now unroll the cake, remove the napkin and lightly wet the cake with the liquid mixture

evenly spread the filling of choice in a thin layer all over the cake

with the help of the parchment paper roll the cake up again and close it at the two ends

refrigerate for 15-20 minutes

once out of the fridge, cut half an inch out of the two endings (so you'll have a clean cut of the roll) and cut 2 small slices to place at the sides of the longer cake

I covered the yule log with melted vegan dark chocolate, let it rest for a few minutes so that it solidifies a bit then created the "bark" lines with a fork

for the decoration you can add sliced almonds, fresh berries, pomegranate seeds and dust it with powdered sugar