In the past weeks I experimented with gluten free, vegan versions of two traditional Italian Christmas goodies, the famous pandoro and panettone, two long-leavened sweet breads, the second one with raisins and candied fruit too.
Well. No hiding here. It's been a complete failure.
I ended up with baked, un-leavened frisbees that landed directly into the trash bin. Gosh I hate wasting food.
I had almost given up sharing with you some sweet, traditional Italian goodie, then I realized that the solution was much closer than I thought. Basically it was in my own home.
The Genoese Pandolce, where Genoese means from Genoa (Genova, my hometown) and Pandolce literally translates to "sweet bread".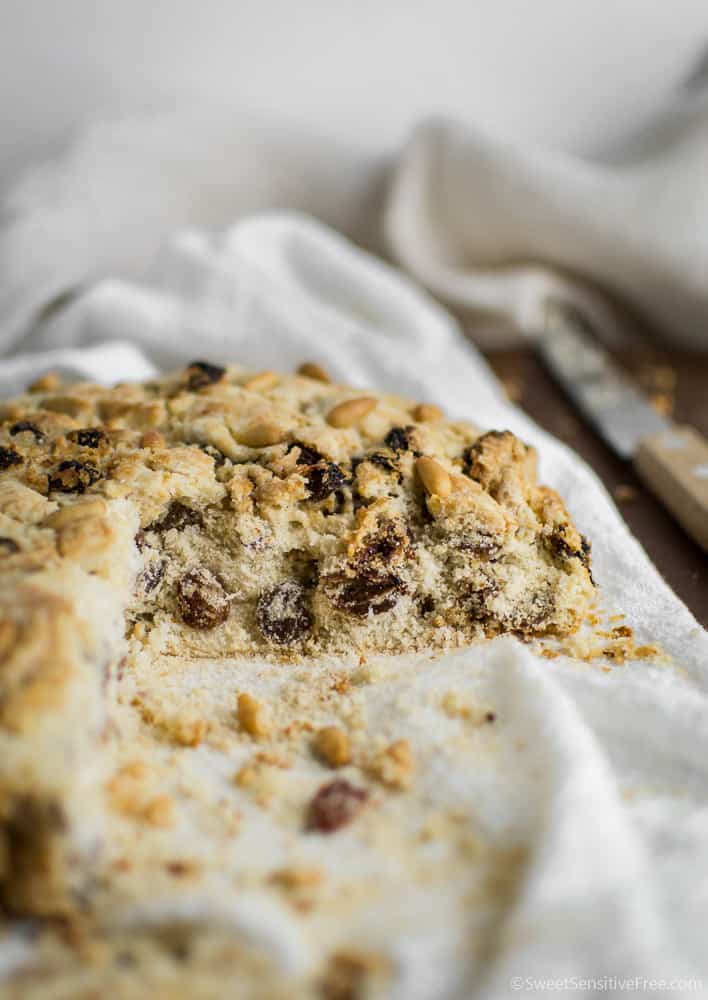 Actually we have two versions of these sweet bread, one is taller, softer and leavened, the other is lower, tasty, crumbly and yeast-free.
And I decided to try and make the second one, because it is easy, it's yeast-free (so it's perfect for those who are yeast sensitive too) and very rich in taste.
And it's the one I like the most, but let's keep it between us, shhhhhh!
It really means Christmas to me, family lunches and dinners during the Holidays, the perfect ending of a genorous, rich meal cooked by my mom and my grandma 🙂
I hope you will try and enjoy this gluten free, yeast free, vegan sweet "bread" as much as I do, it surely is a comforting Christmas sweet that will be deeply appreciated by those who suffer from food sensitivites and allergies!
Ciao!
Sonia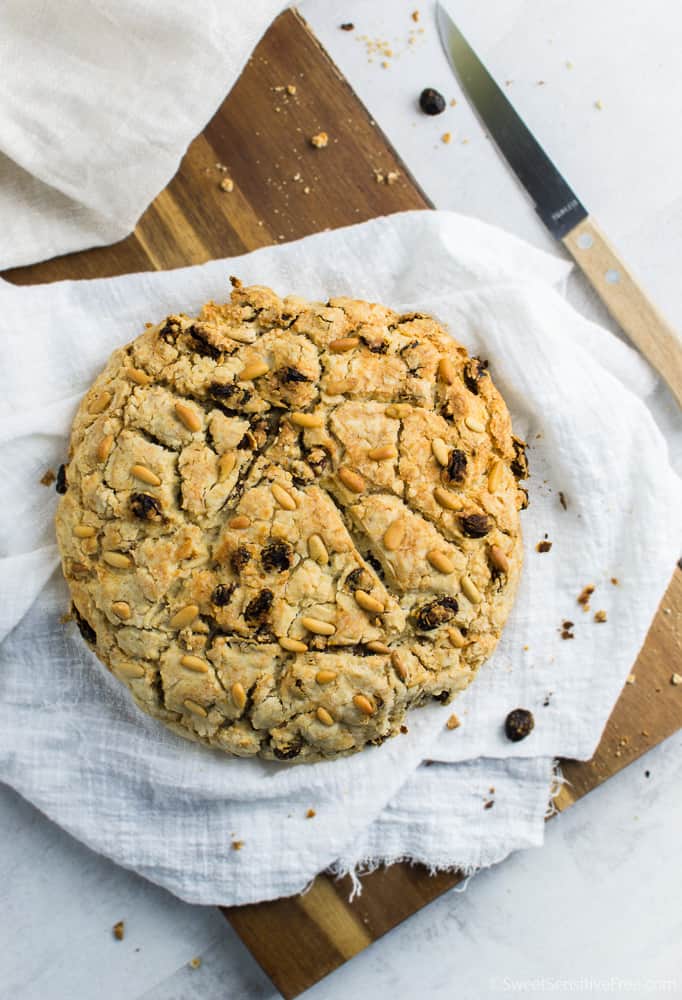 Check out the video recipe (it has english subtitles)
Print Recipe
Genoese Pandolce (Italian Christmas Sweet Bread) | Gluten free, Vegan
Ingredients
200

gr

gluten free brown rice flour

100

gr

potato or other gluten free starch

80

gr

cane sugar

⅓

teaspoon

salt

2

teaspoon

cream of tartar *

1

teaspoon

baking soda *

grated

zest

of half lemon

3

tablespoon

rum or other gluten free liqueur

200

gr

(gluten/lactose free) raisins

100

gr

margarine / vegan butter

80

gr

gluten/dairy free milk (I used soy + rice)

7-8

drops of

orange flavor

100

gr

candied citron and orange cubes (optional)

30-40

gr

pine nuts
Instructions
let the raisins soften in a bowl of hot water + the rum (or other liqueur)

in another bowl add rice flour, potato starch, cane sugar, salt, cream of tartar, baking soda, grated zest and mix well


add the margarine, the milk and the orange flavour incorporating them to the dry ingredients, first with a spoon, then with your hands (you can do this on a work surface too) until you get a uniform firmer dough, similar to a pie crust


squeeze and drain the flavored raisins


add the candied fruit (optional) and the raisins to the dough, working it another couple minutes until the fruits are all well incorporated


on a baking sheet covered with parchment paper and form a 1.5 inch thick "disc" with the dough


add the pine nuts on top as decoration, pressing them slightly so that they will stick to the dough


you can bake it immediately or refrigerate it for an hour, in order to have a crunchier, more crumbly result


bake at 160 C° / 320 F for 30 minutes


if you like a more brown crust on top, you can switch the oven to the grilling setting for another 5 minutes


let it cool completely befere serving

Notes
* cream of tartar + baking soda can be replaced with 3 teaspoon of baking powder