The other day, while taking a walk in town and checking out some shops, kinda overwhelmed by how Christmas is pretty much everywhere already, I stumbled upon (literally, as I'm not the most coordinated person on the planet) one of those towers of gingerbread cookie boxes.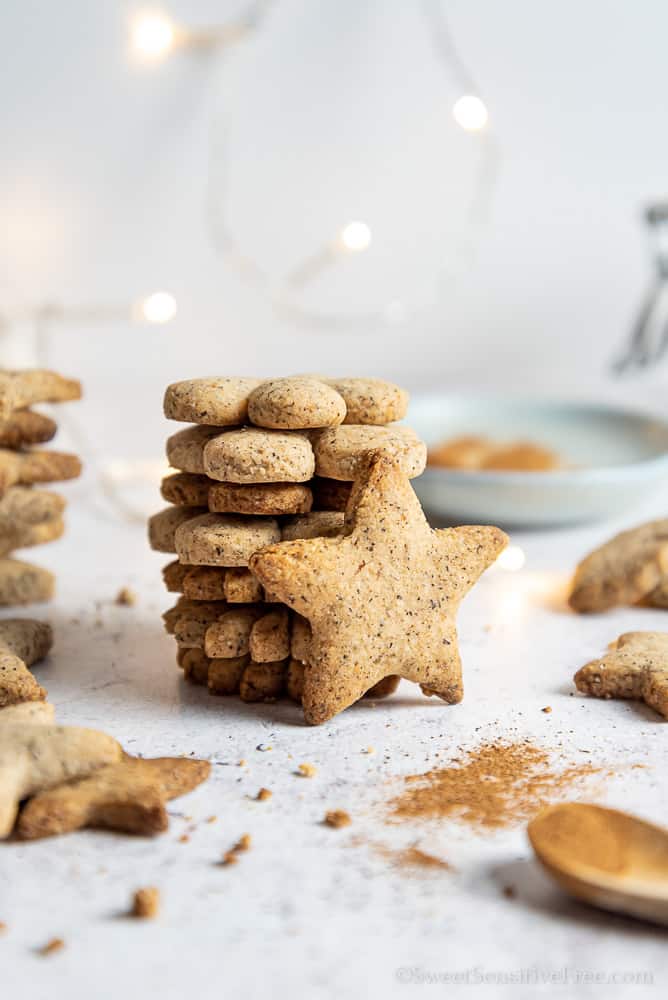 For some reason I suddenly pictured myself in front of a fireplace in a fancy mountain chalet, sipping a hot chocolate and nibbling those gingerbread cookies.
In fact a picture is pretty much as close as I can get to a fancy chalet.
Anywaaay. Out of curiosity, I checked the ingredients on the box, just like I do with everything basically and I definitely was not impressed with what was in there, so I decided to try and bake gingerbread cookies at home, not only in a healthier version, but gluten free too and using a homemade flour blend, no storebought mixes, because my "sensitive" sweetheart is always in my thoughts, when it comes to cooking! Well on many other occasions too, of course. Yet cooking is at the top of my list because I love food, so, you know ...
Well, keep scrolling down to read the recipe, I hope you will give them a try and will love them as much as I do!
These gingerbread cookies are great on their own and even better coated with dark chocolate (duh! I know), but of course you can decorate them with some sugar glaze too and make them even more Christmas-y!
I didn't do it because I'm not that good at decorating and I honestly wanted to spare me the humiliation.
If you make them, don't forget to tag me on Istangram, Twitter or Facebook, you can find all the links up up on this page!
And if you love all the gingerbread things, don't miss the recipes for my baked chocolate donuts, walnut bundt cake and gingerbread orange tart!
Ciao!
Sonia
📖 Full Recipe
Print Recipe
Easy Gluten free Vegan Gingerbread Cookies
These gluten free, vegan gingerbread cookies are so easy to make and so tasty, you will want to bake tons for yourself and as a Christmas gift too!
Servings:
20
cookies (more or less)
Ingredients
40

gr

gluten free wholemeal buckwheat flour

40

gr

gluten free almond flour (or finely ground almonds)

70

gr

gluten free potato starch (or other gluten free starch)

30

gr

brown sugar

pinch

of

salt

½

teaspoon

cinnamon powder

½

teaspoon

ginger powder

⅓

teaspoon

nutmeg powder

½

teaspoon

cream of tartar *

½

tsp

baking soda *

60

gr

margarine / vegan butter

1

tablespoon

water
Instructions
In a bowl mix well the dry ingredients first


Add the margarine/vegan butter and the tablespoon of water and start mixing everything with a spoon


As soon as big crumbs start to form, start mixing and kneading with your hand untile you will get a solid, compact smooth dough


Shape it into a ball, cover it with plastic wrap and refrigerate for at least 1 hour


Pre-heat the oven at 320 F / 160 C


Ley the dough between two sheets of parchment paper and roll it out until it's more or less half centimeter / 0,2 inches thick


Cut the dough into the shapes you want, either using cookie molds or simply a glass/cup and lay them on a baking sheet lined with parchment paper


Once you've used up all the dough, bake the cookies for 12 to 15 minutes top (check them at the base and make sure it doesn't get too dark, aka burns!)


Once out of the oven, let them cool down before removing them

Notes
* You can sub the ½ teaspoon baking soda + ½ teaspoon cream of tartar with  1 teaspoon of baking powder