Chocolate baked donuts that also taste like gingerbreads and are covered with dark chocolate and chopped almonds.
Need I say more? Ah, right, they're totally gluten free and vegan too!
They are easy to whip together and are going to be ready in a little more than half an hour.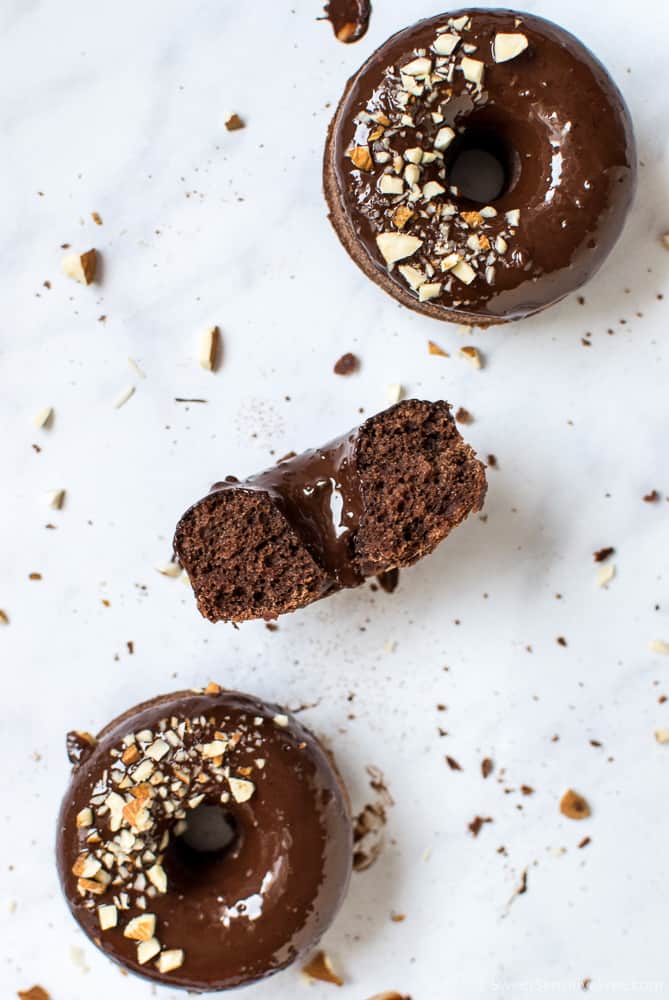 With these doses I got 10 donuts and as I couldn't eat them all at once (I manage to listen to my conscience sometimes. Yes, life is unfair) I put them in a box and into the freezer.
Whenever I crave a gluten free chocolate donut I get one out of the freezer, microwave it and they are as soft and good as freshly out of the oven.
So, let me know what you think of this recipe and don't forget to tag me on Instagram if you make them, I'm super curious to see how you decorate them!
Ciao!
Sonia
Print Recipe
Choco-Gingerbread Baked Donuts | Gluten free * Vegan
Gluten free vegan chocolate gingerbread donuts, ready in half an hour, very soft, very tasty!
Ingredients
3

tablespoon

gluten free chickpea flour

200

gr

gluten free brown rice flour

100

gr

gluten free potato or other gluten free starch

1

teaspoon

baking soda

2

teaspoon

cream of tartar

90

gr

brown sugar

3

tablespoon

cocoa powder

2

teaspoon

cinnamon powder

1

teaspoon

ginger powder

½

teaspoon

nutmeg powder

250

gr

gluten free plant based milk

50

gr

seed oil

dairy free dark chocolate

chopped almonds
Instructions
Pre-heat the oven at 180° C - 350 F

Mix the chichkpea flour with the water until there are no lumps

In a bowl mix well all the dry ingredients

Add the plant based milk and the seed oil and mix well

Incorporate the chickpea mix to the batter

Grease well the donut molds and pour the batter until you fully fill them

Once out of the oven let the donuts cool down and remove them carefully from the molds

Cover the donuts with melted dark chocolate, chopped almonds or anything you want