These Baked Veggie Tots are soft inside and nice and crispy outside, one of the easiest and best gluten free vegan appetizers ever!
These kids friendly baked vegetable tots are inspired by traditional tater tots, but definitely healthier!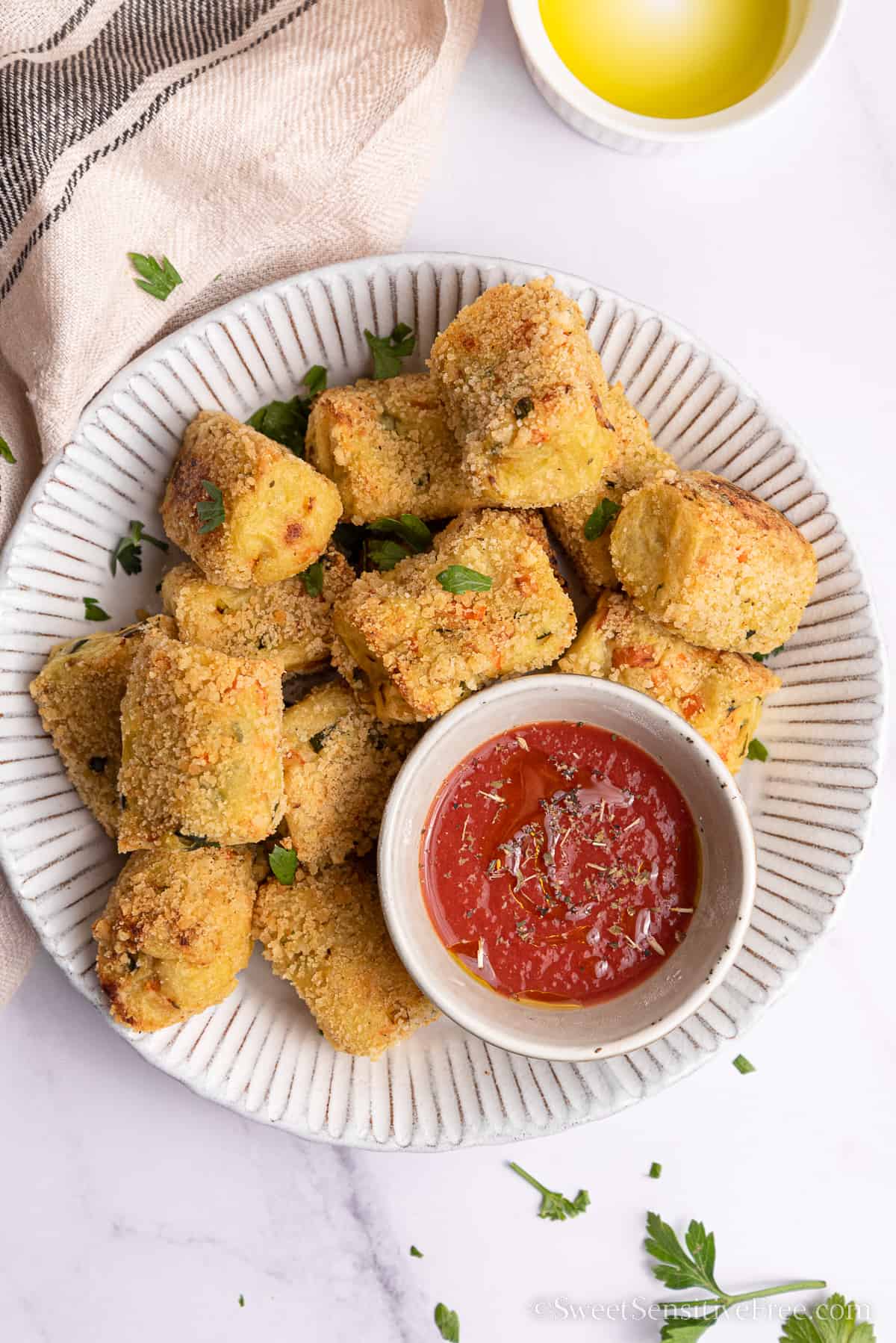 Check out my recipe for homemade gluten free vegan breadcrumbs, they are perfect to make these veggie tots crispy and golden outside!
If you enjoy tater tots, you are going to LOVE these vegetable croquettes.
And if you wonder, are tater tots gluten free?
Store-bought tater tots are usually gluten free, but some may add flour for crispiness, or not be certified gluten free due to cross-contamination with other products.
Are tater tots vegan? They should be, as they should only contain potatoes, oil, veggies and spices. Yet, some recipes to make homemade tater tots might add eggs to help them stick together, or cheese for extra flavor.
But these baked potato tots are both gluten free and vegan and just the perfect appetizer for everyone.
Jump to: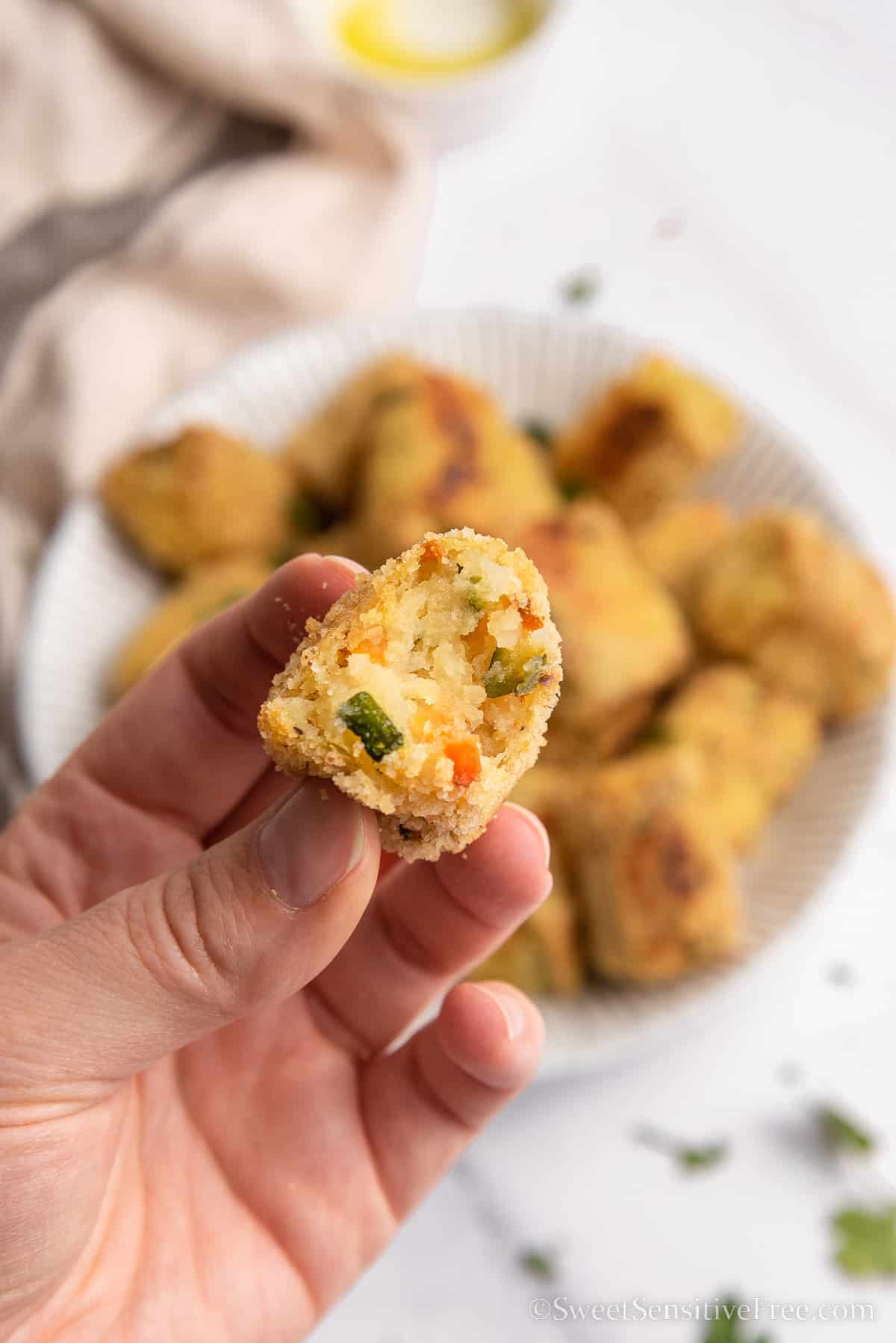 Ingredients
Here are the simple ingredients for homemade tater tots with vegetables:
cold mashed potatoes, I find them easier to work than grated potatoes and also they give an extra soft heart to these vegan croquettes
finely diced vegetables, I used carrots and zucchini, but you can use others too, maybe make cauliflower and broccoli veggie tots for instance
leek to saute your veggies for extra flavor (you can omit or replace with onion)
white rice flour (optional), you can add a couple teaspoon as a binder, but I usually don't even need it
gluten free breadcrumbs (recipe here) for the breading, to get that crispy coating!
salt, spices and herbs of your choice for extra flavor
olive oil to saute the veggies and brush the tots before baking
Find all quantities and directions in the card below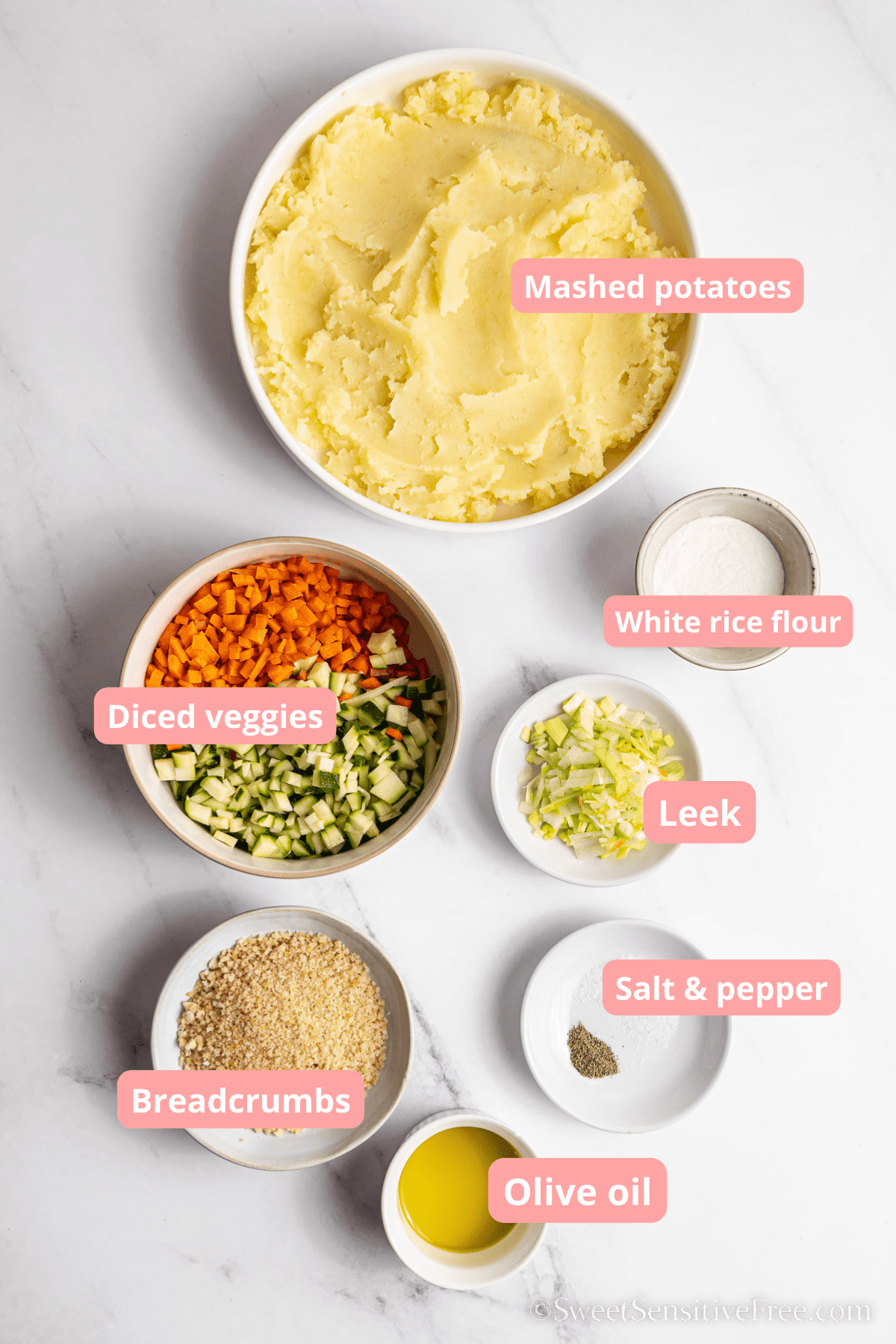 Instructions
The cooking instructions for these baked veggie tots are few and simple:
peel, dice and boil three medium potatoes, mash them and let them cool
finely dice/slice the vegetables and the leek, add them to a pan with a tablespoon of olive oil, salt, pepper and other spices or herbs you like and sautée until slightly tender
in a bowl combine veggies and potatoes
one tablespoon at a time, press the tots "batter" together with your hands and create two inch long tots
coat them with the gluten free breadcrumbs and place them on a baking sheet
brush or drizzle them with olive oil and bake them for 30 minutes ca, or until they are nice and golden on all sides
serve with mayo, marinara or others, like these cashew sauce
Find full directions in the card below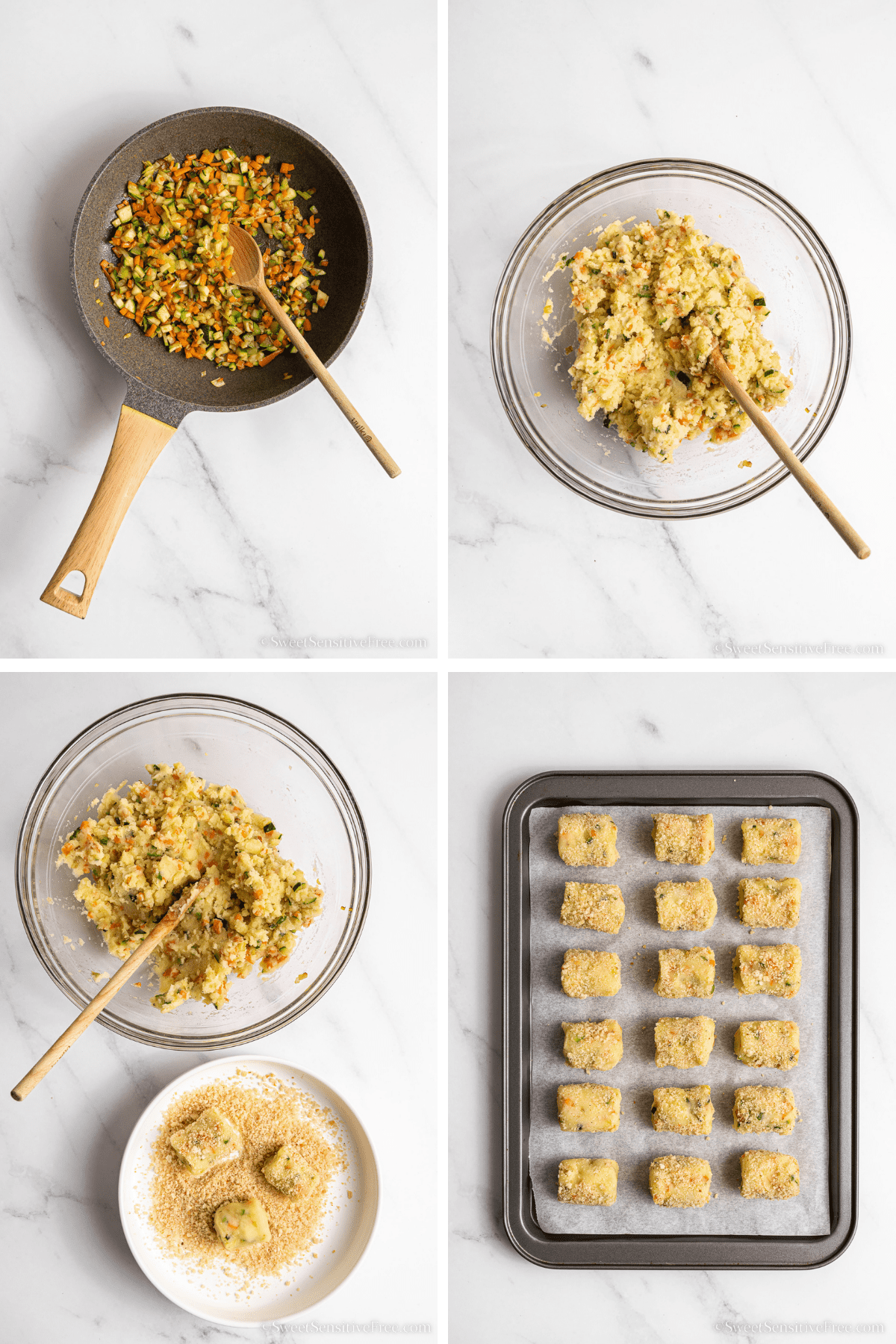 Tips and Substitutions
What is the best type of potatoes for this tots?
I usually prefer yellow potatoes, but I have used white ones too and they work aswell.
Can I steam or microwave the potatoes, instead of boiling them?
You sure can, what is important is that after mashing them you let them cool down completely, before making these potato tots.
Can I use raw vegetables and skip sauteing them?
Yes, though sauteing them adds more flavour to the tots and lets the liquid evaporate too.
Can these tots be fried?
I haven't tried (yet), so I can't really say. I promise though that they are very crispy and nice also baked 😉
What other vegetables could I use?
Basically all the vegetables you want, but make sure to sauté them first, so that they release some of the liquids and won't make the veggie tots mushy.
For instance you can make broccoli tots or cauliflower tots, or mix them, the combinations are endless.

How can I store them?
Store them in air tight container in the fridge and reheat them in the oven or in a pan for extra crisp.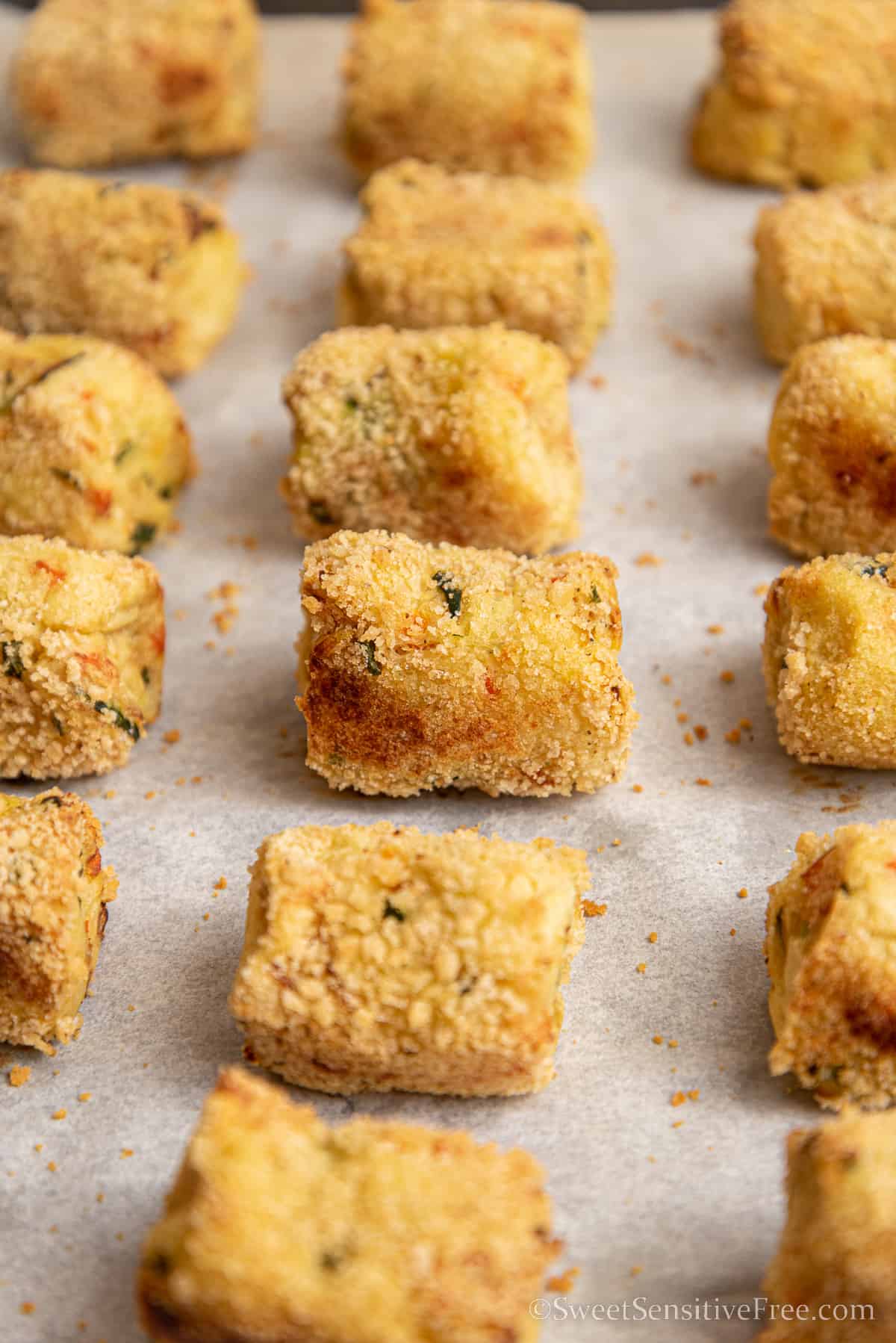 These mixed vegetable tots are a great way to use up leftover mashed potatoes from your gatherings with friends and family, like Thanksgiving or Christmas.
And if you are looking for more snacks ideas, don't miss these delicious gluten free vegan appetizers!
If you make this recipe or have questions, leave me a comment down here! And a 5 star rating if you have loved it would help me grow the blog 😉
For all the updates, follow me on Facebook and Pinterest and tag me on Instagram if you make this or any of my recipes! I absolutely LOVE to see what you make and share it in my stories!

Ciao!
Sonia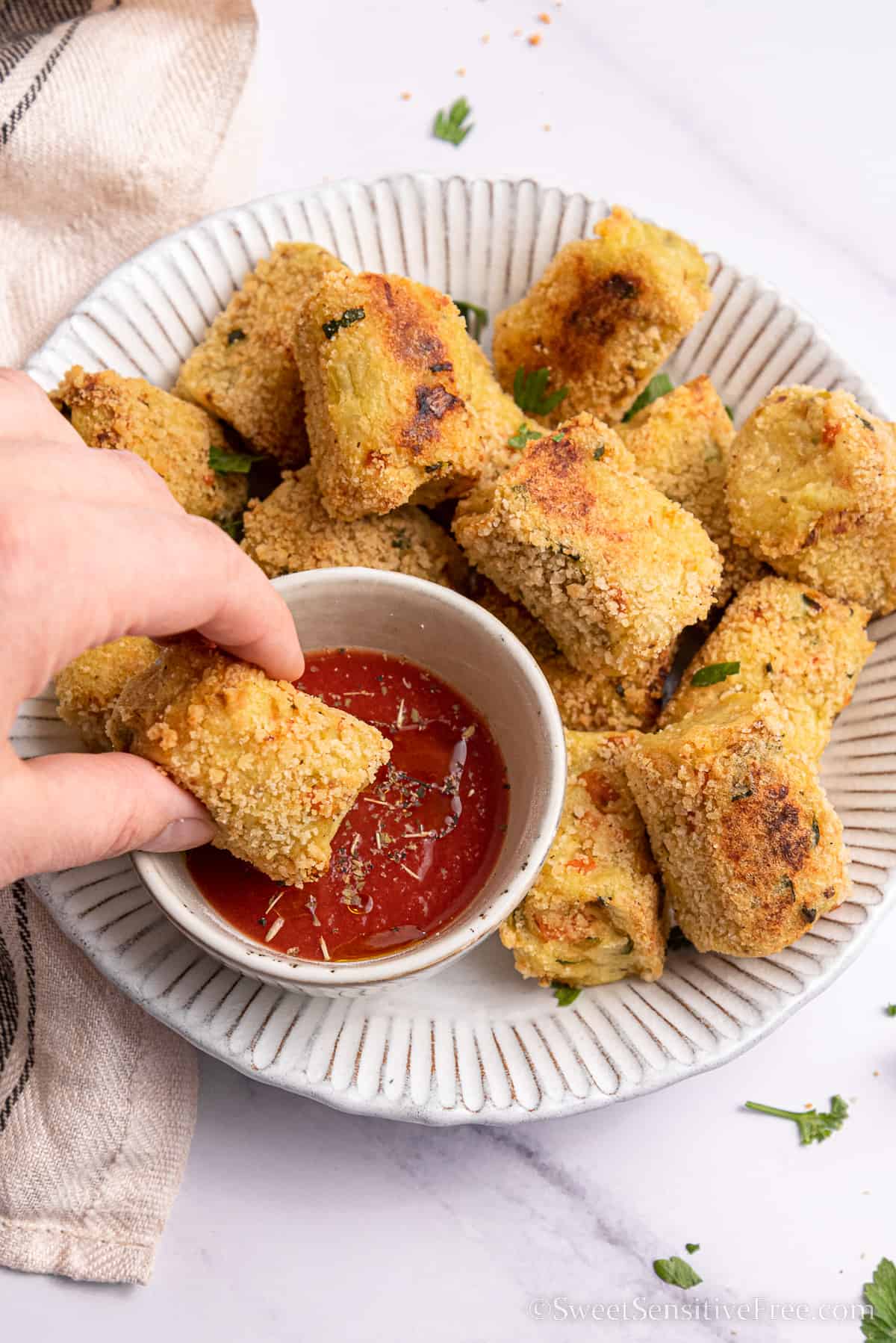 📖 Full Recipe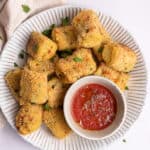 Print Recipe
Baked Veggie Tots | Gluten free * Vegan
These Baked Veggie Tots are soft inside and nice and crispy outside, one of the easiest and best gluten free vegan appetizers ever!
Equipment
1 pan

1 bowl

1 spoon

1 baking sheet

parchment paper
Ingredients
cold mashed potatoes (from 3 medium potatoes)

1

medium zucchini, finely diced

1

medium carrot, finely diced

2

inch

leek slice, finely chopped

1

cup

gluten free vegan breadcrumbs

(see blog post above for recipe)

salt, pepper, spices, herbs of your choice

2-3

tablespoons

olive oil

2-3

tablespoons

white rice flour (optional)
Instructions
In case you don't have leftover mashed potatoes ready, make them ahead: peel, dice and boil three medium potatoes, mash them and let them cool

Finely dice/slice the vegetables and the leek, add them to a pan with a tablespoon of olive oil, add salt, pepper and other spices or herbs you like and sauté until slightly tender

Pre-heat oven at 180° C / 350 F

In a bowl combine sauteed veggies and mashed potatoes

One tablespoon at a time, press the tots mixture together with your hands and create two inch long tots (you can totally make them round too of course)

Coat them with the gluten free breadcrumbs (see blog post for linked recipe) and place them on a baking sheet lined with parchment paper

Brush or drizzle the tots with olive oil and bake them for 30 minutes, or until they are nice and golden on all sides (turn them around from time to time while they are baking)

Serve still warm with mayo, marinara or other sauces, like cashew sauce (see blog post for linked recipe)