Gluten free croutons can be easily made at home, either using store bought bread or homemade gluten free bread!
Same goes for homemade gluten free breadcrumbs, which can be plain or seasoned with herb and garlic, for instance!
If you want to make your gluten free bread at home, check out my recipes for this simple vegan bread, my millet bread, the buckwheat flour bread and my quick yeast free gluten free bread!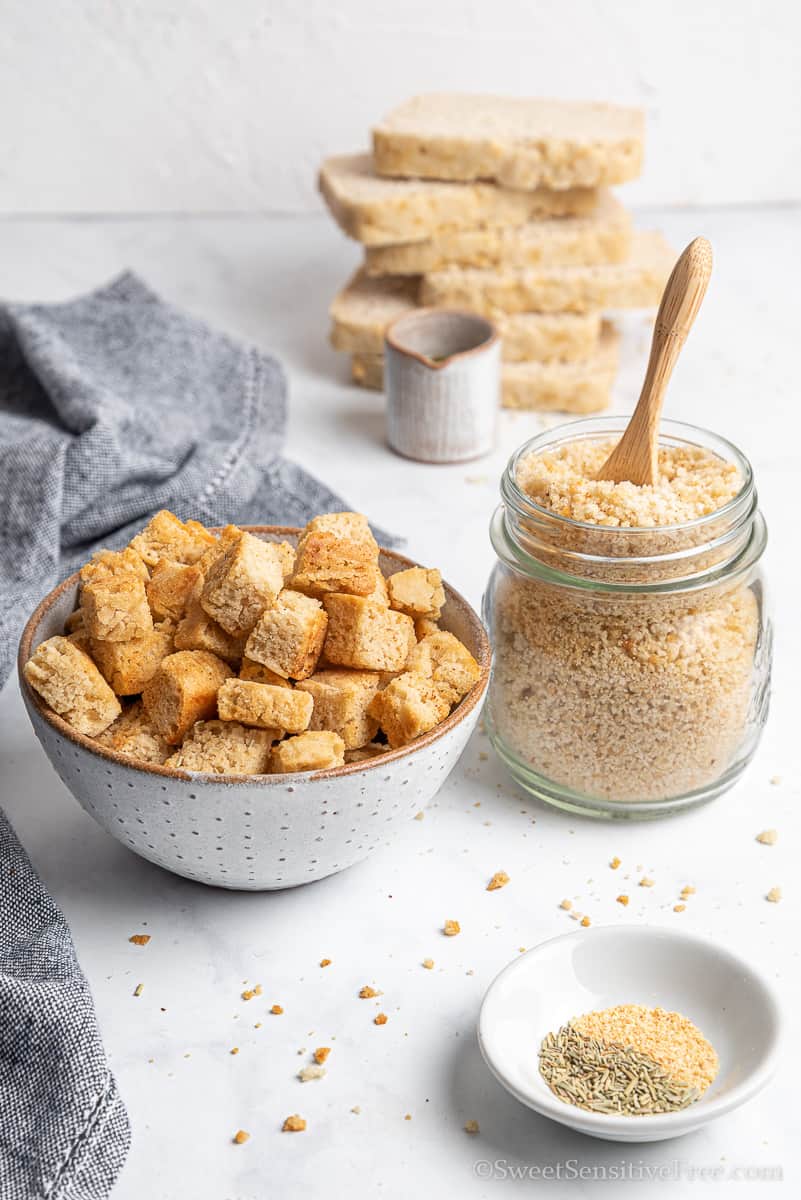 Jump to:
Making gluten free croutons and breadcrumbs is also my go-to way to use up those leftover bread slices that have dried out.
They can be either toasted and enjoyed with spreads or jams for sure, but also diced and ground and become the ever useful gluten free bread crumbs to keep in the pantry.
Ingredients
To make your own gluten free croutons and bread crumbs you literally need 2 ingredients + seasonings if desired!
Gluten free bread, you can either use your favorite store-bought one (or even the one you've tried and didn't really like, these two recipes are a good way to use it up and not waste it!) or use your own homemade bread, best if it's dried out
Olive oil (or other non-flavored oil), to give it that nice golden crust and keep your croutons and breadcrumbs dairy free too.
Herbs, garlic powder, onion powder, spices, these are optional, feel free to add them according to your personal taste
How to make gluten free croutons and bread crumbs
Making your own dairy free gluten free breadcrumbs and croutons is so incredibly easy, few simple steps and they are ready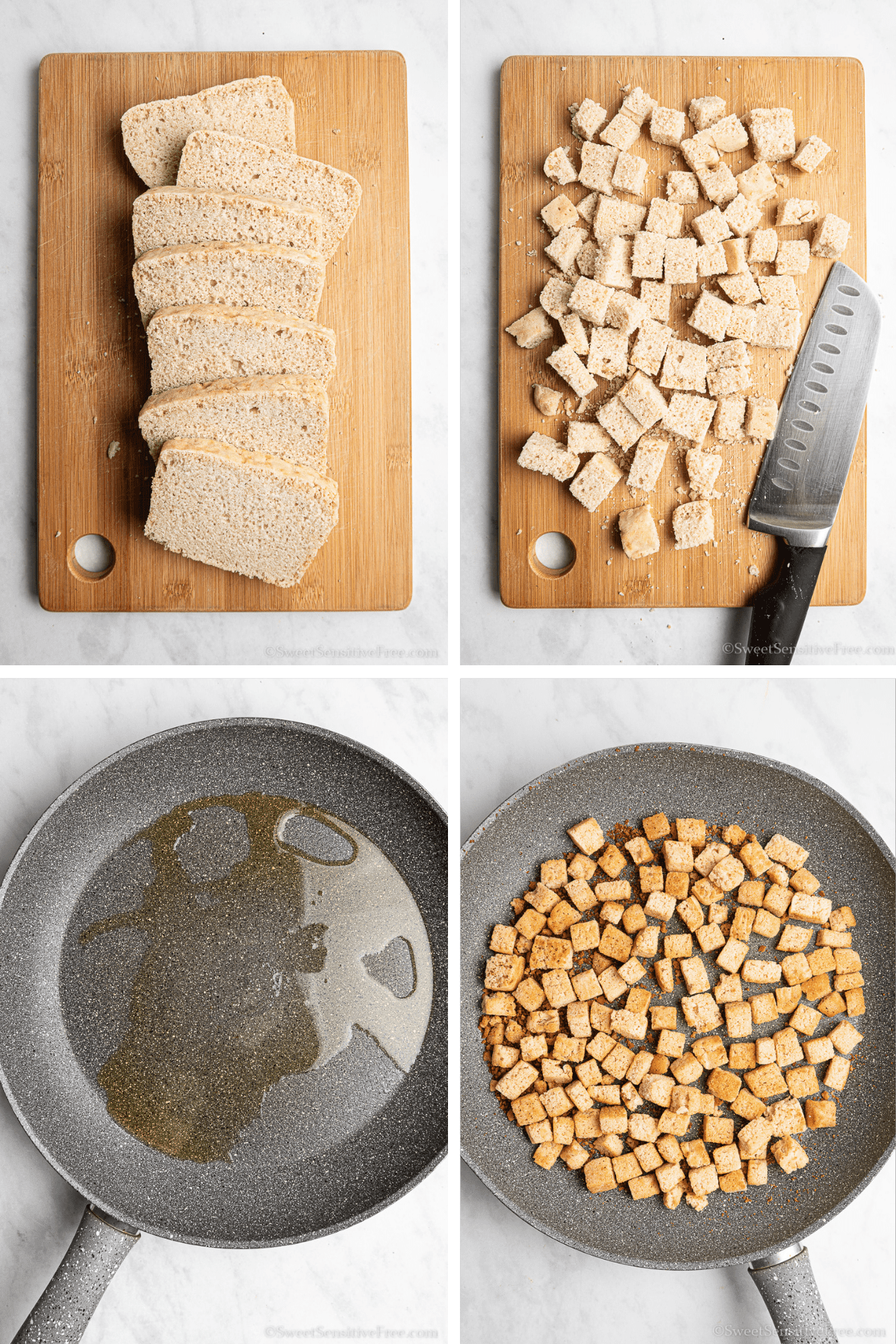 To make the croutons:
cut the bread into half inch thick slices
cut the slices into cubes (it will be easier with dried out bread)
add a couple tablespoons of oil to a large pan over medium heat
add the cubes (and seasonings, if desired) and toss them around from time to time until they are nice and golden on all sides
To make the breadcrumbs:
only one more step needed for the breadcrumbs: in a blender or a food processor grind the croutons into the size of crumbs you prefer
Find the full recipe in the card below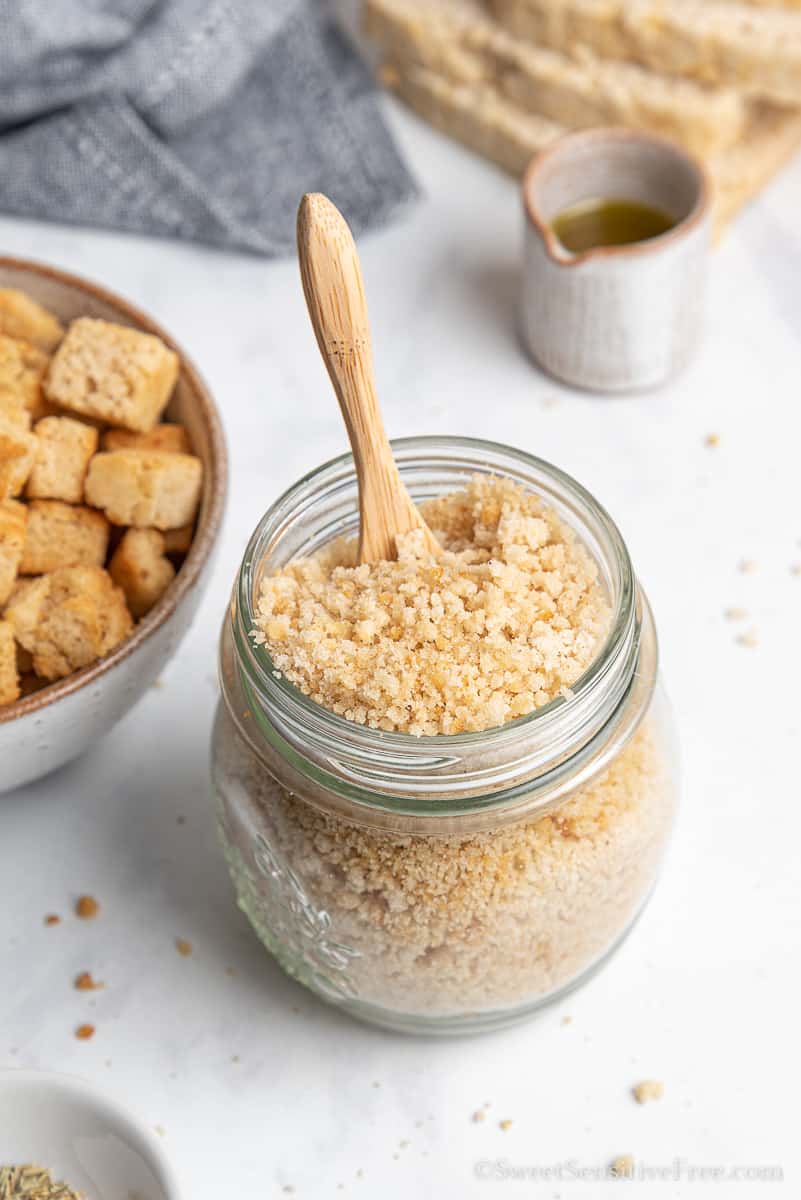 Questions and Tips
In what recipes can I use croutons?
Croutons are great to add a delicious crunch to salads, soups of any kind, minestrone or for stuffing.
How can I make gluten free croutons without yeast?
Definitely try my yeast free gluten free bread (it's made with quinoa and amaranth flours, but you can replace them with brown rice flour if you prefer a more neutral taste).
OR, something I've done often myself, you can use this crunchy gluten free flat bread too.
Can I replace or omit the olive oil?
You can subsistute olive oil with non-flavored coconut oil or a seed oil.
You can also make oil free croutons by omitting oil completely.
Can I make baked gluten free croutons?
Absolutely. I like making them in a pan because it is quicker for me, but you can do the same in a pre-heated oven 180C/350F, tossing them around from time to time.
Can you freeze gluten free breadcrumbs?
You sure can. I do it all the time, it is the best way to store breadcrumbs and croutons too. They last in the freezer up to three months.
What are gluten free recipes using breadcrumbs?
Gluten free bread crumbs are perfect to make (vegan) meatballs, meatloaves or fish balls, as they add texture and help them stick together.
You can also use them to coat meatballs, fish or chicken before frying or baking them, to give them a crunchy crust.
Breadcrumbs are also great as casserole topping.
How can I make the healthiest gluten free bread crumbs?
The healthiest way to make them is to toast the croutons without any type of oil (or butter). They won't get as nice and golden, but will still be toasted, crunchy and great to grind them into breadcrumbs.
As you can see making vegan gluten free croutons and breadcrumbs is quick and easy!
Also, we know all too well that gluten free bread tends to dry out more quickly than regular bread, so making croutons and bread crumbs is a fantastic way to use it up and store it for future use!
If you make this recipe or have questions, leave me a comment down here!
And don't  forget to follow me on Facebook and tag me on Instagram if you make this or any of my recipes! I absolutely LOVE to see what you make and share it in my stories!

Ciao!
Sonia
📖 Full Recipe
Print Recipe
Quick gluten free croutons and breadcrumbs (Vegan)
Incredibly easy and quick recipe to make the best gluten free croutons and bread crumbs at home, that are vegan too!
Equipment
1 knife

1 large pan

(or baking sheet for baked version)

1 blender or food processor
Ingredients
4-5

slices

of gluten free (vegan) bread

(even better if a couple days old and dried out)

2

tablespoons

olive oil or other vegetable, non-flavored oil

(non flavored coconut oil is fine too)

dried herbs, garlic powder, onion powder, black pepper, spices

(optional)
Instructions
For pan fried croutons
cut the bread into half inch thick slices

cut the slices into cubes (it will be easier with dried out bread)

add a couple tablespoons of oil to a large pan over medium heat

add the cubes (and seasonings, if desired) and toss them around from time to time until they are nice and golden on all sides

serve still warm when added to salads or soups
For baked croutons
pre-heat the oven at 180C/350F

add the bread cubes to a baking dish

add the oil and toss them until coated

tossing them around from time to time, bake them until nice and golden on all sides
To make the bread crumbs
add the croutons to a blender or food processor and grind until they turn into the crumbs size you desire