Today I'm happy to share this very easy recipe for the gluten free flatbread.
More and more often I get comments and messages of readers thanking me for my gluten and yeast free recipes (and I'm very, VERY grateful for your appreciation) and I've realized that next to the gluten, dairy or egg intolerance, yeast intolerance and allergy are becoming more and more diffused.
If you've been following me, you may already know I too have to limit myself when it comes to baked goods involving yeast.
Which takes a huge effort on my side, as I LOVE baked stuff.
Bakery (not patisserie) croissants are at the very top of my comfort food list.
Sometimes, when I'm out and about and need something quick to snack on, I buy myself a piece of focaccia secca (literally: dried focaccia), which is typical of my region and basically is a yeast free flatbread, crunchy and very tasty!
It usually is topped just with olive oil and salt, but it can have ground rosemary, seeds or chilli pepper powder too
And right when I was munching on it a while back I thought: well why not try and make a gluten free flatbread too, ah.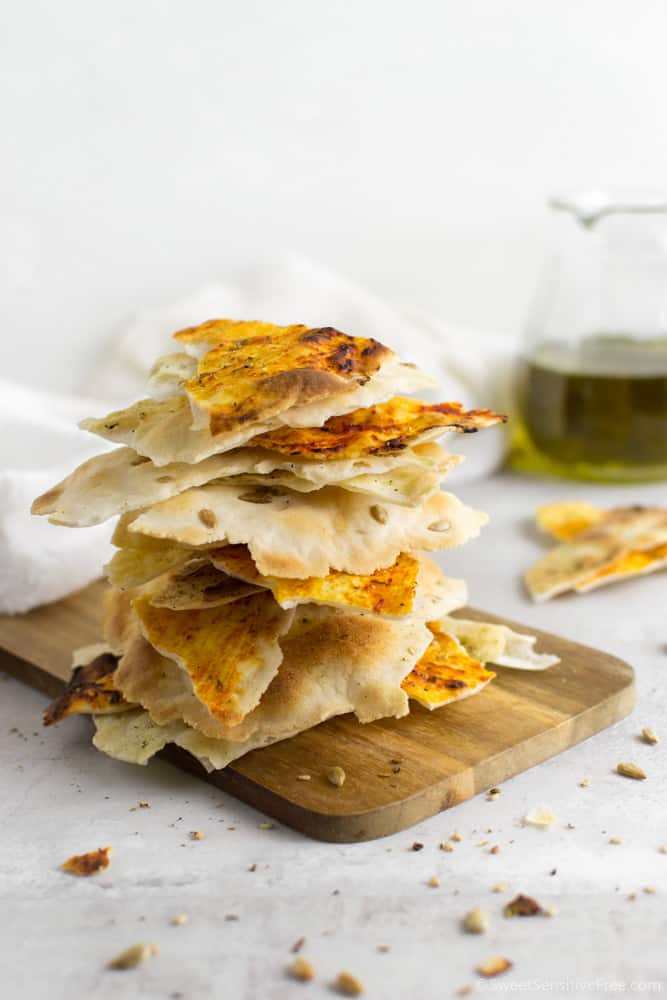 This gluten and yeast free flatbread is incredibly easy and quick to make and it is hard not to finish it right away, as soon as it's out of the oven!
It is perfect as a snack and goes amazingly well with sauces, hummus, soft cheese (for those who can/want to have it!) or with soups and minestrone!
I'd LOVE to know what you think of this flatbread and please let me know in the comments if there is any other gluten and yeast free recipe you would love me to experiment with!
Ciao!
Sonia
Print Recipe
Crunchy Flatbread | Gluten free * Yeast free
Super easy and quick recipe for gluten free yeast free flatbread! Crunchy and tasty, it's perfect as a snack and with sauces, hummus and soups!
Ingredients
For the flatbread
150

gr

gluten free white rice flour

(+ extra for dusting)

75

gr

potato or other gluten free starch

1

teaspoon

of salt

170

gr

hot water
For the topping
olive oil

ground dried rosemary

tomato sauce

oregano

salt

chilli pepper powder

seeds (sesame, sunflower, pumpkin, flax, etc)
Instructions
Pre-heat the oven  200° F / 390 C


In a bowl mix well the rice flour, the starch and the salt then add the hot water and quickly start mixing everything with a spoon until big crumbs form


Now start squeezing the dough with your hand, to incorporate all the ingredients, then move the dough to a flat, floured surface and knead with your hands until you get a firm, uniform dough

Shape it into a ball, cover it with a towel and let it rest for 10 minutes

Cut the dough into 4 parts, flatten them with your hands and dust them with rice flour

Roll the dough out with a rolling pin until it's a couple millimeter thick (keep dusting with the rice flour, to prevent the dough from sticking to the surface)


Grease a baking sheet with olive oil and lay the rolled out dough on it


Just before putting the flatbread into the oven, season the dough pieces as you like: brush with olive oil and sprinkle ground rosemary and salt on top.
Or brush with tomato sauce and sprinkle oregano and salt on top.
Or add seeds on top (that you will have to roll on the dough with the rolling pin, so that they stick to the dough) and brush with olive oil + sprinkle of salt.


Switch the oven to grilling mode and put the baking sheet in the upper part of the oven (but not too close to the oven grill)


This gluten free crispy flatbread bakes VERY QUICKLY, like 8-10 minutes, so KEEP CHECKING IT, because it can burn easily (sorry for the capital letters, but it really is important, or you will quickly go from "Oh, it's baking nicely" to "Ok. It's carbonized" )