This crispy gluten free flatbread is yeast free and dairy free too.
It's easy and quick to make, it's crunchy and perfect to pair with hummus, dips and savory spreads!
Try these flatbread crackers with creamy cashew sauce, this vegan basil pesto and this pumpkin sweet potato soup!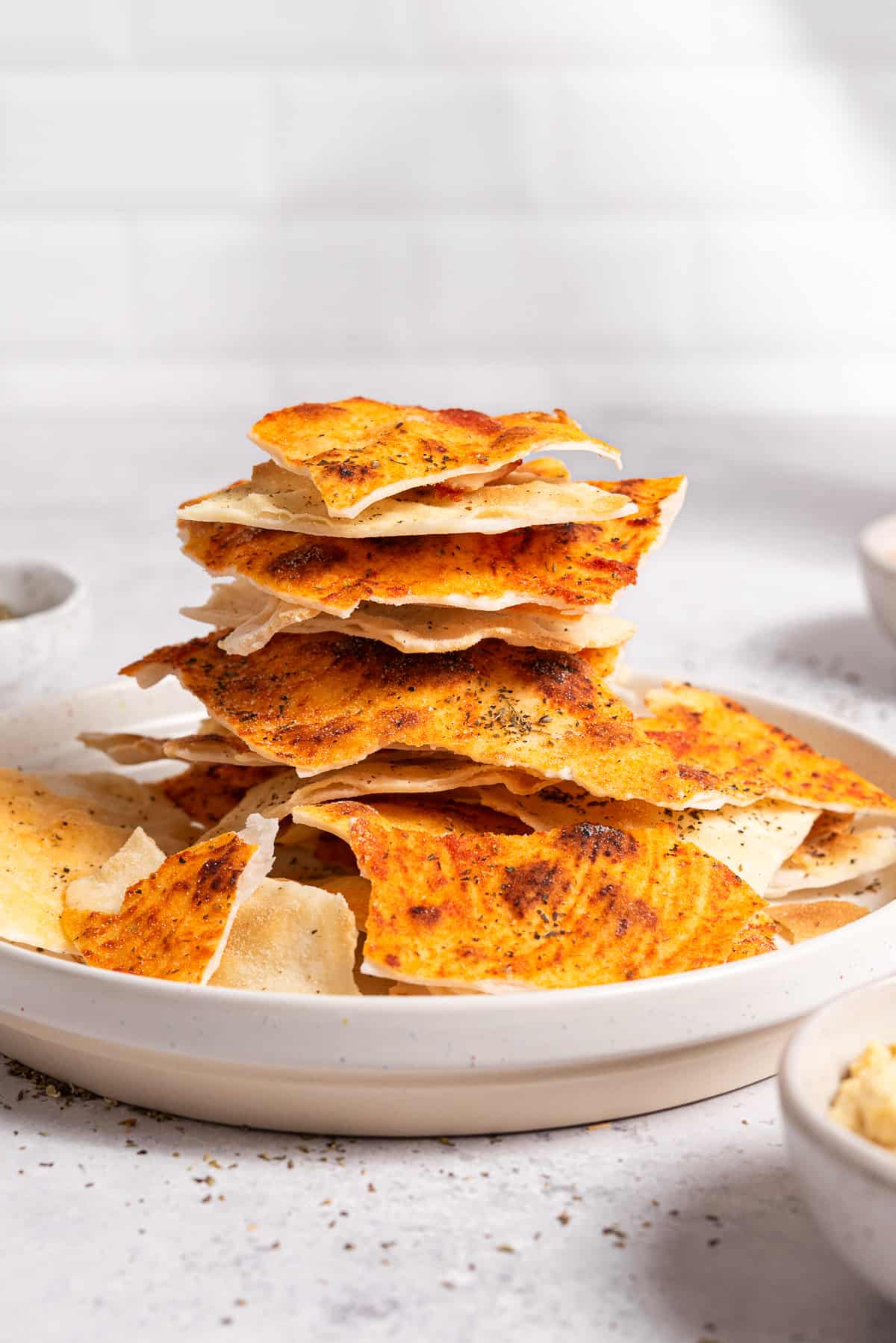 If you look for more gluten free yeast free recipes, don't miss this yeast free bread and these corn free tortilla wraps! They are quick and super easy to make!
Jump to:
More and more often I get comments and messages of readers thanking me for my gluten and yeast free recipes (and I'm very, VERY grateful for your appreciation) and I've realized that next to the gluten, dairy or egg intolerance, yeast intolerance are becoming more and more diffused.
This recipe for gluten free flatbread has no yeast, no yogurt and only few ingredients.
Being it a dairy free flatbread, it is suitable for vegan and vegetarian diets too.
Ingredients
As I was saying, these gluten free flatbread crackers call for few and super simple ingredients:
gluten free white rice flour, the finer the better
potato or other gluten free starch, like tapioca or corn
salt, this is always optional, based on your taste and dietary needs
hot water, it needs to be boiling hot, warm or hot tap water won't work
olive oil for brushing the surface before baking
These are the ingredients to make the flatbread dough and have plain crackers.
But to add more flavor and fun, you can play around with brushing them with tomato sauce and pesto sauce.
Or sprinkle them with chopped rosemary, oregano and seeds!
Find full quantities and directions in the card below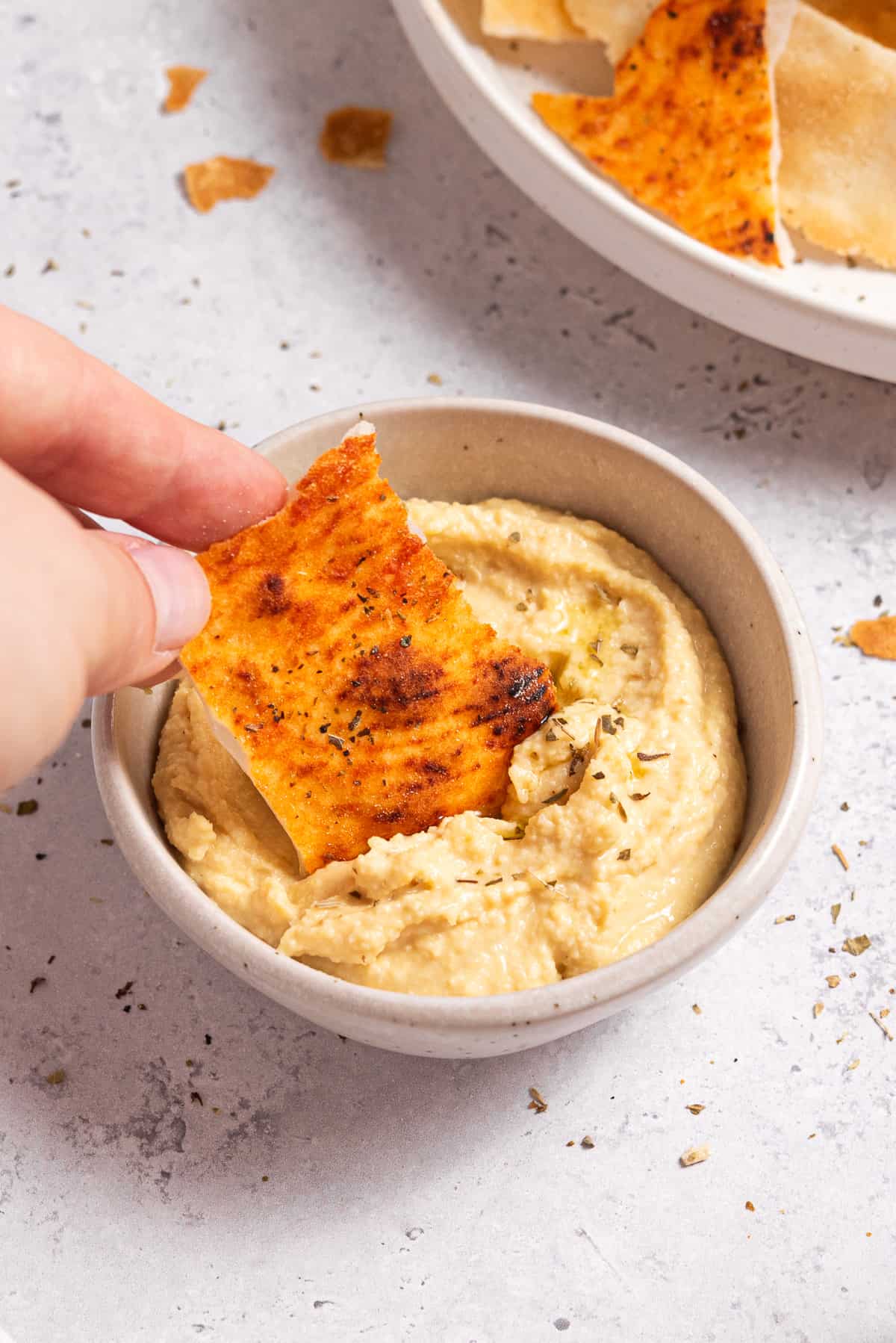 Cooking and baking in grams
I cook and bake in grams as they are more accurate (than cups) when measuring ingredients. This is especially important when it comes to gluten free and vegan recipes.
Also, I weigh both dry and wet ingredients in grams and most of the time I share one- or two-bowl recipes, to make everything easier for you.
A simple affordable kitchen scale is definitely a useful and worthy investment for your gluten free cooking.
So you will simply need to place the bowl on the scale and weigh ingredients as you go!
I'd LOVE to know what you think of this flatbread and please let me know in the comments if there is any other gluten and yeast free recipe you would love me to experiment with!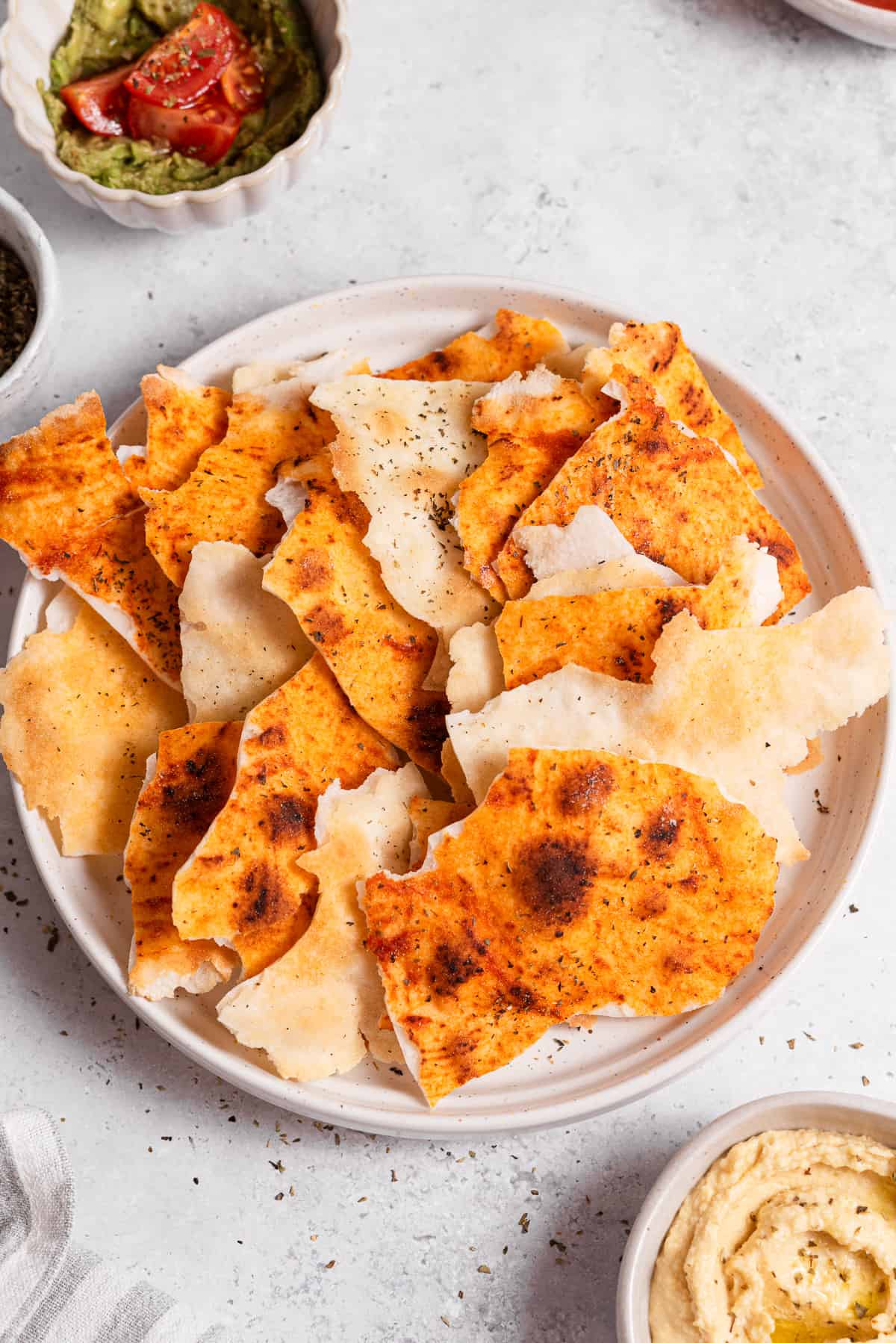 If you make this recipe or have questions, leave me a comment down here! And a 5 star rating if you have loved it would help me grow the blog 😉
For all the updates, follow me on Facebook and Pinterest and tag me on Instagram if you make this or any of my recipes! I absolutely LOVE to see what you make and share it in my stories!

Ciao!
Sonia
📖 Full Recipe
Print Recipe
Crispy Gluten free Flatbread | Yeast free * Dairy free
Super easy and quick recipe for gluten free flatbread, no yeast! Crispy and tasty, it's perfect as a snack and with dips, hummus and soups!
Equipment
kitchen scale

parchment paper

Rolling Pin

Brush

baking sheet
Ingredients
For the flatbread
150

grams (1 CUP)

gluten free white rice flour

(+ extra for dusting)

75

grams (½ CUP)

potato or other gluten free starch

1

teaspoon

of salt

(optional, based on your taste and dietary needs)

170

grams (¾ CUP + 1 tbsp)

hot water

(it needs to be boiling hot, not warm/hot tap water)

olive oil (to brush the dough before baking)
For the topping
dried herbs (rosemary, oregano, time)

tomato sauce

salt

chilli pepper powder

seeds (sesame, sunflower, pumpkin, flax, etc)
Instructions
Pre-heat the oven 200° F / 390 C


Heat the water, either by boiling it in a small pot, or in the microwave

In a bowl mix well the rice flour, the starch and the salt then add the (boiling) hot water and quickly start mixing everything with a spoon until big crumbs form

Now start squeezing the dough with your hand, to incorporate all the ingredients, then move the dough to a flat, floured surface and knead with your hands until you get a firm, uniform dough

Shape it into a ball, cover it with a towel and let it rest for 10 minutes

Cut the dough into 4 parts, flatten them with your hands and dust them with rice flour

Place each dough ball on a sheet of parchment paper, previously dusted with rice flour

Roll the dough out with a rolling pin until it's a couple millimeter thick (keep dusting with the rice flour, to prevent the dough from sticking to the surface and the pin)

Just before putting the flatbread into the oven (not before, or the dough will become soggy), season the dough pieces as you like: brush with olive oil and sprinkle ground rosemary and salt on top. Or brush with tomato sauce and sprinkle oregano and salt on top. Or add seeds on top (that you will have to roll on the dough with the rolling pin, so that they stick to the dough) and brush with olive oil + sprinkle of salt.

Switch the oven to grilling mode and put the baking sheet in the upper part of the oven (but not too close to the oven grill)


This gluten free crispy flatbread bakes VERY QUICKLY, like 8-10 minutes, so keep an eye on it all the time (it really is important, or you will quickly go from "Oh, it's baking nicely" to "Ok. It's carbonized").
Notes
Please note that measurements in cups may be slightly different from the ones in grams, due also to the difference in texture/grinding of naturally-gluten free flours. Which is why the use of a kitchen scale is advised, for a correct outcome of the recipe.