Quick recipe for creamy soy free vegan basil pesto sauce! Enjoy a dairy free basil pesto just as scrumptious as the traditional Italian sauce!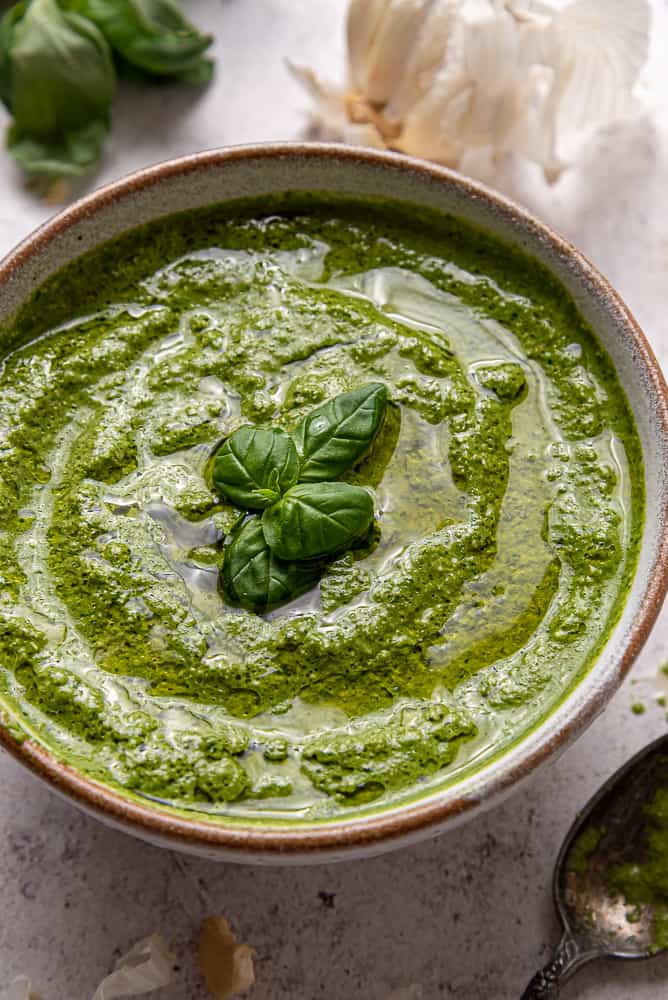 Jump to:
And with this vegan basil pesto recipe I'm entering a very, very, and I mean VERY dangerous territory.
Because I'm from Genova, Italy (Genoa in English), which is where traditional Italian basil pesto was born and where talking about vegan pesto can earn you threatening looks.
Basil pesto, without parmesan and pecorino cheese? Seriously? You'd better run, kid. Just Run.
BUT, I love danger (well not really but it sounds bad-a$$) and I wanted to make this creamy Vegan Basil Pesto anyway, also because my boyfriend is not from my area and he had never tasted pesto before.
So I decided to make a dairy free basil pesto sauce to meet his sensitivity to dairy products too.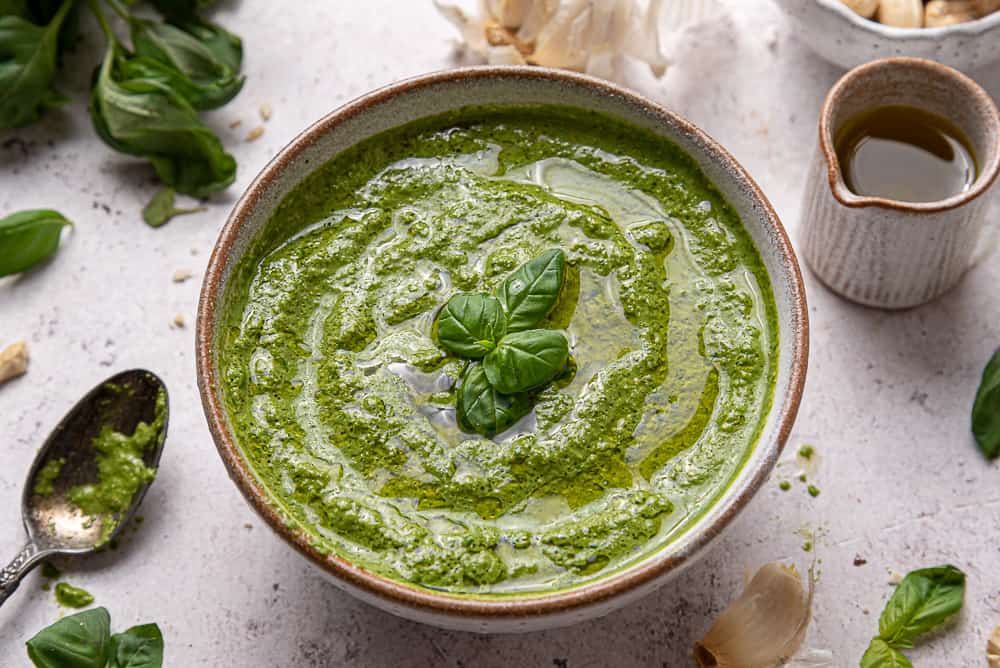 It took me several tries to get as close as possible to the taste of the traditional pesto I've grown up with, until I finally made it, YAS!
And in the process I thought: how can I get that creaminess that would traditionally come from parmesan and pecorino cheese?

Well, tofu of course!

Naaah, just kidding.
What actually helped me to make this creamy vegan pesto are my good ol' friends: the cashews.

I really like them because thanks to their neutral taste they are very versatile, so much so that they can be used either in savory dishes and desserts, like my creamy cashew sauce, or this vegan coffee cream and this other creamy limoncello dessert!
Scroll down to see how to make the best vegan basil pesto, but don't miss the Tips and Subsitutions!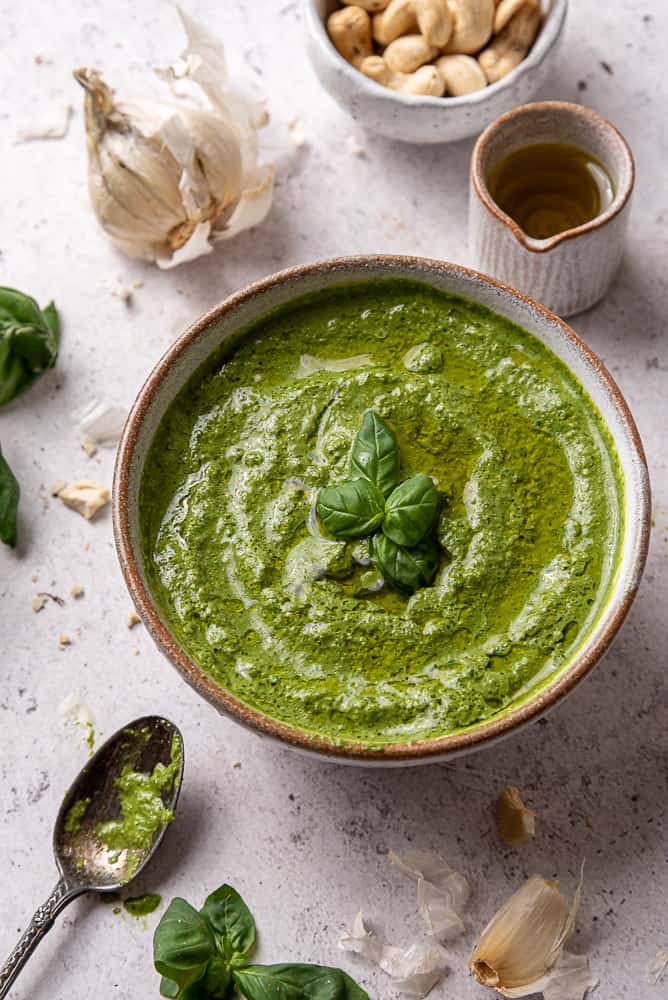 Tips and Substitutions
CAN I MAKE THIS VEGAN PESTO WITHOUT PINE NUTS?
Pine nuts add a sweet and slightly tangy taste to the pesto, but you can definitely skip them if you want/need to, maybe add another clove of garlic for extra taste!
I LOVE GARLIC BUT I FIND IT HARD TO DIGEST.
Eh, it happens to me too at times, so what I do I remove the "hearts" from the garlic cloves and this will make this vegan pesto sauce much easier to digest too.
CAN I MAKE VEGAN OIL FREE PESTO?
You sure can, maybe add a handful more cashews to add the creaminess the oil would give.
CAN I FREEZE THIS VEGAN BASIL PESTO?
Yes! I do it all the times! I double or triple the measurements, refrigerate some for immediate use and freeze the rest.
I pour it into ice cube molds and once the pesto i frozen I remove them from the molds and place the pesto cubes into a freezer bag and into the freezer again.
This way, whenever I need to make a pasta dish - for instance, I only let thaw 2-3 cubes or as many as I need.
---
This vegan basil pesto is creamy and tasty and not only perfect with pasta, but over a bruschetta too, topped with fresh, sliced cherry tomatoes, yummm! Or even better with a traditional baked lasagna, Italian style!
If you make this recipe or have questions, leave me a comment down here! And a 5 star rating if you have loved it would help me grow the blog 😉
For all the updates, follow me on Facebook and Pinterest and tag me on Instagram if you make this or any of my recipes! I absolutely LOVE to see what you make and share it in my stories!

Ciao!
Sonia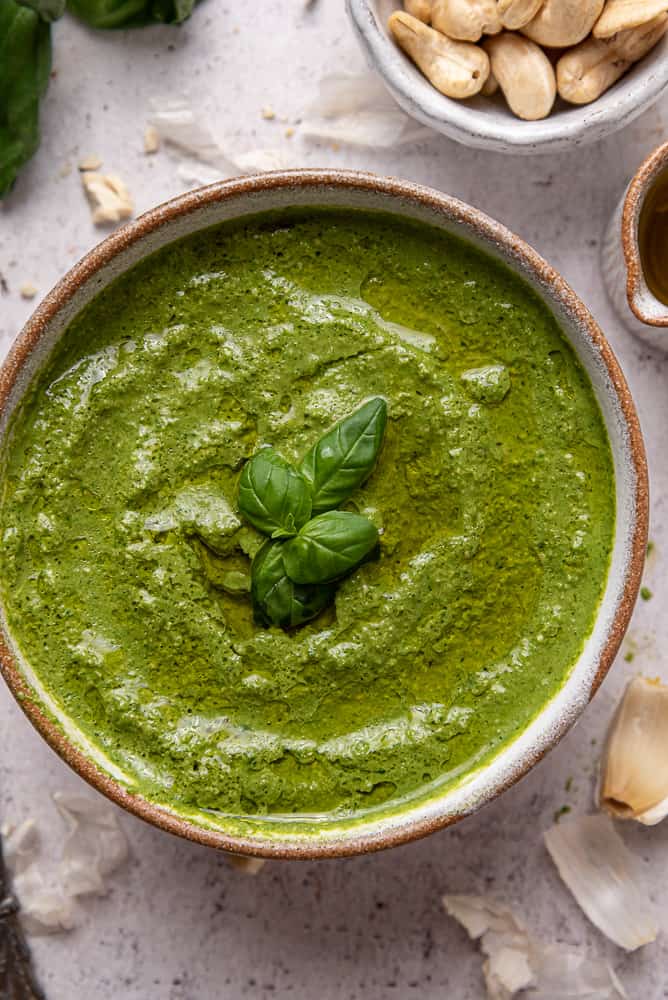 📖 Full Recipe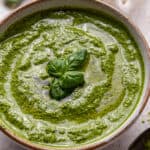 Print Recipe
The Best Soy free Vegan Basil Pesto
A super easy recipe for creamy soy free vegan pesto sauce! Only few ingredients to enjoy a dairy free basil pesto as tasty as the famous traditional Italian sauce!
Servings:
3
to 4 pasta servings
Equipment
1 pan/bowl (to boil/soften the cashews)

1 strainer (for the basil)

1 blender

1 spatula

1 bowl or jar
Ingredients
100 gr

fresh basil leaves

20 gr

extravirgin olive oil (+ extra to go on top)

30 gr

pine nuts

2-3 garlic cloves

100 gr

unsalted cashews

60 gr

cold water

salt (to taste)
Instructions
Soften the cashews either by letting them soak in water an hour or by boiling them a couple minutes


Wash the basil leaves in cold water, rinsing them a couple times and making sure they're free from dirt


Remove the skin from the garlic cloves (and their core if you want it to be more digestible)


Put all the ingredients inside the blender, adjusting salt to taste and adding one clove of garlic at a time and tasting the pesto before adding more


If your are not going to use it right away, pour it in a glass jar, cover it with olive oil and close the jar. Store it in the refrigerator for 2-3 days