As I was telling you in my previous post where I share my dairy free basil pesto, I come from Genova, Italy, basil pesto hometown.

One of the recipes I grew up with and that I've always been deeply fond of is baked pesto lasagna.
Needless to say, in our home the queen of this lasagna was my grandma, who was born and always lived in a small village on the Riviera. Though my mom was really good at making lasagna too, uh!

The always freshly made pesto, the bechamel, the homemade lasagna pasta, which always had to be boiled a few seconds, before being added to the other ingredients in the baking pan.
And once out of the oven, that gorgeous, delicious, crunchy crust on top. Gosh my mouth is watering just at the memory! And my heart melts a little remembering our family lunches with so many goodies on the table.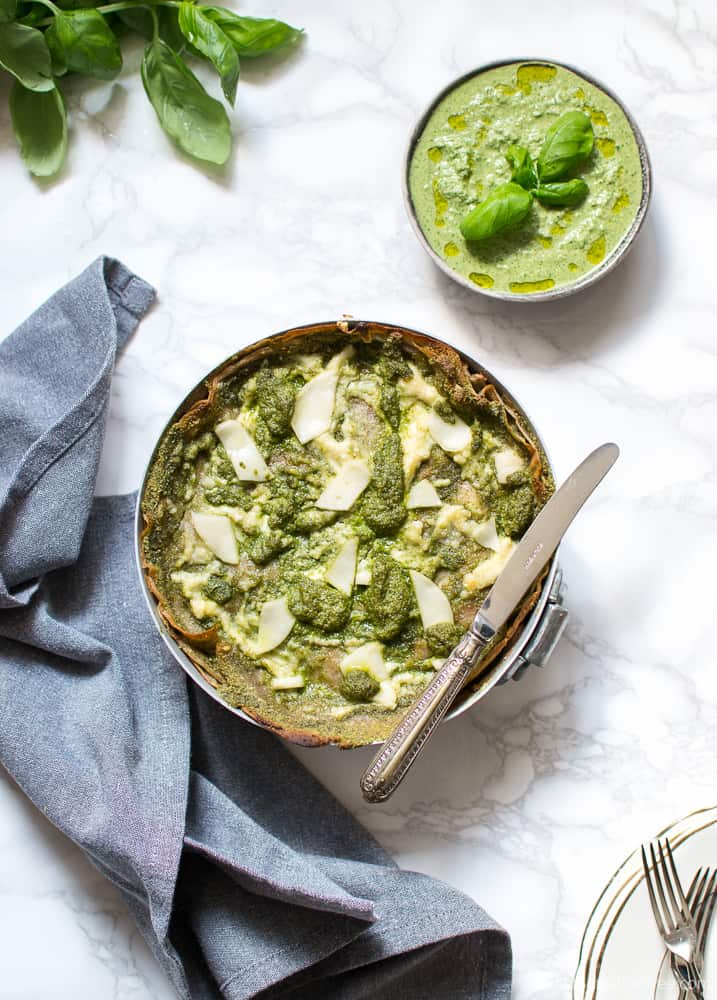 And with these memories going around in my head, one day I decided to experiment, to let my sensitive sweetheart have a taste of the tradition I grew up to, or at least of something that was at least close to it!

I know that the purists of culinary traditions will grimace at this, but cooking without gluten, dairy, eggs, corn, etc is a real challenge.
Am I right, my fellow sensitive people?!

We just keep having to try alternatives without losing sight of the taste and that's why today I'm sharing this gluten free vegan pesto crepes lasagna!


It's a very easy recipe, but oh so tasty, my boyfriend LOVES it, it's scrumptious, rich, yet light!
And the creamy cashew sauce makes it even better!
You might also try it using this other recipe for homemade gluten and egg free lasagna pasta! I haven't yet, so if you do, let me know!

Well scroll down for all the instructions to make this gluten free crepes pesto lasagna and as always I'd love to know what you think about it!

Ciao!
Sonia
📖 Full Recipe
Print Recipe
Pesto Crepes Lasagna | Gluten free * Soy free * Vegan
Ingredients
For 10-12 crepes
3

tablespoon

ground flax seeds

150

gr

gluten free brown rice flour

50

gr

gluten free white rice flour

50

gr

gluten free (potato) starch

½

gr

salt

1

tablespoon

seed oil

500

gr

gluten free non dairy milk (I used rice milk)
For the layers
melting vegan cheese

creamy cashew sauce (direct link to the recipe up in the post)

creamy dairy free basil pesto (direct link to the recipe up in the post)
Instructions
For the crepes
In a bowl mix well the dry ingredients first, then add the oil and the veg milk and whisk until you get a smooth, uniform batter

Let the batter "rest" a few minutes and in the meantime heat a non sticking pan, greasing it with a very thin layer of oil, if necessary


Pour 2-3 spoons of batter on the heated pan and spread it with a spatula (or one of those T-shaped sticks for crepes), creating crepes that are a couple millimiters thick


After a few minutes, using a spatula turn the crepe upside down and let it cook another few minutes on the other side


Keep going until the batter is finished. I could make a dozen crepes with these doses


As you make the crepes, you can pile them up on a plate, but do not forget to add parchment paper between all the crepes, so that they don't stick

For the crepe lasagna
Pre-heat the oven 180° / 350 F


In a round baking pan (I used a 7 inch one) start with the layers: spread some basil pesto first, add a crepe on top, cashew sauce, pesto, vegan cheese and again crepes, and so on


Bake for 30 minutes and then another 5 minutes with grill setting only, so you get that golden, crispy crust on top


Once out of the oven, let it cool down for 10-15 minutes before serving