Quick recipe for vegan mocha "whipped" cream! In fact you will only need a blender to make this scrumptious dairy free mocha cream frosting, no whipping! And it is also gluten free and soy free.
This vegan mocha whipped cream makes a scrumptious treat on its own and an amazing cake and cupcake frosting as well!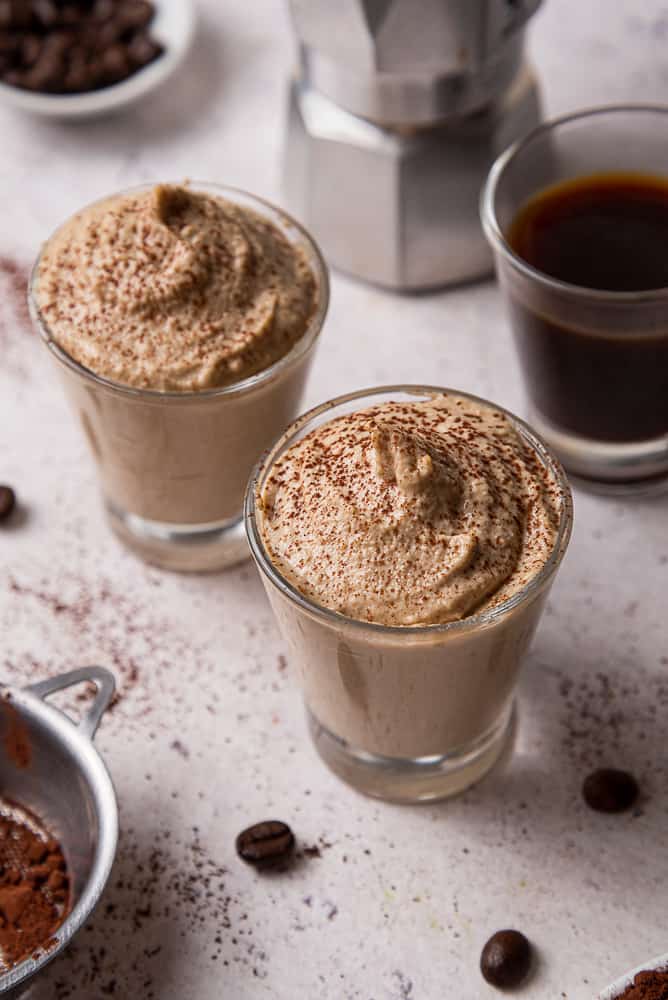 After discovering the magic that cashews can work whenever you need to cook something creamy, but dairy-free, I've used them in oh so many ways, like for this savory cashew cheese sauce, or this creamy vegan pesto sauce!

But cashews are very versatile when it come to sweets too!

And since I love the scent and taste of coffee (even though I belong to the group of those who don't deal well with caffeine, so it's always decaf for me, le sigh) I thought well let's give it a try!

As always it took a few tries before I finally nailed this delicious dairy free mocha whipped cream and I'm happy to share with you.
I mean not just the recipe, literally, I'd love to make a bucket of this homemade espresso whipped cream and just eat spoonfuls of it all together with you. Like a coffee cream party.
This mocha whipped cream is made without instant coffee and without heavy cream and it contains no dairy.

And if you want to keep it super simple you can simply use cashews, espresso and a sugar free plant based milk and you will have a healthy and three ingredient coffee whipped cream!
Keep scrolling to find out how to make this vegan mocha whipped cream frosting at home but don't miss the Tips and Substitutions

TIPS and SUBSTITUTIONS
CAN I MAKE THIS VEGAN MOCHA CREAM WITHOUT SUGAR?
You absolutely can, either by replacing regular sugar with the sweetener of your choice, or by using a naturally sweet(er) plant based milk, like rice or almond
IS THIS ESPRESSO WHIPPED CREAM GLUTEN FREE?
Yes it is 100% naturally gluten free (do check that the ingredients you use are certified gluten free and choose a gluten free vegan milk)
IF I WANTED TO USE THIS VEGAN MOCHA WHIPPED CREAM AS FROSTING, WHAT WOULD BE THE QUANTITY FOR A CAKE?
This vegan whipped cream is perfect as cake icing and I suggest to triple the quantity of the ingredients to have enough to fill and frost a standard 9 inch cake.
IS THE CONSISTENCY OF THIS CREAM SUPER FLUFFY?
It is not, it is creamy and a bit denser than regular mocha cream, but it holds perfectly when used as filling and frosting on cakes and cupcakes!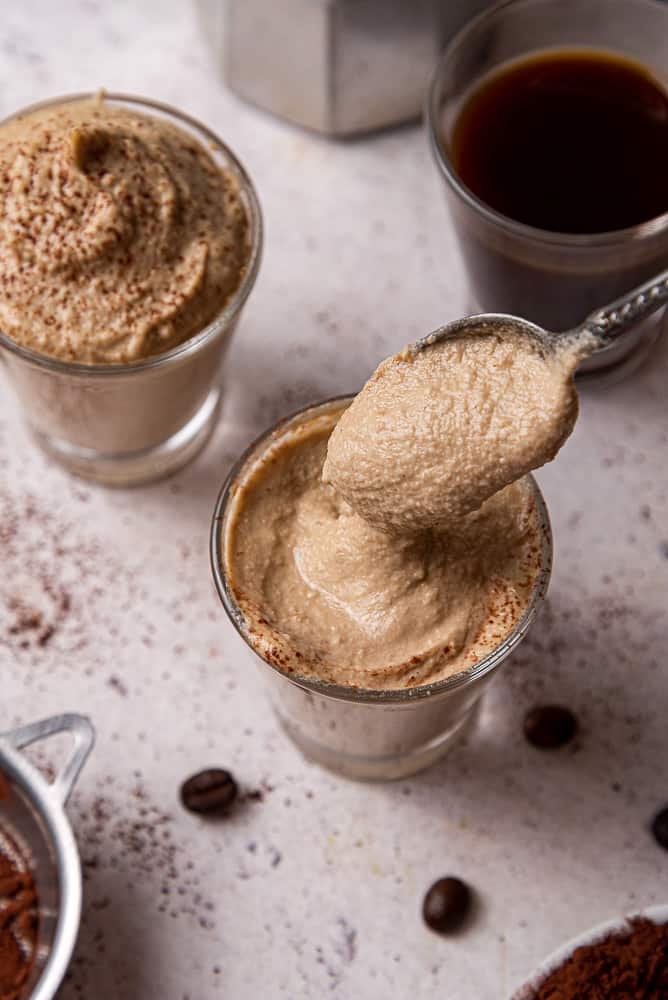 This coffee flavored whipped cream is just scrumptious on its own, served in small cups with a dusting of cocoa powder on top!
If you make this recipe or have questions, leave me a comment down here! And a 5 star rating if you have loved it would help me grow the blog 😉
For all the updates, follow me on Facebook and Pinterest and tag me on Instagram if you make this or any of my recipes! I absolutely LOVE to see what you make and share it in my stories!

Ciao!
Sonia
P.S. Looking for a rich, soft, delicious cake? Try this
Gluten free and vegan Chocolate Cake With Coffee Whipped Cream !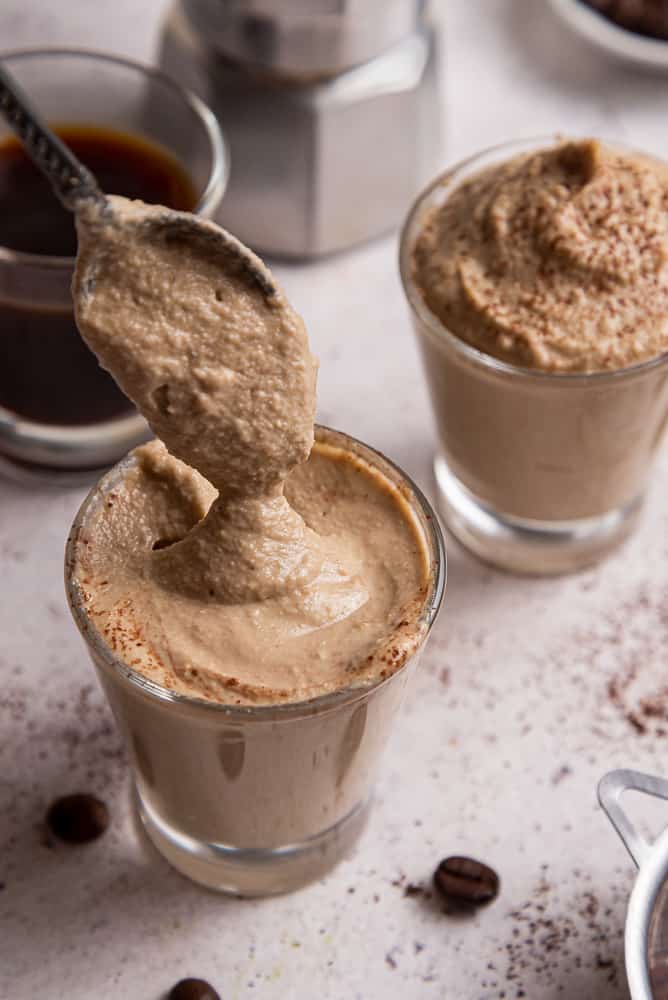 📖 Full Recipe
Print Recipe
Vegan Mocha "Whipped" Cream
This vegan mocha whipped cream makes a scrumptious treat on its own and an amazing cake and cupcake frosting as well!
Equipment
Blender

Moka pot (or espresso machine)
Ingredients
160

gr

unsalted cashews

30

gr

gluten free plant based milk

60

gr

espresso coffee

1,5

tablespoons

icing sugar (or other sweetener of choice)

½

teaspoon

coffee powder (optional)

vanilla

extract

to taste

cocoa

powder

for dusting
Instructions
If you have a blender that is not high speed, boil the the cashews for 10 minutes and drain them, otherwise use directly raw cashews

In the blender add cashews, plant-based milk, coffee and coffee powder (optional) and blend until it becomes nice and creamy

Add the vanilla extract a bit at a time, blend and taste the cream

Add more sugar and vanilla if desired

Serve with a dusting of cocoa powder