One day my boyfriend and I were talking about sweets he used to eat before being diagnosed with his many food intolerances, years ago. And he told me: "Oh I miss the good old classic tart, you know the one with LOTS of jam in it? Apricot jam! Lots of it. That's my kind of tart".
And I obliged, got myself at work, experimenting and trying to bake for him a piece of happiness. Because sweets are happiness. Can I get an amen!
Sorry I got carried away by a sugar rush.
Yeah, so, here's how to make gluten free vegan tart crust:
start by mixing the ground flaxseed and water first (= egg replacer) and let it rest a few minutes

in a bowl mix flours, sugar, cream of tartar + baking soda (you can sub both of them with baking powder), grated lemon zest and a pinch of salt

then add the vegan butter/margarine, the flax-egg and the liqueur

start by mixing all the ingredients in the bowl with a spoon, then as they start to turn into crumbles, move them on a board and knead the dough until it becomes firm

shape it into a "ball", cover it with plastic wrap and refrigerate for at least an hour

pre-heat the oven at 160°C / 320°F

now take a piece of parchment paper and roll the dough out over it until it's more or less ¼ inch thick

then lay the dough into a previously greased baking pan, flattening it onto the bottom and ½ inch up on the borders (if the dough gets too warm it might tend to break, but worry not! Just put the pieces on the pan and push them together with your fingers, evening the dough out. You won't notice it once it's baked)

EDIT: to make it quicker, you can skip the two steps above by putting the dough ball (keeping some for the decoration) into the baking pan and spread it directly with your hands and the help of the bottom of a glass/cup, to push and spread the dough.

fill it with jam, nut spreads or anything you like and with the remaining dough you can either make stripes to add on top or any decorations you like

now into the oven for 30-40 minutes (depending on your oven)

Once ready, let it cool down before slicing it and enjoy!

This vegan gluten free tart crust is flaky, soft and "buttery", SO good!

The absence of gluten and eggs makes it a tricky recipe, but it works! Promise!
I myself am always amazed by the result!
But if you have any question (or advice of course), please let me know in the comments and subscribe to my Instagram, Twitter and Facebook for all the updates 😉
Ciao!
Sonia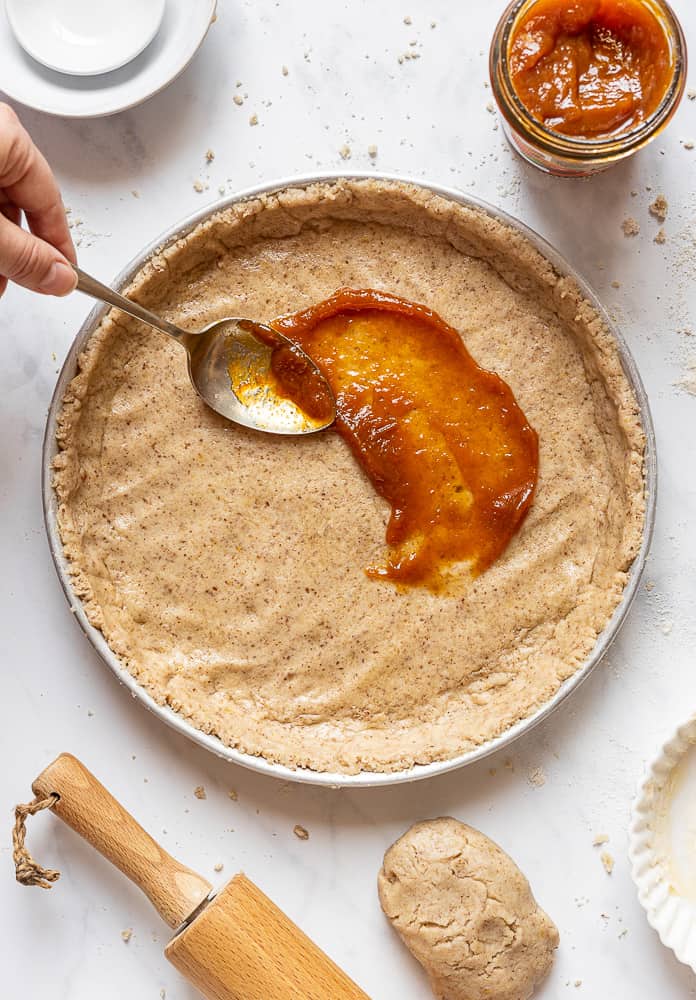 Print Recipe
Easy Gluten free Vegan Tart Crust
Easy gluten / dairy / egg free tart crust, perfect for jam pies and tarts of any kind!
Ingredients
2.5

tablespoon

ground flax seeds

8

tablespoon

water

7

oz

(200 gr) gf brown rice flour

(or 150 rice + 50 almond)

3.5

oz

(100 gr) gf potato starch (or other starches)

2.4

oz

(70 gr) brown sugar

1

teaspoon

cream of tartar

½

teaspoon

baking soda

pinch

of

salt

grated

zest

of a lemon

4.2

oz

(120 gr) margarine

2

tablespoon

gf rum or other liqueur
Instructions
Mix the ground flaxseed and water first (= egg replacer) and let it rest a few minutes

In a bowl mix flours, sugar, cream of tartar + baking soda (you can sub both of them with 1,5 teaspoon of baking powder), grated lemon zest and a pinch of salt


Add the margarine, the flax-egg and the liqueur


Mix all the ingredients in the bowl with a spoon, then as they start to turn into crumbles, move them on a board and knead the dough until it becomes firm


Shape it into a "ball", cover it with plastic wrap and refrigerate for at least an hour


Pre-heat the oven at 160°C / 320°F

Put the dough ball (keeping some for the decoration) into the baking pan and spread it directly with your hands or the help of the bottom of a glass/cup, to push and spread the dough


Fill it with jam, nut spreads or anything you like and with the remaining dough you can either make stripes to add on top or any decorations you like


Bake for 30-40 minutes (depending on your oven)


Let it cool down before slicing it