I love tarts. And that's all, folks! Bye!
Ok, ok, kidding I'm still here, fact is tarts are so good and so versatile, you can top them with jam, spreads, fruit or you can make them savory and top them with creamy cheese and all the veggies you want!
Here on the blog you can find my go-to gluten free tart crust, chocolate tarts (here and here), a gingerbread tart and in fact a savory veggie tart too, they're all gluten free and vegan, but I've been often asked if the margarine in them could be replaced with oil, so I've finally come up with a vegan gluten free oil tart crust recipe, without margarine or vegan butter!
I paired  it with cherry jam and frozen berries on top, SO freaking good!
And when I nonchalantly put this gluten free oil tart on the table for my sweetheart, I silently watched him get one slice, savour it, then go for a second slice and say "this is really good!" and as I confessed it was a new recipe, margarine-free , he goggled at me, knowing all too well how hard it is to make gluten free flours stick together without eggs, margarine or butter.
He has seen me throw in the bin more than one dough and offered to taste - test more than one questionable gluten free dish, that is.
But this gluten free oil tart crust is some kind of miracle to me! Just oil and plant based milk and you get a lovely dough that once baked is so tasty, comforting and will melt in your mouth.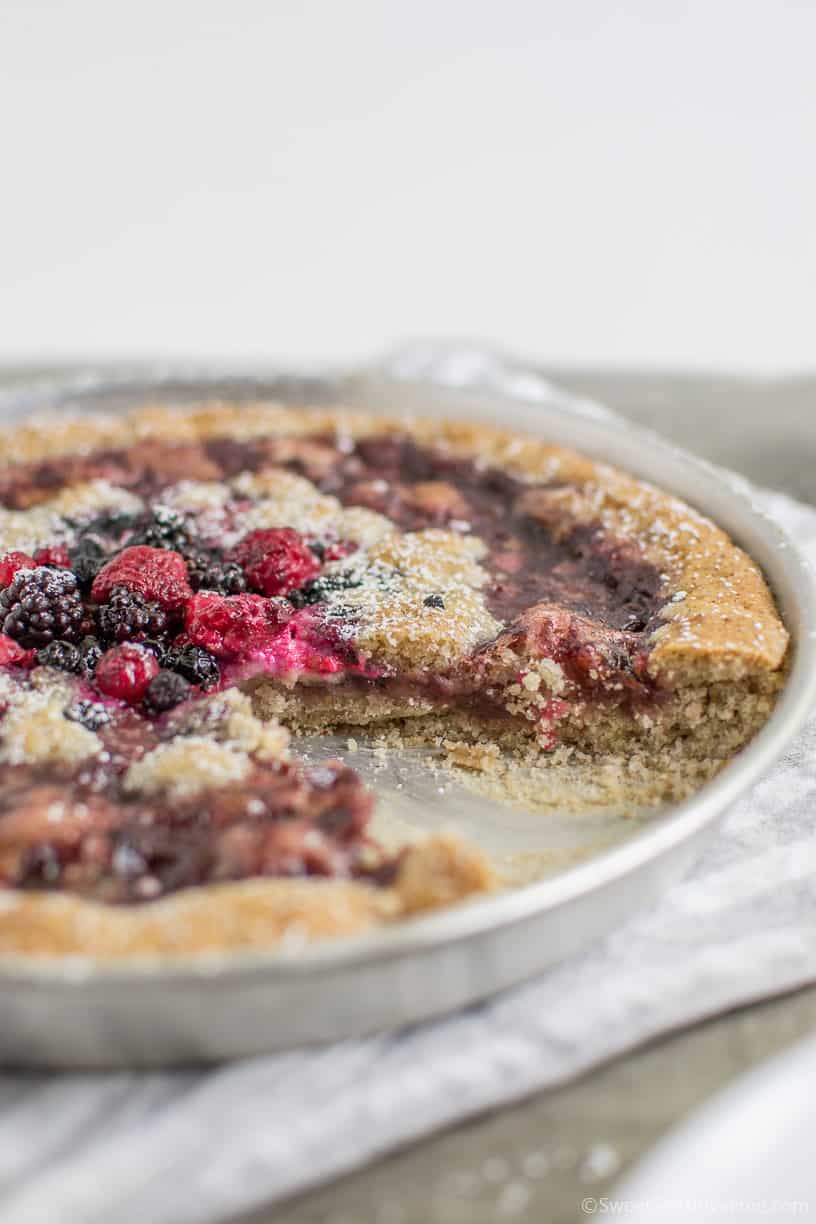 You're gonna love it, promise! You can also make smaller tarts with this dough, top them with fruit and cream and serve them to friends and family. Everyone will love them!
As always I'd love to know if you try the recipe and I'm super curious to know what you are going to top this tart crust with!
And if you make it, don't forget to tag me on Instagram @sweetsensitivefree and I will proudly feature your photo on my IG stories!
Ciao!
Sonia

Watch the video of this recipe!
📖 Full Recipe
Print Recipe
Vegan Gluten free Oil Tart Crust
Vegan Glutenfree Oil Tart Crust, an easy and quick recipe to bake your favourite tarts topped with jam, spreads and fruit!

Ingredients
100

gr

gluten free almond meal

100

gr

gluten free potato (or other) starch

120

gr

gluten free brown rice flour

1

teaspoon

cream of tart

½

teaspoon

baking soda

70

gr

brown sugar

grated

zest of a lemon

pinch

of salt

80

gr

gluten free rice milk (or other gf plant based milk)

40

gr

sunflower seed oil

2

tablespoon

rum, limoncello or other gluten free liqueur
Instructions
In a bowl mix well all the dry ingredients, then add the plant-based milk, the oil and the liqueur and mix with a spoon until you get a solid dough


Shape the dough into a ball, cover it in plastic wrap and let it rest in the freezer for at least one hour


Pre-heat the oven at 320 F / 160 C and take the dough out of the freezer


Place the dough directly on a greased / non sticking pan and spread it with your hands and the help of the bottom of a class/cup, making a half inch high border


Spread the jam on top and if you have any excess dough left, crumble it on top


Bake for 25-30 minutes and once out of the oven let it cool down before slicing it. Enjoy!