This 5-ingredient vegan limoncello dessert is ready in literally 5 minutes, it is soy free, gluten free and oh so creamy!
Definitely one of the easiest limoncello desserts you could ever make and if you would love a scrumptious limoncello cake too, try this as a frosting on this lemon cake! Absolutely delicious!
Recipe re-tested and updated March 2022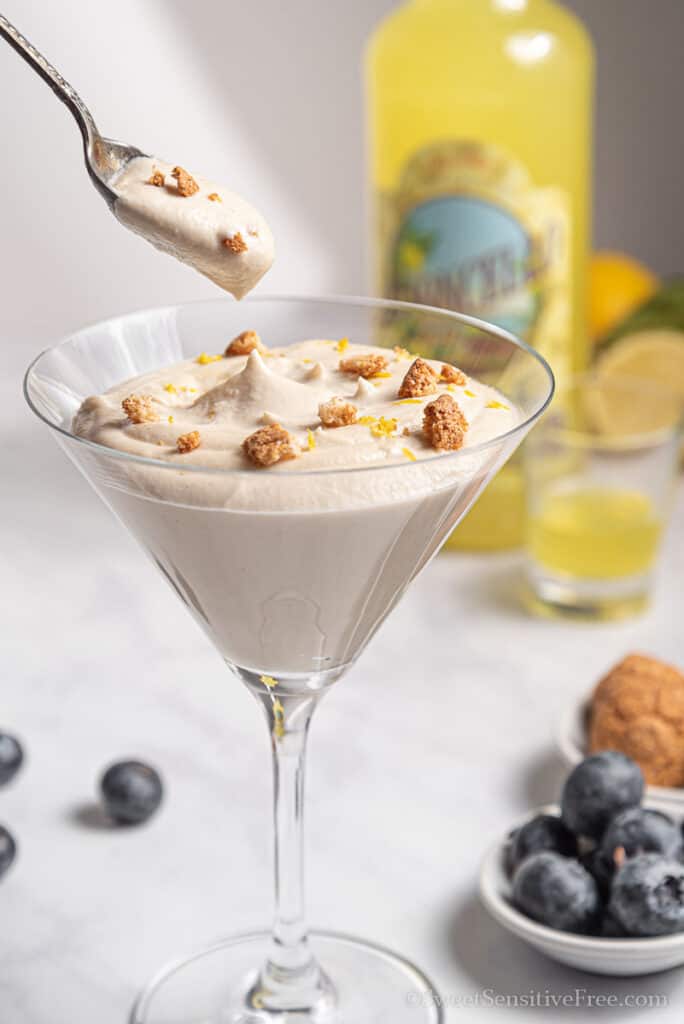 Jump to:
Limoncello is a typical lemon-flavored Italian liqueur, that is usually sipped in small, cold glasses at the end of a (generally pretty hearty) meal. Basically to help you digest, that is. And it works!
So why not use it to make a scrumptious creamy dessert in a glass that you can top with berries, strawberries and crumbled cookies.
Ingredients
Just 5 ingredients, a blender and 5 minutes. That is all you will need to prepare this dessert with limoncello:
raw unsalted cashews, it is important they are not toasted and/or flavoured
gluten free plant based milk, I prefer rice milk as it has the most neutral and slightly sweet flavor
limoncello liqueur, make sure it is labeled gluten free (and vegan, though it should not contain any animal product per se)
fresh lemon juice, it gives the cream that extra kick
agave syrup or other sweetener, you can totally use powdered sugar aswell
Find all the quantities in the recipe card below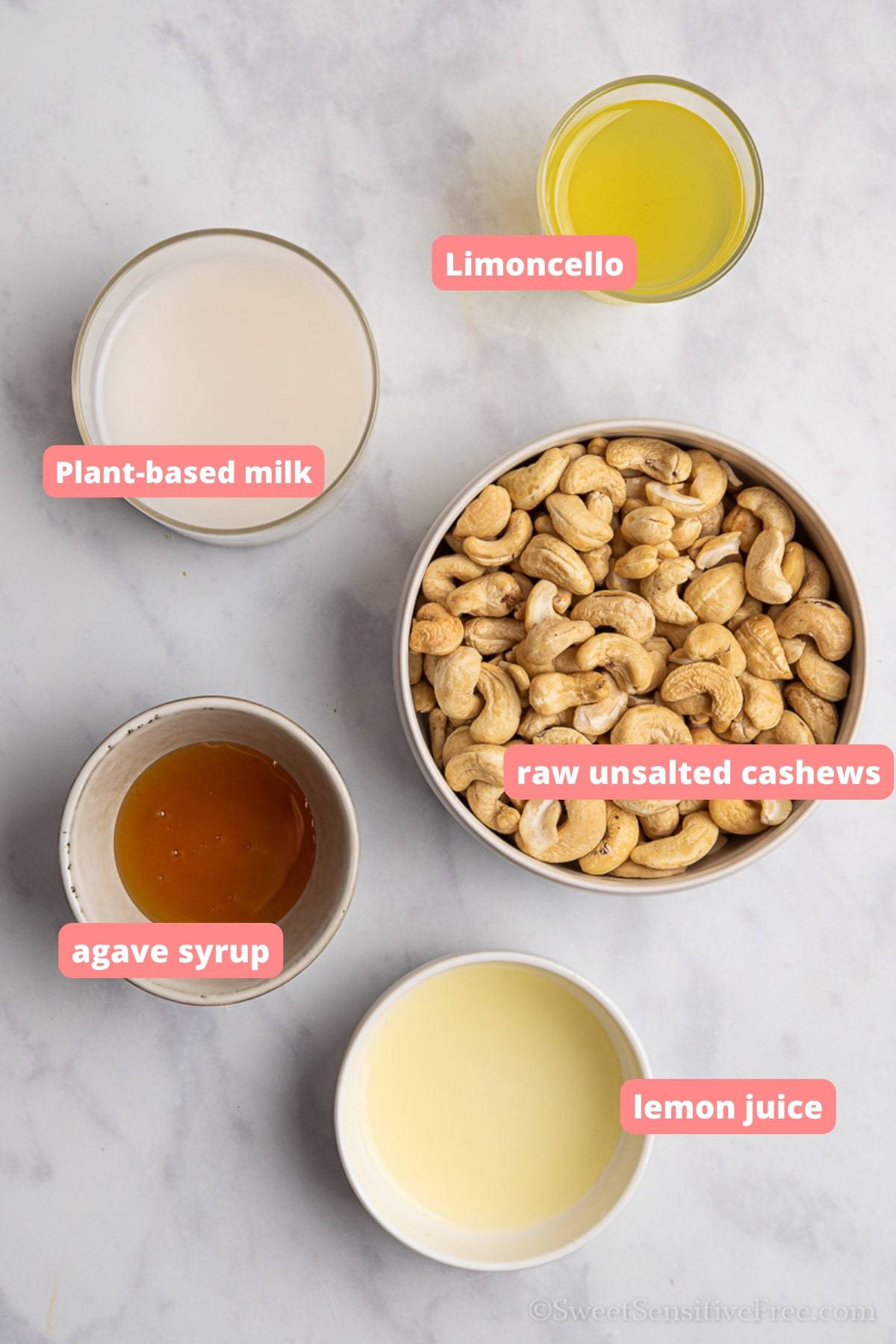 How to make this vegan limoncello dessert
Besides the good ol' limoncello with ice cream, of all the limoncello recipes for dessert that you can find, I really doubt there is anything easier than this one!
It could be really one step: add all the ingredients into a blender, blend until creamy and serve.
If you have a high speed blender, you can use raw cashews.
In case you have a less "powerful" blender, boil the cashews for 5 minutes and rinse them with cold water before adding them to the blender.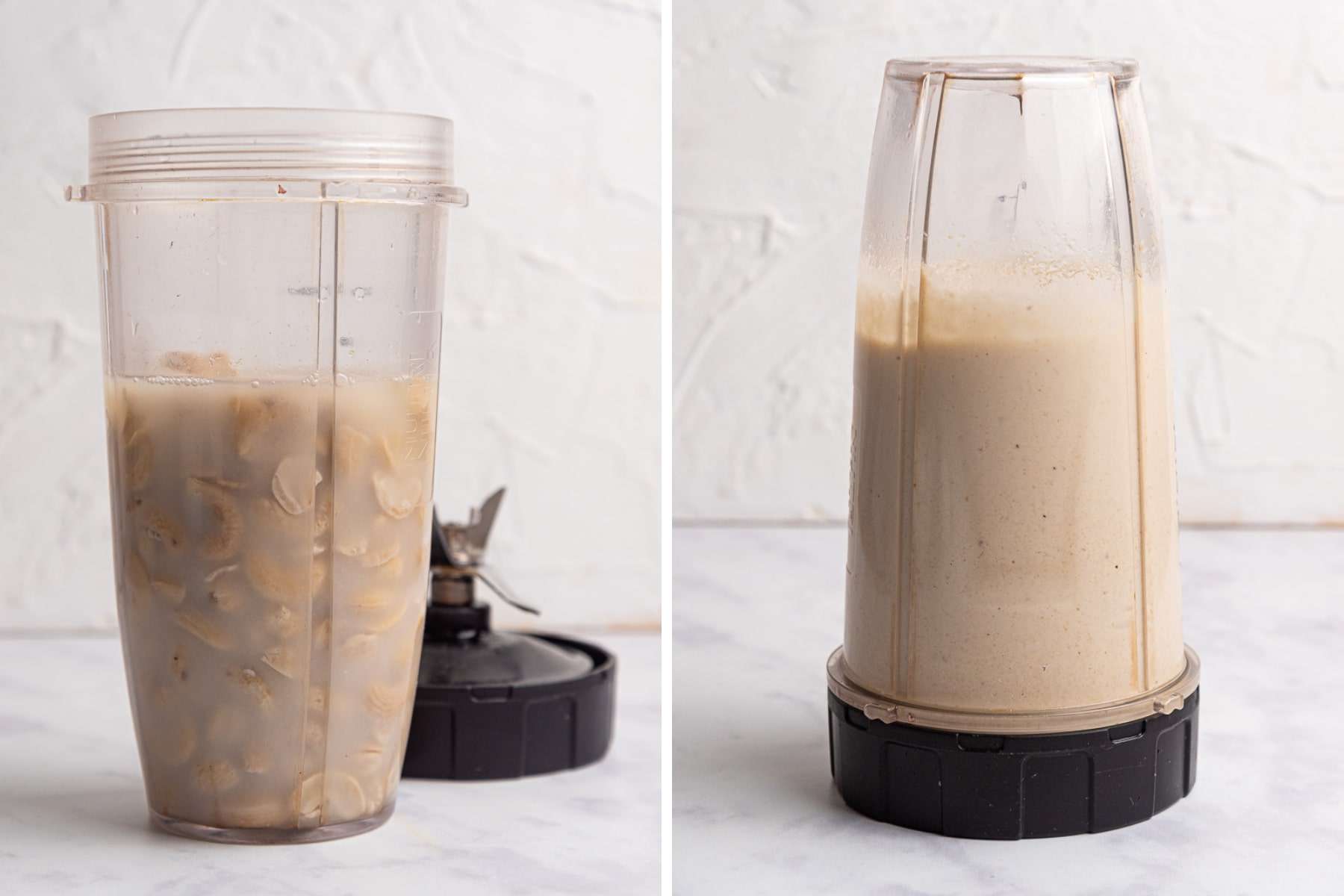 You can serve this room temperature, but it's definitely best served cool, half an hour in the fridge will be enough to make it even fresher and nice to enjoy.
This is the perfect flute dessert recipe, just like a lemon sorbet, but you can serve this limoncello cream in a small bowl or in a martini cup too.
And you can top it and decorate it with berries and crumbled cookies or amaretti!
Questions and Tips
Is Limoncello gluten free?
Limoncello can be gluten free. If you make your own limoncello, make sure the alcohol you use is certified gluten free. If you use store-bought limonello, make sure it is labeled gluten free, as it might contain colorants and flavorings that have gluten.
Can I make a frozen limoncello dessert with this recipe?
Yes you can. Pour this cream in a pan, cover it and place in the freezer for a few hours. Then let it rest outside the freezer and portion it with an icecream scoop. It will be like having a limoncello ice cream.
Other ideas to use this cream of limoncello?
Besides simply serving it in a glass, you can use it as a frosting for a limoncello cake or to  fill bignets and pastries as a limoncello pastry cream.
You could also use it to replace mascarpone cream in tiramisu or to fill a fruit tart and cover it with fresh berries, making a delicious limoncello and strawberry summer dessert for instance!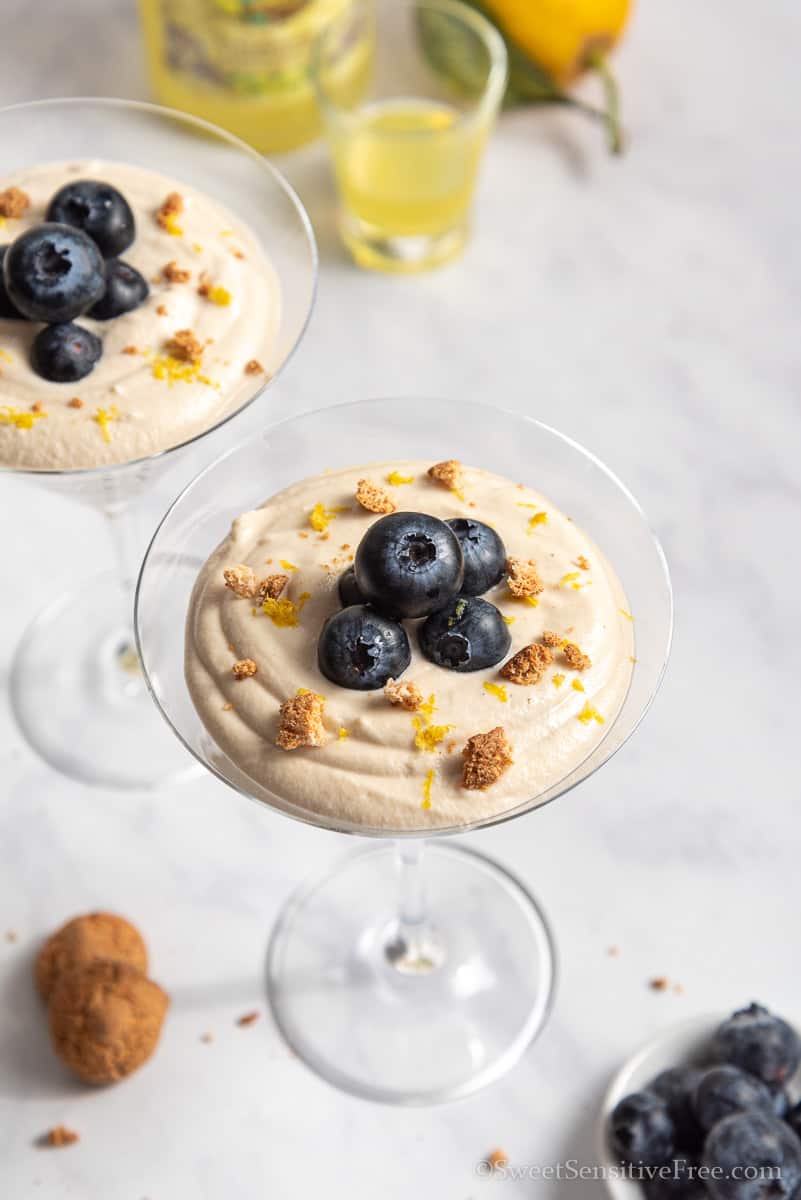 This limoncello dessert recipe is perfect all year round.
It is perfect after a hearty shared meal during festivities, anytime from Christmas to Easter really. But it's so fresh and lemon-y that you can't wrong with it in summer aswell!
If you make this recipe or have questions, leave me a comment down here! And a 5 star rating if you have loved it would help me grow the blog 😉
For all the updates, follow me on Facebook and Pinterest and tag me on Instagram if you make this or any of my recipes! I absolutely LOVE to see what you make and share it in my stories!

Ciao!
Sonia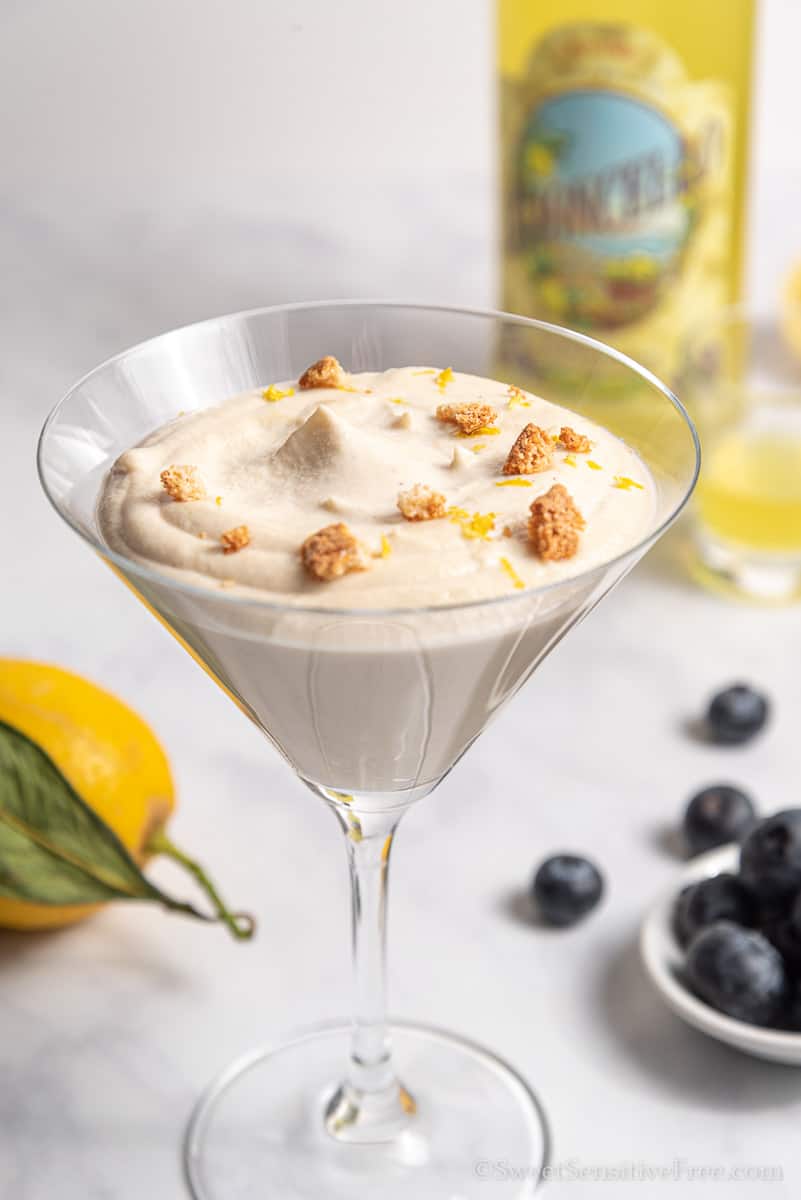 📖 Full Recipe
Print Recipe
Creamy Vegan Limoncello Dessert | Soy free * Gluten free
This 5-ingredient vegan limoncello dessert is ready in literally 5 minutes, it is soy free, gluten free and oh so creamy!
Equipment
1 Blender

1 kitchen scale

1 small pot to boil the cashews (optional)
Ingredients
For the limoncello cream
250

gr

raw unsalted/unflavored cashews

160

gr

gluten free plant based milk (best if neutral flavored, like rice)

60

gr

gluten free, vegan limoncello liqueur

2-3

tablespoon

fresh lemon juice

40

gr

agave syrup

or other sweetener, powdeered sugar works great too
For the decoration
organic lemon

fresh berries

(optional)

gluten free vegan cookies, crumbled

(optional)
Instructions
If you have a high speed blender, you can use raw cashews.

In case you don't, simply boil the cashews for 5 minutes, then rinse them under cold water

In a blender add all the ingredients and blend until it's smooth and creamy

Adjust sweetness to taste and refrigerate for 30 minutes before serving

Serve with a little bit of grated zest of an organic lemon on top, you can add berries and crumbled cookies for a crunchy touch