These gluten free corn free tortillas are also yeast free and made with naturally gluten free flours, no store-bought flour blends.
They are a great idea for a last minute meal, but also for your lunch break at work or school or during a day outdoor!
Curious to know more about flours that are gluten free? Find the full list + tips here!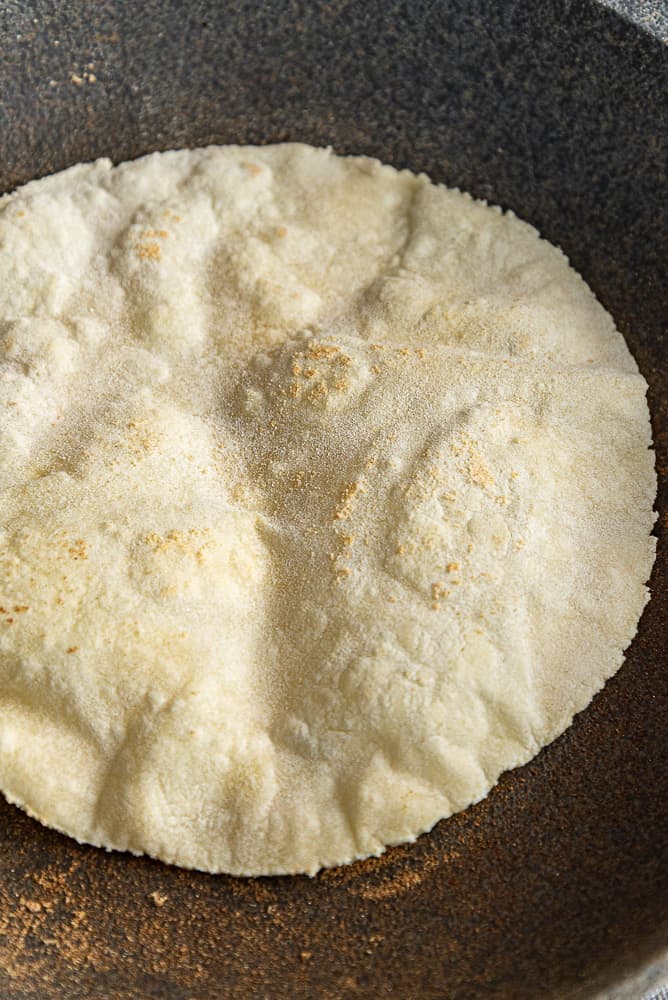 Jump to:
Ingredients
To make your gluten free wraps you will only need few simple ingredients, with a trick that makes it soft and "bubbly":
white rice flour
gluten free starch
salt
baking soda
hot water
lemon juice
Find all the quantities and directions in the recipe card below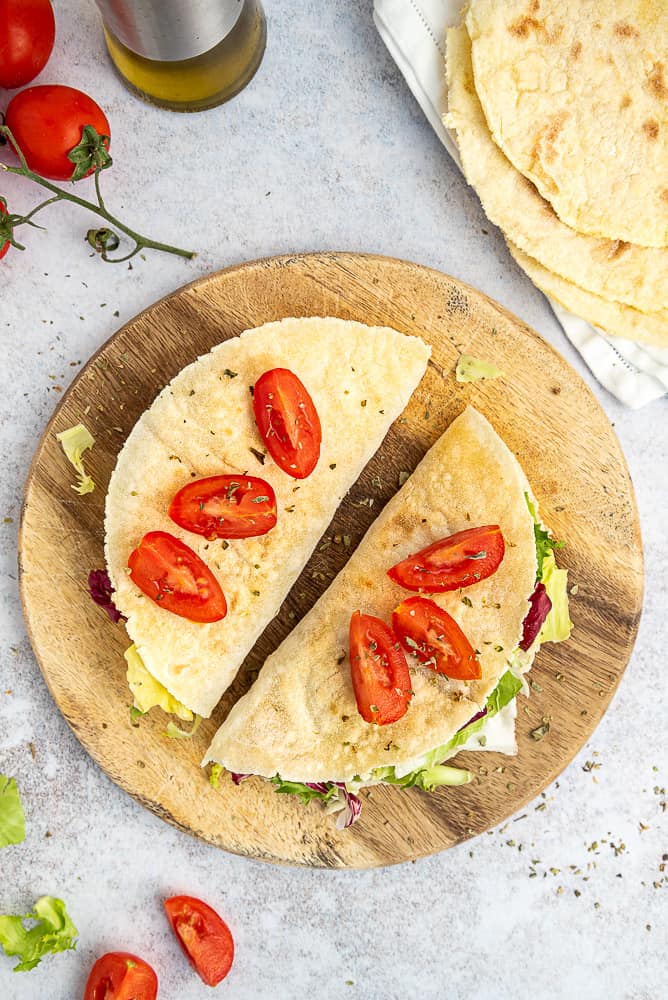 Let's see how to make gluten free flour tortillas at home
in a bowl add white rice flour, gluten free starch, salt, baking soda and mix well
add the boiling hot water and the lemon juice and immediately stir with a spoon
knead the dough with you hands, squeezing the dough so that you incorporate all the ingredients

until you get a firm and smooth dough ball

cut the gluten free wrap dough into four parts and roll them into balls, leaving them to rest for 10 minutes under a napkin
roll the dough out with a rolling pin until the dough is a couple millimeters thick
heat a non sticking pan over medium high heat and cook the gluten free tortilla wraps, turning them upside down every other minute, until big "bubbles" form and it's nice and golden on both sides
as you cook the gluten free wraps, place them between a napking, so that they keep warm and soft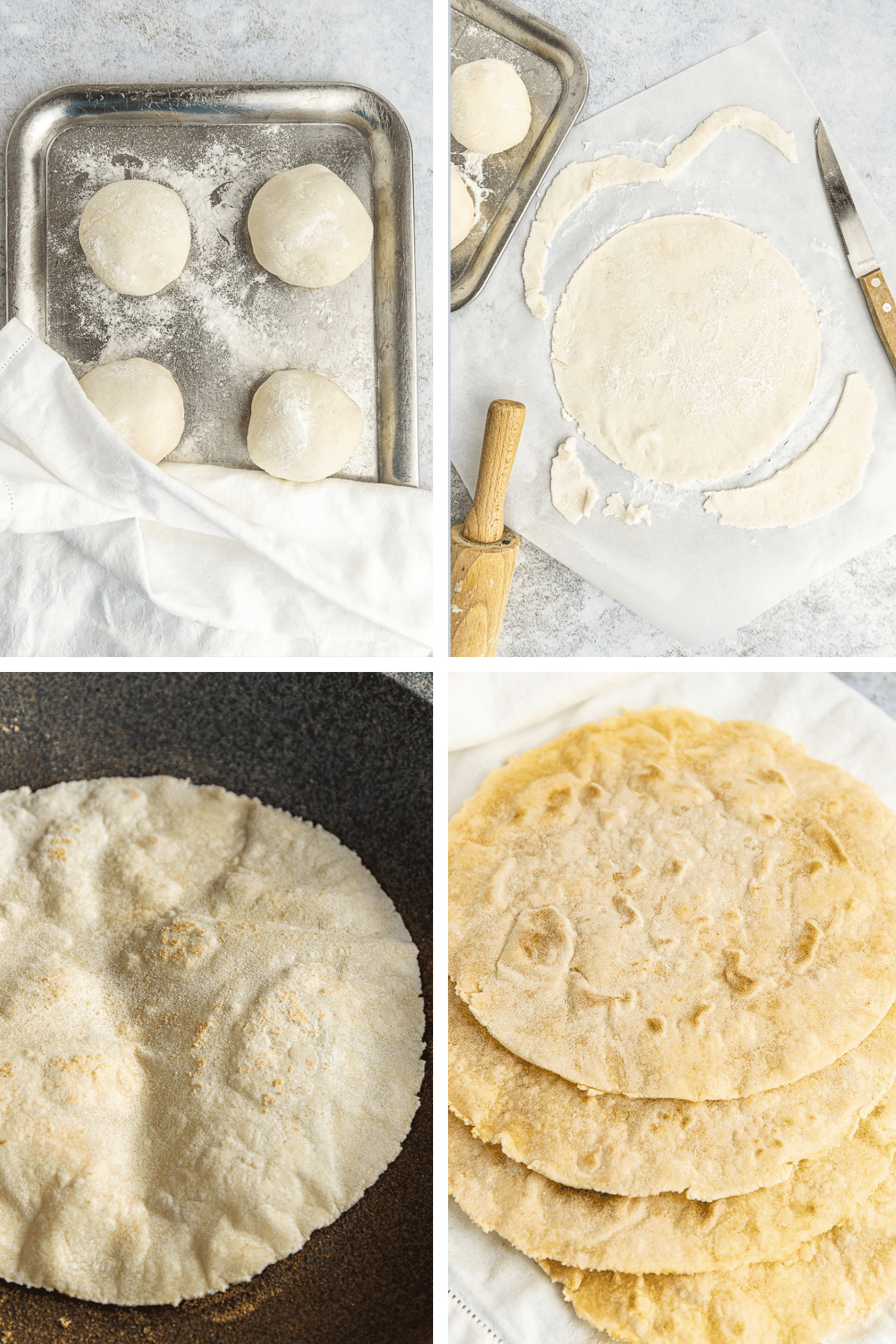 As you can see this is an extremely easy and quick gluten free tortilla recipe.
Needless to say, you can fill your freshly made corn free wraps with anything you love!

When we make them, we usually place on the table a bit of everything: green salad, tomatoes, tuna, anchovies, olives, seeds, grilled veggies, avocado and various seasonings!
So everyone just fills them the way they want and it's a nice and fun convivial moment!
If you make this recipe or have questions, leave me a comment down here!
And don't  forget to follow me on Facebook and tag me on Instagram if you make this or any of my recipes! I absolutely LOVE to see what you make and share it in my stories!

Ciao!
Sonia

Looking for a gluten free and yeast free bread? Check out my recipe here!!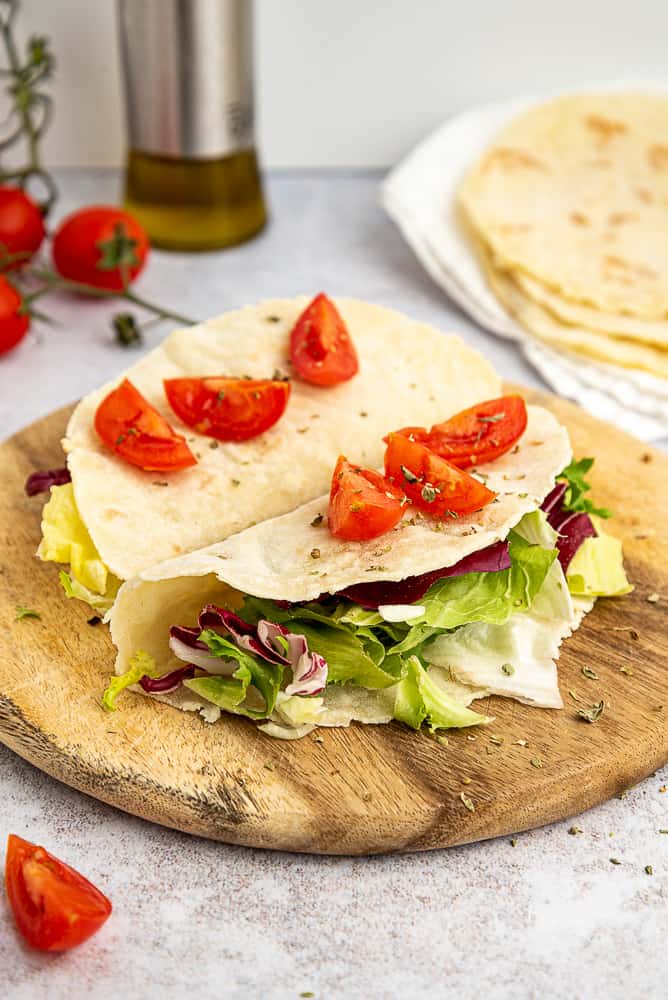 📖 Full Recipe
Print Recipe
Corn free Gluten free Tortillas | * Yeast free * Vegan
These gluten free tortillas are soft and can be rolled and folded without breaking! They are also corn free, yeast free and vegan!
Equipment
1 kitchen scale

1 bowl

1 rollling pin

parchment paper

1 pan

1 kitchen towel
Ingredients
150

gr

gluten free white rice flour (+ extra for flouring)

75

gr

potato or other gluten free starch

1

teaspoon

salt

½

teaspoon

baking soda

170

gr

hot water

1

tablespoon

lemon juice
Instructions
first things first, you will need steaming hot water: I usually either use a kettle or microwave, you can boil it on the stove, but anyway tap water is NOT hot enough to make these gluten free flour tortilla wraps (and you can not use cold or warm water either, the dough won't stick together)

in a bowl add white rice flour, gluten free starch, salt, baking soda and mix well

add the hot water and the lemon juice and immediately stir with a spoon, incorporating as much as possible the dry ingredients to the liquids. The correct result is big dough chunks

being careful not to burn yourself if the dough is still too hot (wait a moment if necessary) start kneading the dough with your hands, squeezing the dough so that you incorporate all the ingredients

you can knead the dough in the bowl or move it to a floured (rice flour) surface

keep kneading until you get a firm and smooth dough ball

cut the dough into four parts and roll them into balls, letting them rest for 10 minutes under a napkin

once the resting time is over, place each dough ball between two parchment paper sheets (keeping everything well floured) and roll it out with a rolling pin until the dough is a couple millimeters thick

you can place a round plate over the rolled out dough and cut each wrap in a perfectly round shape (honestly, I skip this step when I'm in a hurry to make dinner!)

heat a non sticking pan over medium high heat and cook each gluten free tortilla wrap, turning them upside down every other minute, until big "bubbles" form and it's nice and golden on both sides

as you cook the gluten free wraps, place them between a folded napkin, so that they keep warm and soft