Gluten free yeast free bread, no kneading and leavening needed! In just one hour you will be able to enjoy your soft vegan gluten free bread made without eggs and xanthan gum!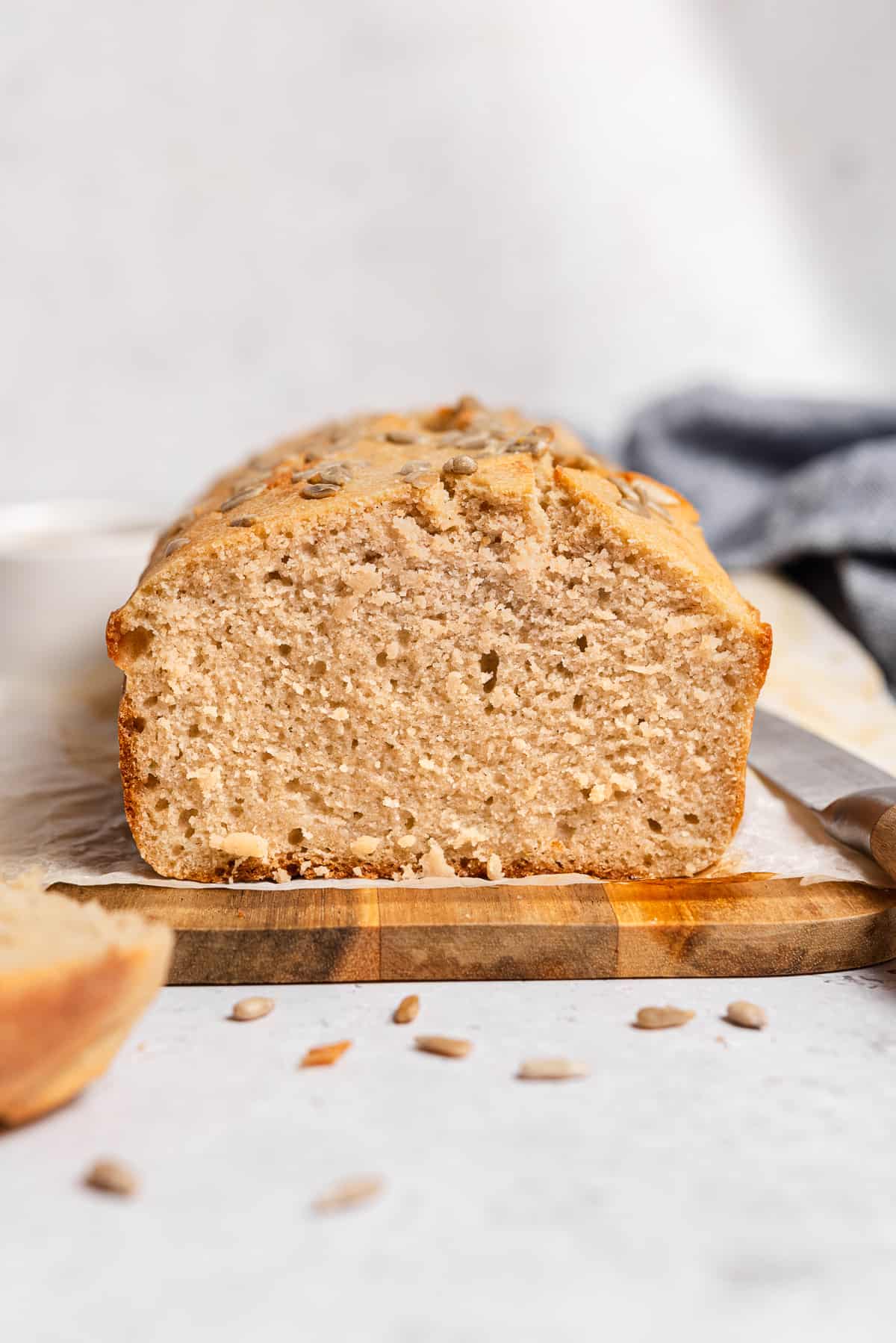 Jump to:
In my endless experiments with naturally gluten free flours (as in, no store bought flour blends), improving and varying my gluten free bread recipes has become pretty much a mission for me.
So I'm pretty happy that after several attempts I have finally managed to make a soft gluten free yeast free bread too and I can share it with you, gluten and yeast sensitive fellows! *fist bump*
This gluten-free bread without yeast is also:
DAIRY FREE
EGG FREE
NUT FREE
VEGAN
HIGH IN PROTEIN
with LESS CARBS THAN REGULAR GLUTEN FREE BREAD
The texture of this bread reminds me of the focaccia bread that my mom and my grandma used to bake when I was a kid, rich and soft inside and slightly crunchy on the outside.
And oh the smell of baked bread right out of the oven, all around the house, I just couldn't wait to cut a slice for myself. Even though I ended up burning my mouth every time. SO worth it though.
Same happens with this gluten and yeast free bread loaf. In fact, the other day I had to leave a note on top, saying "do not cut the bread, I have to take the photos first!". Because I know my sweetheart all too well.
Besides the brown rice flour, I have used quinoa and amaranth flours, rich in fibers, protein and minerals.
Being it a yeast free bread, no leavening is needed, because the cream of tartar and the baking soda will activate while the bread is baking.
I mean, isn't this awesome!? It sure is because it means that in just one hour your bread will be ready to be enjoyed both with savory foods and jams or spreads! *fist bumps again*
Also, this easy gluten free bread is sliiightly moist inside, which will help to keep it soft for 2 to 3 days, if kept well sealed in a bag.
I have also made burger buns with this batter, following the precedure I've shown you in this post and they came out great!
TIPS and SUBSTITUTIONS
CAN I OMIT THE FLAX SEEDS?
Yes and no. The flaxseed "gel" helps binding the gluten free flours and it also gives a softer texture to the bread.
If you can't or dont' want to use the flax seeds, you can replace them with a couple more table spoons of starch and reduce the other flours accordingly.
CAN I REPLACE QUINOA AND AMARANTH FLOURS WITH OTHER GLUTEN FREE FLOURS?
You sure can! They can be replaced with brown rice flour, millet, sorghum or buckwheat (you may need to add a bit of water, especially with buckwheat or millet)
WHY DO I NEED TO ADD CREAM OF TARTAR?
Cream of tartar is a plant-based acidic agent that reacts to baking soda and allows batters to instantly rise while being baked.
That is why no rising time is needed before baking.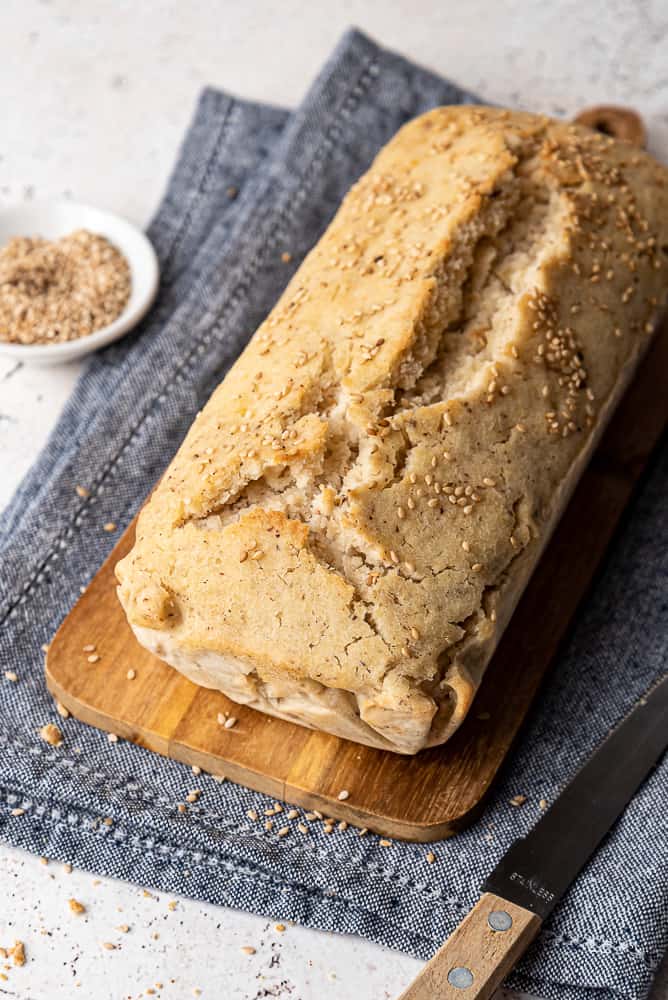 I hope you will try and enjoy this gluten free bread quick recipe and if you make it, don't forget to tag @sweetsensitivefree on Instagram to be featured in my IG stories!
Ciao!
Sonia
📖 Full Recipe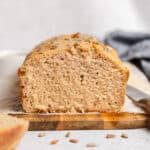 Print Recipe
Soft Gluten free Yeast free Bread | Vegan + Homemade Flour Blend
The best gluten free yeast free bread, no kneading and leavening needed! In just one hour you will be able to enjoy your soft vegan gluten free bread made without eggs and xanthan gum!
Equipment
kitchen scale

1 small bowl/cup

1 spoon/spatula

1 bowl

1 loaf pan

parchment paper
Ingredients
100

grams (¾ CUP)

gluten free quinoa flour *

100

grams (¾ CUP)

gluten free amaranth flour *

180

grams (1+¼ CUP + 1 tbsp)

gluten free brown rice flour

120

grams (¾ CUP + 1 tbsp)

gluten free potato (or other) starch

1

teaspoon

baking soda

2

teaspoon

cream of tartar

2

tsp

salt

2

tablespoon

ground flax seeds + 6 tablespoon water

420

grams (2 CUPS)

water

2

tablespoon

extravirgin olive oil
Instructions
Pre-heat the oven at 180° C / 350 F

Mix the ground flax seeds and the 6 tablespoon of water and let rest for a few minutes


In a bowl mix well all the flours, starch, baking soda, cream of tartar and salt


In another bowl mix the water and the olive oil and add it to the other bowl, carefully mixing and incorporating all the ingredients until you have a smooth and uniform batter (no, you won't get a dough that can be kneaded, but a semi-liquid batter, so don't panic!)


Incorporate the flaxseed "gel" to the batter


Pour the batter into a loaf pan, previously greased with olive oil or covered with parchment paper, sprinkle some seeds on top (if you like them) and bake for 40 to 50 minutes, depending on your oven


Once out of the oven, let it cool down before slicing it 🙂


Check the post for tips and substitutions!
Notes
*These flours can be replaced with other naturally gluten free flours like brown rice, millet, sorghum or buckwheat.
Please note that measurements in cups may be slightly different from the ones in grams, due also to the difference in texture/grinding of naturally-gluten free flours. Which is why the use of a kitchen scale is advised, for a correct outcome of the recipe.