Autumn is coming! And considering the super hot summer we've had here in northern Italy, I think it is the first time I am actually this glad that Fall is just around the corner.
I'm definitely ready for cool air and in the mood for cozy, comforting days at home.
And speaking of cozy and comforting, I'm back with a very special sweet recipe for you: gluten free vegan apple cinnamon rolls!
Oh my, are these GOOD.
They're filled with a super simple apple cinnamon compote, which makes them softer and so much tastier.
We've been having these gluten free cinnamon rolls for breakfast, as dessert and mid afternoon too.
What's very important is that you serve/eat them warm. If you're not serving them right out of the oven, re-heat them a couple minutes before having them and don't hesitate to drop a spoonful of vanilla ice-cream on top!
So, if you're ready for all the Fall vibes, keep scrolling for the recipe and enjoy! 😉
Ciao!
Sonia
P.S. More apple filled goodies? Check out these baked donuts and my strudel with homemade shortcrust 😉
📖 Full Recipe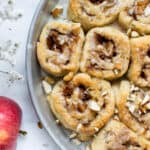 Print Recipe
Apple Filled Cinnamon Rolls | Gluten free Vegan
Few ingredients to bake delicious gluten free vegan cinnamon rolls filled with homemade apple compote!
Ingredients
For the dough
120

gr

gluten free white rice flour

50

gr

glunte free brown rice flour

150

gr

gluten free potato (or other gluten free) starch

60

gr

brown sugar

2

teaspoon

cream of tartar

1

teaspoon

baking soda

pinch

of

salt

130

gr

soy-based lemon yogurt

(or plain yogurt + grated zest of a lemon)

50

gr

gluten free, plant based milk

50

gr

(sunflower) seed oil
For the apple compote
2

medium

apples

1

teaspoon

cinnamon powder

1

tbsp

brown sugar (optional)
For the glaze
3

tablespoon

powdered sugar

plant based milk

pinch

of

cinnamon powder
Instructions
In a bowl mix the dry ingredients: flours, starch, sugar, baking soda, cream of tartar and mix well (you can also blend them a couple of minutes if you want)

In another bowl whisk well together the yogurt, the milk and the oil

Add the liquid part to the dry ingredients and mix everything with a spoon first, than with you hands, squeezing all the ingredients together, then kneading the dough until it's compact and uniform

Place it in a bowl, cover it and refrigerate for 30 minutes

In the meantime cut the apples into small pieces and in a pan mix them with the sugar (optional) and the cinnamon powder, cooking at low/medium heat untile the apple is very soft

Pre-heat the oven at 180° C / 350 F

Put the dough between two big pieces of parchment paper and roll the dough out into a rectangle, half centimeter thick

Remove the top piece of the parchment paper, spread the apple compote all over the rolled out dough, then slowly and carefully roll it up along the longer side (use the bottom piece of parchment paper to help you roll the dough)

With a thin knife cut the roll into rolls of the same size and place them on a greased baking pan

Once out of the oven, prepare the glaze mixing the sugar, the cinnamon poweder and add the plant-based milk one teaspoon at a time untile you have a not to thick glaze, that you will pour over the cinnamon rolls before serving

Serve these gluten free vegan cinnamon rolls warm. You can add vanilla ice-cream and chopped almonds on top too