This gluten free vegan apple strudel is delicious and comforting! It's easy to whip up and everyone will love the homemade gluten free shortcrust pastry!
Jump to Recipe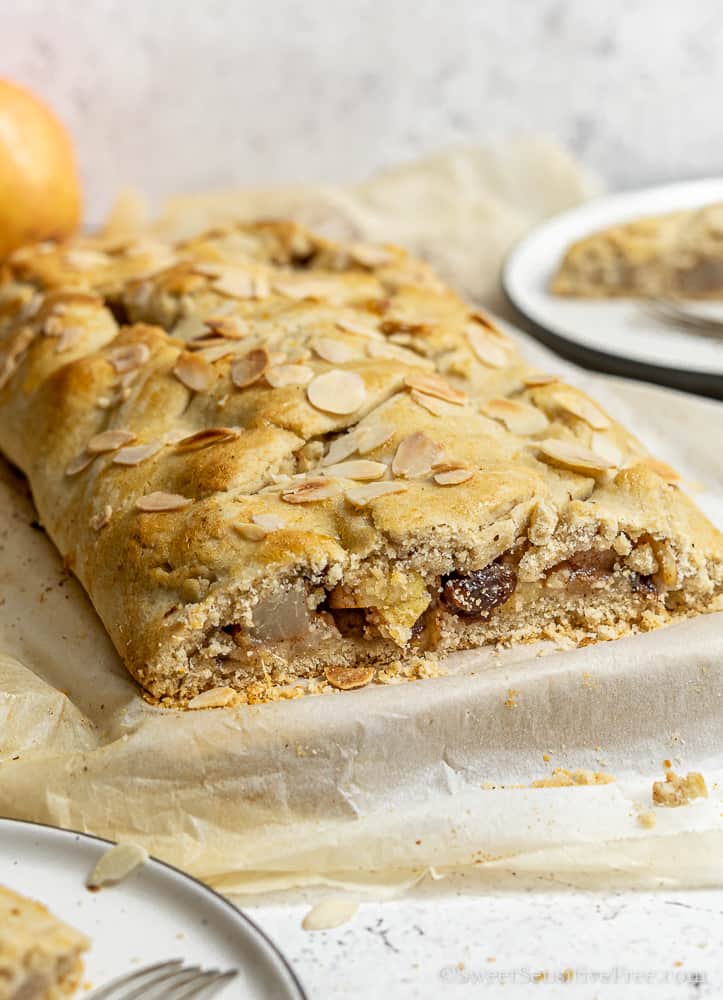 Strudel is usually made with puff pastry, but since making it gluten free and vegan ain't no easy task, I decided to opt for a much easier gluten free shortcrust version of it, which is also a typical recipe from South Tyrol, the beautiful mountains in Northeast Italy.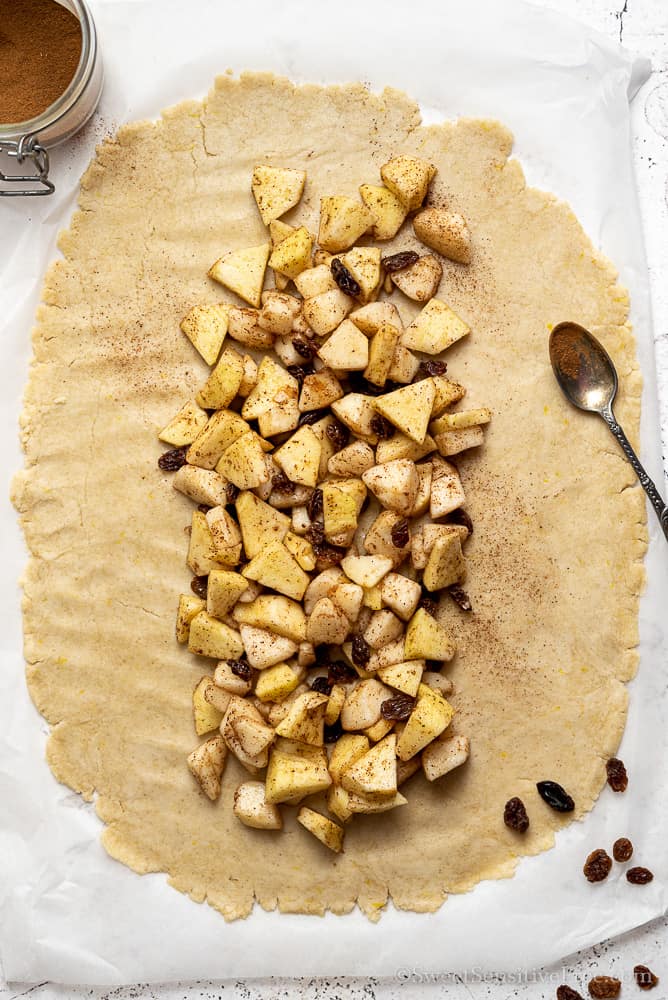 And as I think of the mountains, I think of the snow outside, something I rarely see living close to the sea *le sigh* … and I dream of me and my sweetheart sitting by a fireplace, relaxing and watching the white landscape outside while savouring this apple strudel, still warm, soft and comforting *double sigh*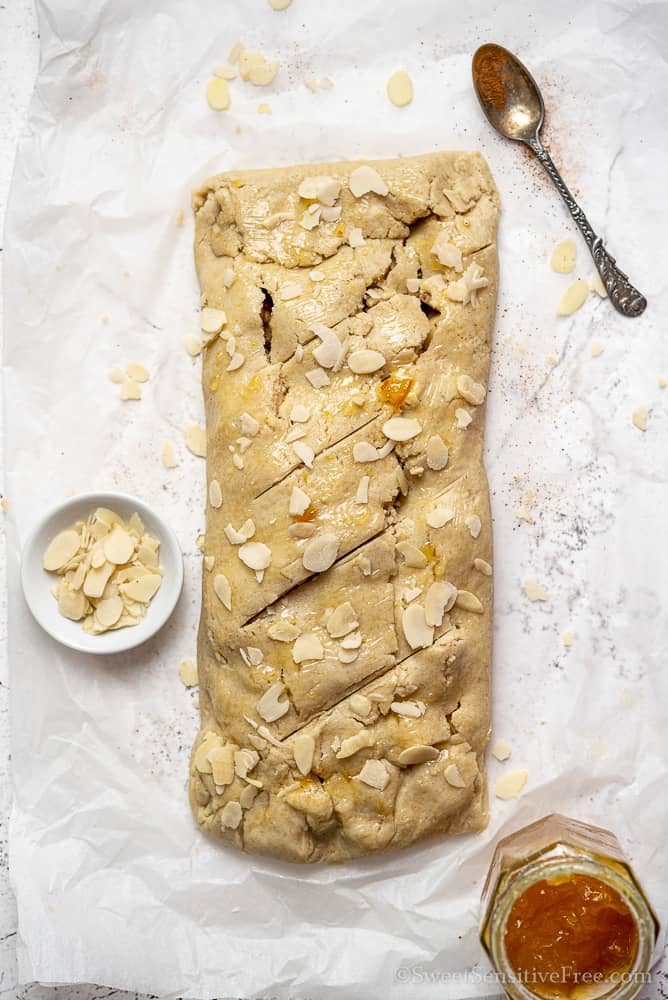 *still sighing* ... This strudel is pretty easy to make, I used my recipe for the gluten free vegan tart crust and I was amazed with the result, the crust is just of the right softness and it embraces perfectly the fruit filling!

I really, really, REALLY hope you will give this recipe a try, you will have a comforting dessert and I challenge you to offer it to your guests and see the shock on their faces when you tell them it's gluten, dairy and egg - free 😉
Let me know if you try it and if you have any advice or variations I will be glad to hear it from you!

Ciao!
Sonia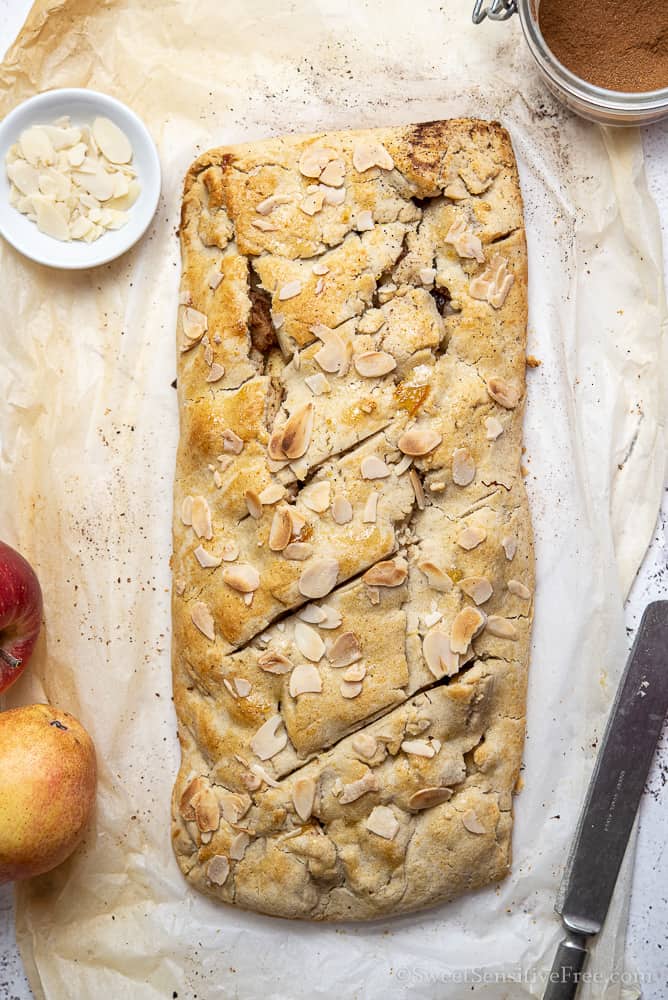 📖 Full Recipe
Print Recipe
Apple Strudel with Homemade Shortcrust Pastry
Gluten free, vegan apple strudel with homemade shortcrust pastry, easy and quick to make
Ingredients
For the shortcrust pastry
2.5

tablespoon

ground flax seed + 8 tablespoons water *

(see notes)

7

oz

(200 gr) brown rice flour (or 150 gr rice flour + 50 gr almond flour)

3.5

oz

(100 gr) gf potato starch (or other gf starch)

2.4

oz

(70 gr) brown sugar

1

teaspoon

cream of tartar **

(see notes)

½

tsp

baking soda **

(see notes)

pinch

of

salt

grated

zest

of one lemon

4.2

oz

(120 gr) margarine / vegan butter

2

tablespoon

rum or other gf liqueur
For the filling
2

apples

(or 1 apple + 1 pear)

2

oz

(60 gr) softened raisin

1

tablespoon

gf rum or other liqueur

2

tablespoon

brown sugar

3

tablespoon

chopped almonds or other nuts

½

tablespoon

cinnamon powder

2

tablespoon

almond flour (or ground almonds)

zest

of

half a lemon
Instructions
Mix the ground flaxseed and water first (= egg replacer) and let it rest a few minutes

In a bowl mix flours, sugar, cream of tartar + baking soda (you can sub these two with 1,5 teaspoon of baking powder), grated lemon zest and a pinch of salt

Add the margarine, the flax-egg and the liqueur

Mix all the ingredients in the bowl with a spoon, then as they start to turn into crumbles, move them on a board and knead the dough until it becomes firm

Shape it into a "ball", cover it with plastic wrap and refrigerate for at least an hour

Pre-heat the oven at 160°C / 320°F

Put the dough ball on a worktop between two sheets of parchment paper and roll the dough out into a ⅓ inch thick rectangular shape [more or less 13 x 10 inches / 35 x 25 cm]


Peel the apples and cut them into small pieces, in a bowl mix them with all the ingredients for the filling


Remove the piece of parchment paper on top of the rolled out dough

Spread the mix at the center of the  shortcrust

Fold close the longer side edges on top (lift the bottom parchment paper to help you push the two long sides together) and then seal close the short-side edges too (with your fingers or pressing down with a fork) , so that the juicy precious filling won't run away while baking

Cover the strudel with a thin layer of jam and some chopped almonds before baking, or leave it as is and dust it with some powdered sugar once it's baked and cooled down

Carefully move the parchment paper with strudel on top to a baking tray and bake for 35 minutes ca., or until it's nice and golden on the bottom and on the top

Once out of the oven, let it cool down, dust with powdered sugar and enjoy! 
Notes
*ground flax seeds (+water) can be omitted. They add extra softness to the pastry crust, but if you don't have them, simply mix all the other ingredients as per instructions and add one-two tablespoons of cold water at a time, in case the dough is too dry and doesn't stick together. Do so until you can form a dough ball
** baking soda + cream of tartar can be replaced with 1.5 teaspoons of baking powder