When it's hot outside you know it is time for some delicious and easy-to-make vegan ice cream recipes! From classic flavors like chocolate and vanilla, to more creative options like matcha and s'mores, these recipes for all dairy-free gluten-free ice cream will surely satisfy your sweet tooth!
Whichever recipe you will pick, pair it with these gluten free vegan chocolate cookies to make delicious ice cream sandwiches! You won't regret it.
And for other deliciously refreshing summer snacks don't miss these easy homemade vegan popsicles!
Save this post to your Pinterest!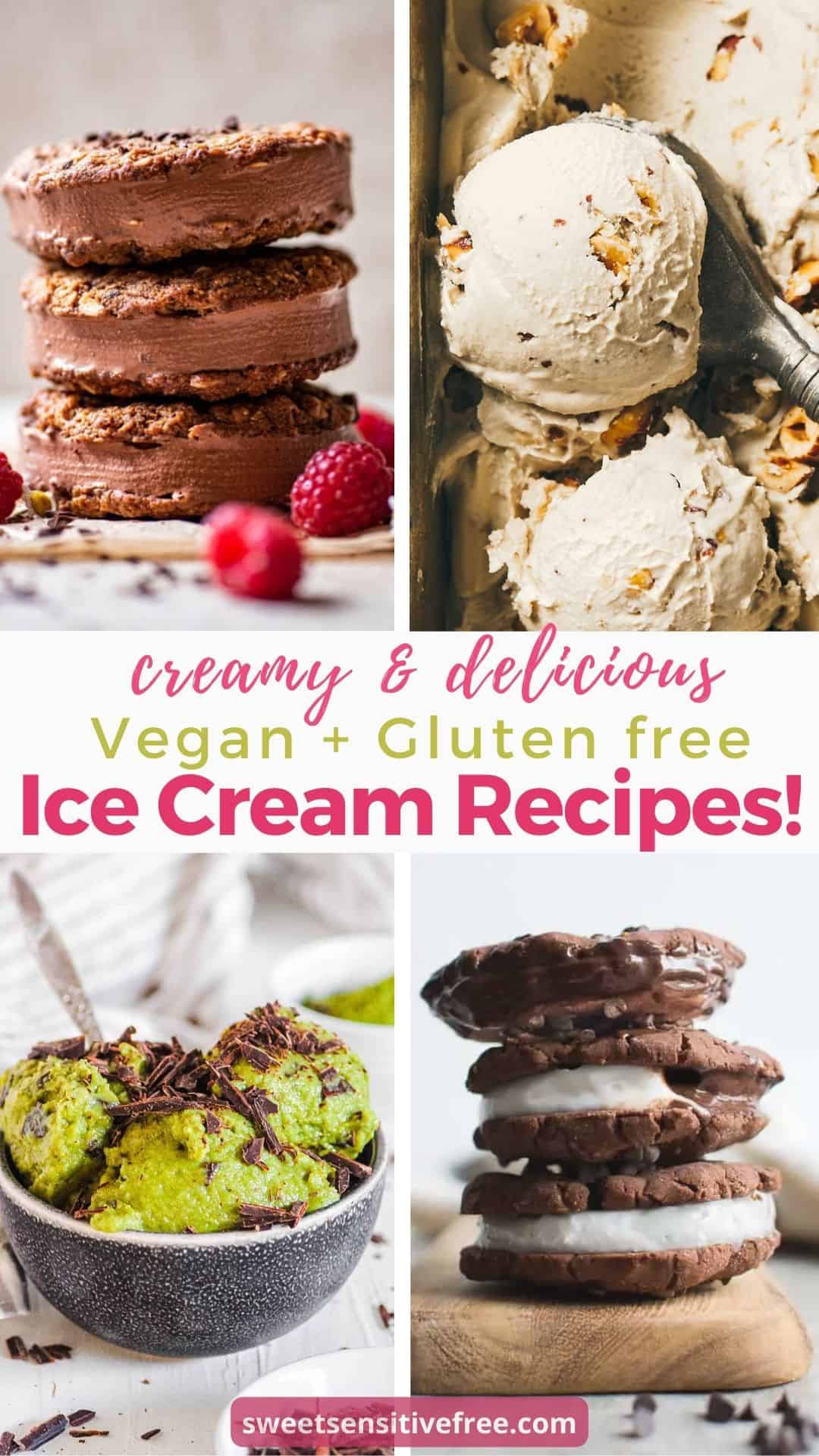 Jump to:
In this collection of vegan and gluten free ice cream recipes you will find how to make and enjoy lactose free homemade ice cream!
Ice cream definitely is one of the most refreshing summer snacks ever! And being able to easily make your own vegan gelato at home is next level!
Many different options to make homemade ice cream without cream, with and without ice cream maker.
In this roundup you will learn how to make homemade icecream and you will find:
ice cream made with and without coconut cream
recipes made with oat milk, soy milk and vegan yogurt
deliciously creamy protein vegan ice cream
sugar free and low calorie options
easy no churn ice cream recipes
ice cream made without guard gam and xanthan gum.
I won't lie, while compiling this recipe collection, I found myself drooling over these mouthwatering creamy vegan ice creams!
So many scrumptious flavors, from traditional vanilla, chocolate and coffee, to s'mores, peanut butter and caramel.
Oh and boozy flavored ones, like pina colada and whiskey!
But also the healthy fruit ice creams, like mango, berries or peaches!
Seriously, homemade ice cream recipes for every taste. They are perfect as a sweet treat and snack, but make the most delicious gluten free vegan summer dessert ideas too, that everyone will love!
So let's dive right in!
Vegan Ice Cream Recipes
Let me know in the comments what your favorite ice cream flavor is! Which recipe will you try first?
And don't forget to follow me on Facebook and tag me on Instagram if you make this or any of my recipes! I absolutely LOVE to see what you make and share it in my stories!

Ciao!
Sonia