This gluten free chocolate chip bread took a few tries and some major fails with the leavening process, but eventually everything worked out great and I can finally share the recipe with you!
The final result is a high, soft, bread-y loaf, not too sweet, filled with crunchy chocolate chunks and completed by a hint of orange flavour.
SO. Yummie.
The taste of this gluten free chocolate chunk loaf is everything.
And it's also vegan, which makes it even more allergy-friendly as no dairy or eggs are involved 😉
Keep scrolling for the recipe and let me know if you try it!
And don't forget to tag me on Instagram and show me your beautiful creations!
Ciao!
Sonia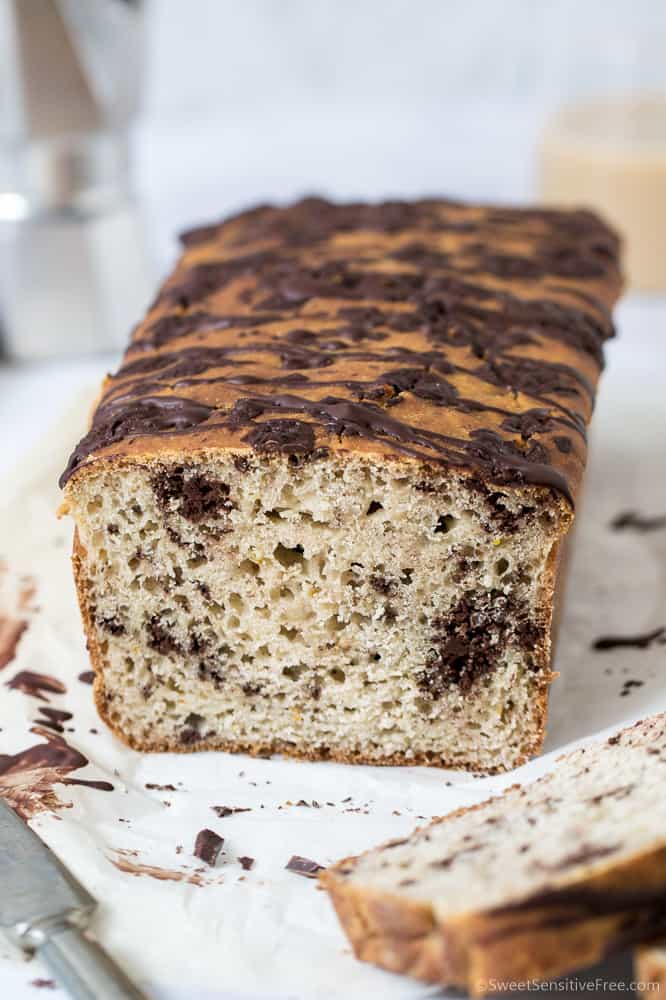 Print Recipe
Super Easy Chocolate Chip Bread | Gluten free * Vegan
This gluten free vegan chocolate chip bread is a high, soft, bread-y loaf, not too sweet, filled with crunchy chocolate chunks and completed by a hint of orange flavour!

Ingredients
370

gr

gluten free brown rice flour

130

gr

gluten free (potato) starch

1

teaspoon

cream of tartar

½

teaspoon

baking soda

40

gr

(brown) sugar

gluten free vegan dry active yeast

(doses depend on your yeast package instrucrions: the amount of yeast has to work for 500 gr flours)

grated zest of half an orange

⅔

teaspoon

salt

3

tablespoon

ground flax seeds

2

tablespoon

sunflower seed oil

370

gr

lukewarm water

100

gr

dairy/gluten free dark chocolate

(you can use chocolate chips, but using chunks from a chocolate bar give a crunchier feel)
Instructions
In a bowl add the brown rice flour, the starch, cream of tartar, baking soda, sugar, orange zest, yeast and mix well


In another bowl add the lukewearm  water, the oil and the ground flax seed, mix well and power the mixture into the bowl with the dry ingredients


Mix everything thoroughly, add the salt and keep stirring and mixing for 2-3 minutes


Add the chocolate chips (or cut a chocolate bar into small irregular chunks, they will give a crunchier feel to the bread) and incorporate them into the batter


Grease a loaf pan or line it with parchment paper, pour the bread butter in the pan and cover it with a small towel, letting it rest for 1 hour at room temperature


Pre-heat the oven at 200° C / 400 F


Before baking, add more chocolate chunks/chips on top


Bake for 10 minutes at 200° C / 400 F, then lower the oven temperature to 180° C  /  360 F  and let the chocolate bread bake for another 20-25 minutes


Once out of the oven, let it cool down for 10-15 minutes before slicing and store it in an airtight container to keep is soft up to 2-3 days


When the bread gets a bit dry, you can warm it a couple minutes in the oven/microwave and it will be soft again

Notes
*If you are sensitive to yeast, you can omit it and double the doses for cream of tartar and baking soda.
This way the loaf will have more of a cake texture, rather than a bread-y one.