A collection of gluten free soups recipes for every taste! Vegan detox soups, flavorful and comforting, perfect after the holidays indulgence. And whenever you need a warm, quick, healthy meal!
Save this post to your favorite recipes on Pinterest!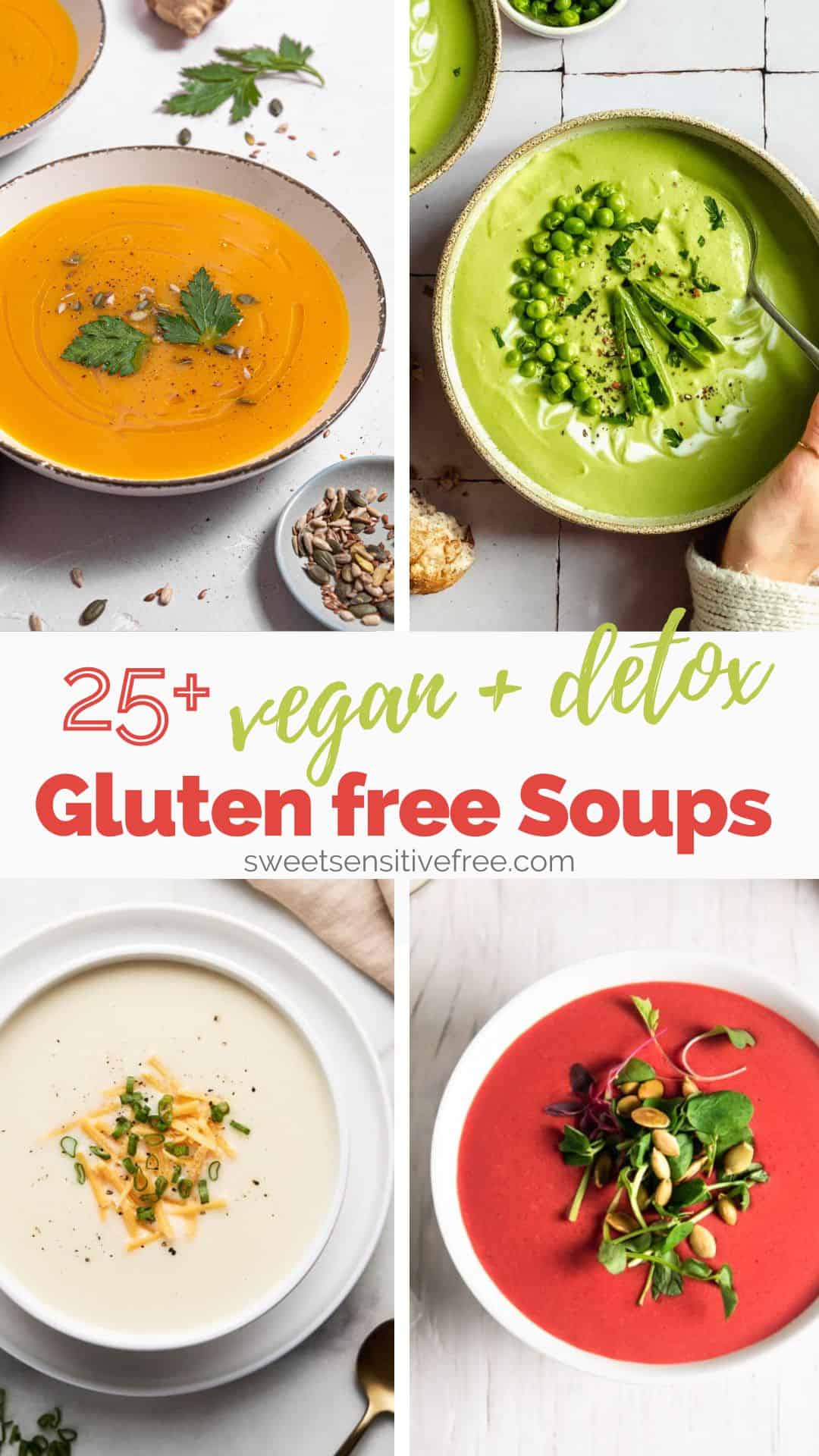 Jump to:
Are soups gluten free?
In your search for hearty, warm soups you may have been wondering, are soups gluten free?
The answer is, not always. Even though soups are mostly made of vegetables, they might contain gluten pasta or cereals (like barley, or spelt). Or wheat flour and starch could be used as a thickener.
So ordering soups out or buying canned soups can be tricky, it is very important you check all the ingredients!
But worry not. I've got you covered!
With this roundup of delicious recipes you will be able to make easy, quick and flavorful soups at home!
You will find:
warm, hearty soups, perfect for the cold season
both traditional and more spicy and exotic flavors, for every taste!
detox soups, with few simple natural ingredients, perfect for a post-holiday-detox
soups that are dairy free and 100% vegan
soups packed with vegetables and vitamins
low carb and low calorie soups
high protein vegan soups, thanks to beans, quinoa, tofu and mushrooms
instant pot vegan soup recipes
And one of the things I love most about these soups is that they are colorful and not boring!
These vegan soups can also be a great way to make toddlers and children enjoy "their greens" 😉
Vegan Soups Recipes
As you can see, in these vegan detox soups there's plenty of colors and flavors!
And if you want to add extra flavor and creaminess to any soup, you will love this vegan cashew cream sauce!
If you make any of these recipes or have questions, leave me a comment down here!
And don't forget to follow me on Facebook and tag me on Instagram if you make this or any of my recipes! I absolutely LOVE to see what you make and share it in my stories!

Ciao!
Sonia
Add this post to your favorite recipes on Pinterest!