It's Fall. So it's about time to bake something involving pear and chocolate, right?
I just can't help it, it's one of my all time favorite flavour pairings.
So much so that lately it has been my go-to combo when it comes to ice cream too.
Seriously, try it if you have the chance to: the richness of dark chocolate, combined with the sweetness of this fruit ... SO good!
Inspired by the ice cream, I decided to experiment with a dessert that is not only good for your taste buds, but very pretty too: a gluten free vegan chocolate loaf cake with whole soft pears in it!
This scrumptious cake is soft, moist rich.
It will make everybody happy, no one will even believe it is a completely gluten free vegan dessert and they will only ask for more
Not only it is super chocolate-y, but it's slightly boozy too *wink wink* and it's topped with a layer of vegan hazelnut spread.
And we all know that when chocolate spreads are involved, we easily end up licking our fingers too. Not classy, but rather satisfying nontheless.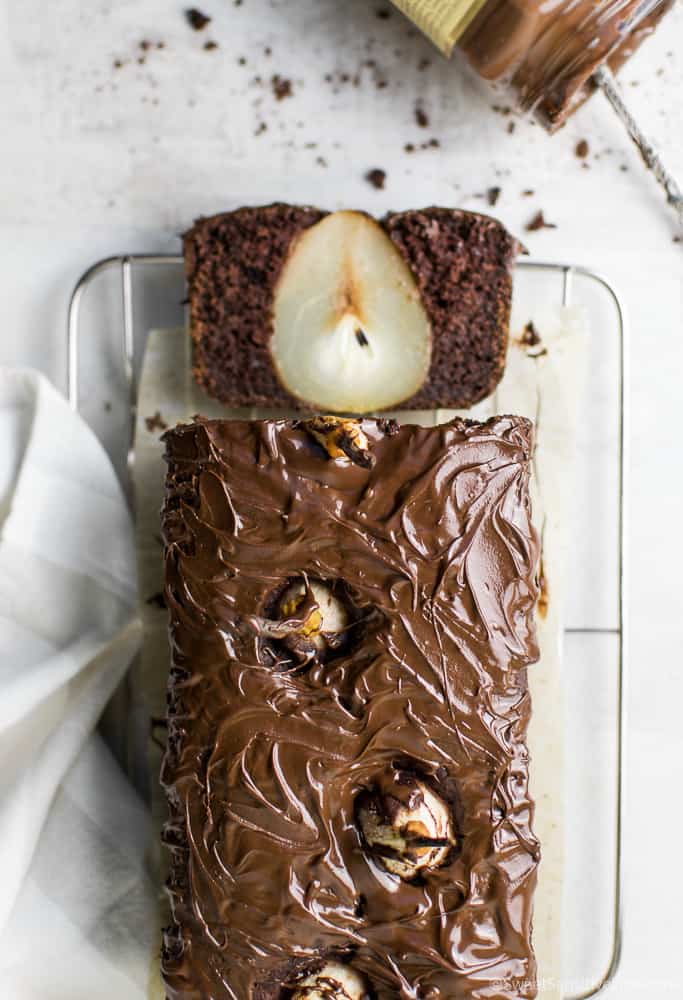 So keep scrolling down for the recipe, you will see it's easy, only a few ingredients and within an hour your chocolate and pear loaf cake will be ready to be shared and enjoyed!
Oh, wait, you could definitely serve it still warm, with a spoon of (vegan) vanilla ice cream on top too, ah.
Alright I'll stop here, looks like I'm in a sugar rush today and it gets worse by the minute.
Let me know if you try it and don't forget to tag me on Instagram @sweetsensitivefree if you share the photos 😉
Ciao!
Sonia
P.S. Wanna taste more of this combo? Check out my choco-pear mini tarts and my double-chocolate rum pear tart 😉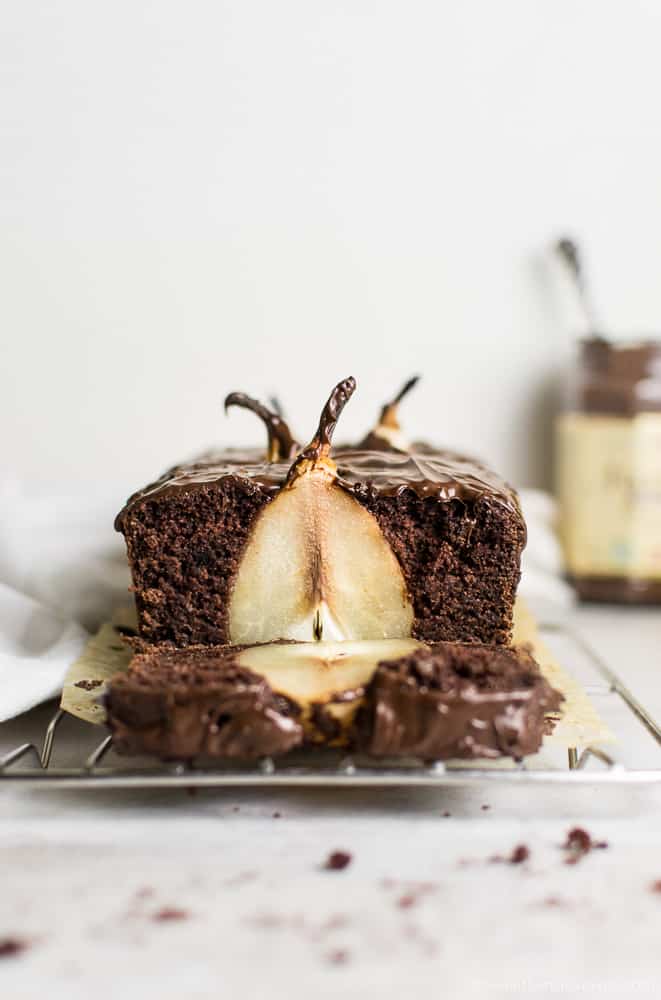 📖 Full Recipe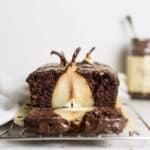 Print Recipe
Scrumptious Moist Chocolate & Pear Loaf Cake | Gluten free * Vegan
Scrumptious, moist gluten free vegan chocolate cake, filled with sweet pears and topped with vegan hazelnut chocolate spread!
Ingredients
3

tablespoon

ground flax seeds

200

gr

gluten free brown rice flour

90

gr

gluten free (potato) starch

1

teaspoon

baking soda

2

tsp

cream of tartar

3

tbsp

gluten/dairy free, unsweetened cocoa powder

70

gr

brown sugar

240

gr

gluten free, dairy free milk

30

gr

(sunflower) seed oil

2

tablespoon

rum or other gluten free liqueur

4 -5

small

soft pears

dairy free

gluten free

(hazelnut) chocolate spread
Instructions
First thing, mix the ground flax seeds with 10 tablespoon of water and refrigerate for 5 minutes


Pre-heat the oven at 180° C / 350 F


In a bowl mix well flours, cocoa powder, sugar, cream of tartar and baking soda


In another bowl mix the milk, the oil and the liqueur and add it to the dry ingredients, mixing everything thouroughly until you have a uniform and smooth batter


Add the flaxseed "gel", carefully incorporating it to the batter


Grease or (better) cover with parchment paper a loaf pan and pour ⅓ of the batter, spreading it all over the bottom of the pan


Peel the pears, leaving them whole and without removing the stalk and place them vertically in the loaf pan


With a spoon (or a sac-a-poche), pour the remaining cake batter until you cover the pears. The top of the pears and their stalks should remain outside of the cake


Bake for 30 - 35 minutes: you can start checking the cake with a toothpick after 25 minutes (be careful to insert the toothpick only where the batter is and not into the pears). When the toothpick comes out clean the cake is ready


Once baked, remove from oven and let the cake cool down before removing it from the pan


Place the cake on a serving plate and add all the chocolate spread you want on top (this step is optional. Naaah, it is not)