These gluten free vegan savory muffins are easy and versatile, perfect for a brunch, an aperitif or a picnic too!
Truth be told, I'm sharing this recipe following the advice of a lovely reader, who reached out to me on Instagram asking for help to create a vegetable muffin recipe that would make all the family happy!
I shared with her a quick easy idea and after making them, she messaged me, SO happy with the outcome, telling me I had to share the recipe on the blog!

So here I am, following her precious advice 😉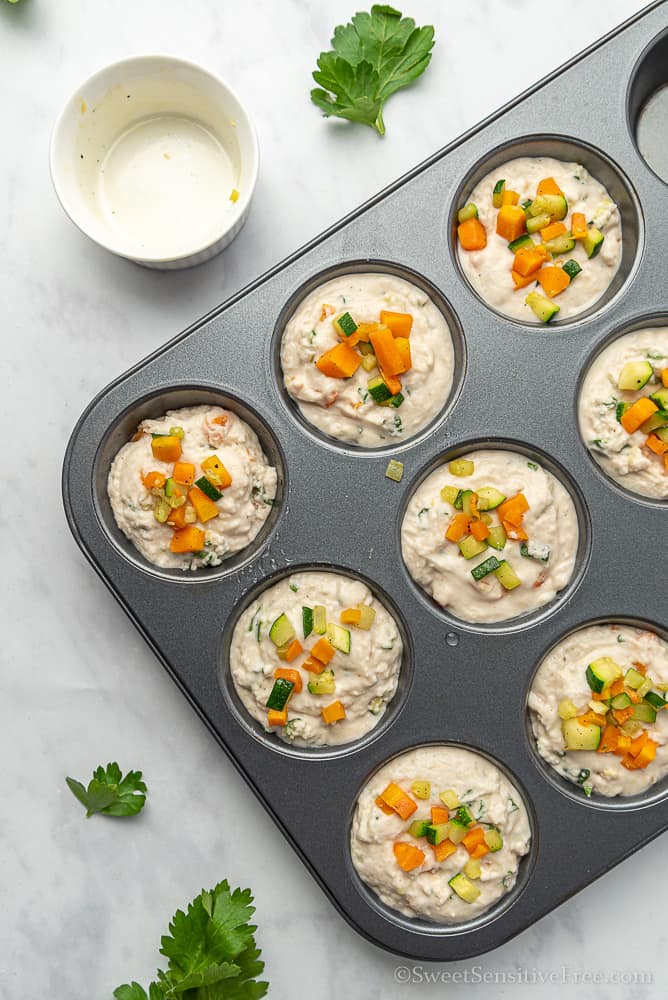 These gluten free savory muffins with veggies are dairy free and egg free too, you will whip them up in a bunch of minutes and they are made with simple naturally gluten free flours.
Let's see how to make these gluten free muffins!
Cut the veggies into small pieces and sauté them in a pan with a bit of oil, salt, pepper or the spices you prefer
pre-heat the oven at 180° C / 350 F
in a bowl combine the gluten free starch, brown rice flour, baking powder and salt
add sparkling water and oil and mix well
reserve 2-3 tablespoons of the sauteed veggies and add the rest to the muffin batter, together with the chopped parsley
fill the muffin molds
add some of the reserved veggies on top
bake for 15-20 minutes, or until they are nice and golden on top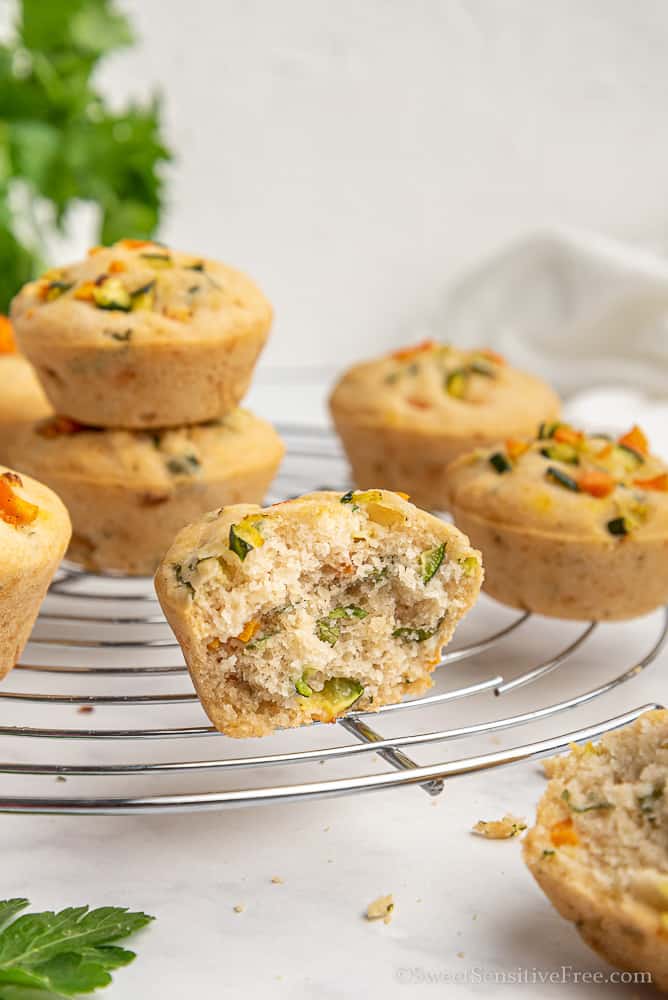 As you can see, making these gluten free savory muffins is extremely easy.
I used carrot and zucchini, but you can pick the vegetables you prefer, also peas or olives if you like them!
It definitely is a great way to make kids enjoy vegetables and it can be fun making the muffins with them!
I really hope you will enjoy these gluten free savory muffins!
If you make this recipe or have questions, leave me a comment down here!
And don't  forget to follow me on Facebook and tag me on Instagram if you make this or any of my recipes! I absolutely LOVE to see what you make and share it in my stories!

Ciao!
Sonia
More savory recipes? Check out the gluten free tortillas and these savory herb fritters!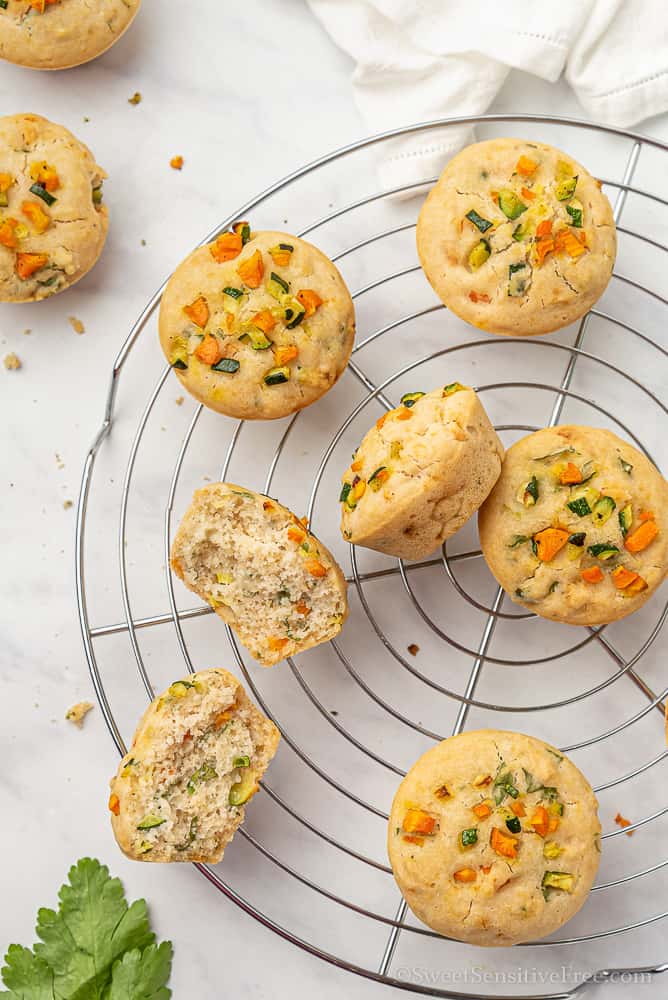 Print Recipe
Vegetable Savory Muffins | Gluten free * Vegan
These gluten free vegan savory muffins are easy and healthy, filled with vegetables, they are perfect for kids too!
Ingredients
200

gr

gluten free brown rice flour

100

gr

potato or other gluten free starch

3

tsp

baking powder (or you can mix 2 teaspoon of cream of tartar + 1 teaspoon baking soda)

1

teaspoon

salt

1

medium carrot

1

medium zucchini

1

tablespoon

finely chopped parsley

50

gr

seed oil

230

gr

sparkling water

ground

pepper

or any other spices you like to sautee the vegetables
Instructions
Cut the veggies into small pieces and sauté them in a pan with a bit of oil, salt, pepper or the spices you prefer

pre-heat the oven at 180° C / 350 F

in a bowl combine the gluten free starch, brown rice flour, baking powder and salt

add sparkling water and oil and mix well

reserve 2-3 tablespoons of the sauteed veggies and add the rest to the muffin batter, together with the chopped parsley

fill the muffin molds with the batter

add some of the reserved veggies on top

bake for 15-20 minutes, or until they are nice and golden on top