So here we are with the last of my three ideas for the holidays menu and I won't hide it: as much as I love the two savory dishes I previously posted (creamy baked pasta and veggie casserole), I couldn't wait to get to the dessert.
As it happens pretty much with every meal, that is. Sometime I would have dessert even after breakfast. Yes I'm that bad.
And the fact I love cakes and chocolate and citrus fruits and this one has them all in each bite, might have a lot to do with my enthusiasm for this recipe too.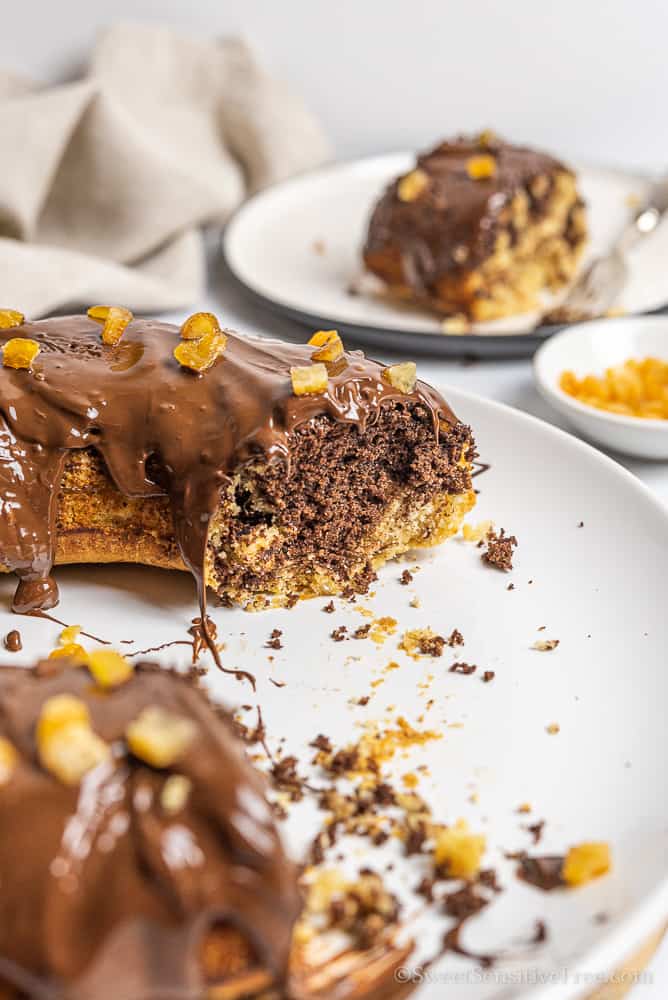 But let's get to chocolaty business, my dear:
pre-heat the oven 180 C° / 355°F

mix the flour, starch, sugar, cream of tartar and baking soda

now divide the mix into two halves

to one part add the cocoa, half the seed/coconut oil, the dairyfree milk

to the other part of dry ingredients add the other half of seed/coconut oil and the orange juice

whisk thouroughly the two batters keeping them separate

grease the bundt cake pan with some seed/coconut oil

now in the pan alternate a couple of tablespoon of chocolate batter to a couple tablespoon of orange batter, one next to the other, till you finish both batters.

with the back of the spoon make light swirling movements through the two batters, not over mixing them, but creating white/brown lines, so you get a marble-effect (see picture below)

now

into the oven for 30 minutes more or less

in the mean time melt the chocolate bars in a small pot, adding a few tablespoon of veg milk, until you get the creaminess you want. I opted for a thicker chocolate spread

once the cake is baked, let it cool down a bit and then decorate with the melted chocolate

add some candied orange on top (cubes in my case)
And … keep strong. Do not eat the whole cake right away. I repeat: do not eat the whole cake right away.
Which is why last time I baked it, I brought half of it to my friends (and they loved it, woot woot!).
In the next few days I'll be sharing an easy, cheap and tasty idea for a gluten and dairy-free gift too, so if you want to stay in touch (oh please do) don't forget to subscribe to my Instagram, Twitter and Facebook 😉
Ciao!
Sonia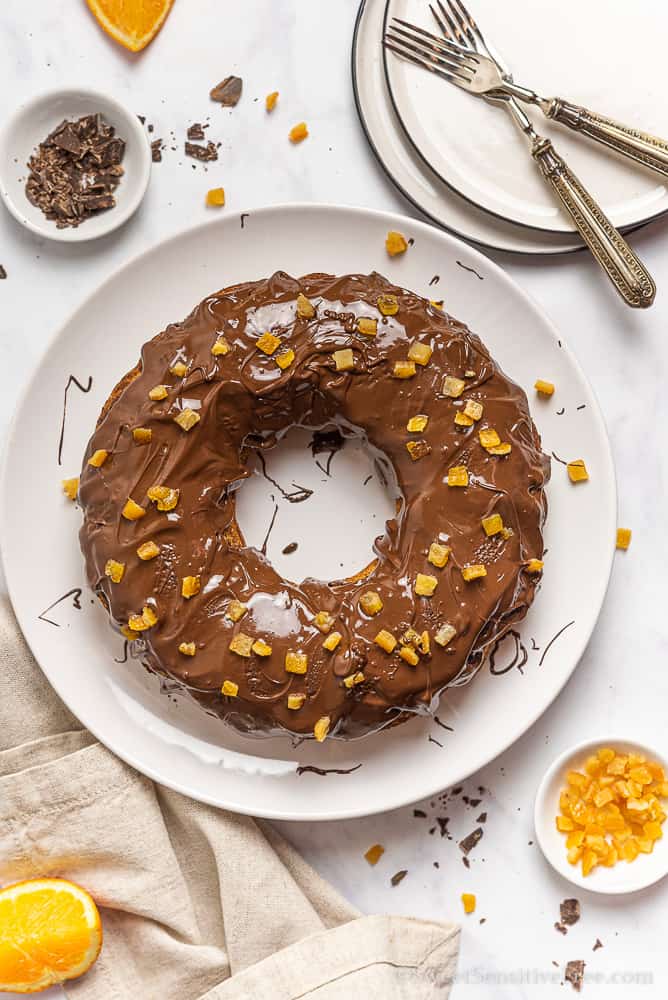 ---
INGREDIENTS
200 gr gluten free brown rice flour
100 gr gluten free (potato) starch
100 gr brown sugar
3 tablespoon answeetend cocoa powder
2 teaspoon cream of tartar + 1 teaspoon baking soda (or sub both with baking powder)
pinch of salt
30 gr seed or coconut oil
120 gr gluten free, non dairy milk
120 filtered orange juice
150 gr dark chocolate (the one I use is orange flavored)
candied orange