Easily make vegan gluten free ravioli from scratch! Egg free gluten-free homemade ravioli dough that is simple and quick to make. Perfect for your favorite gluten free filled pasta!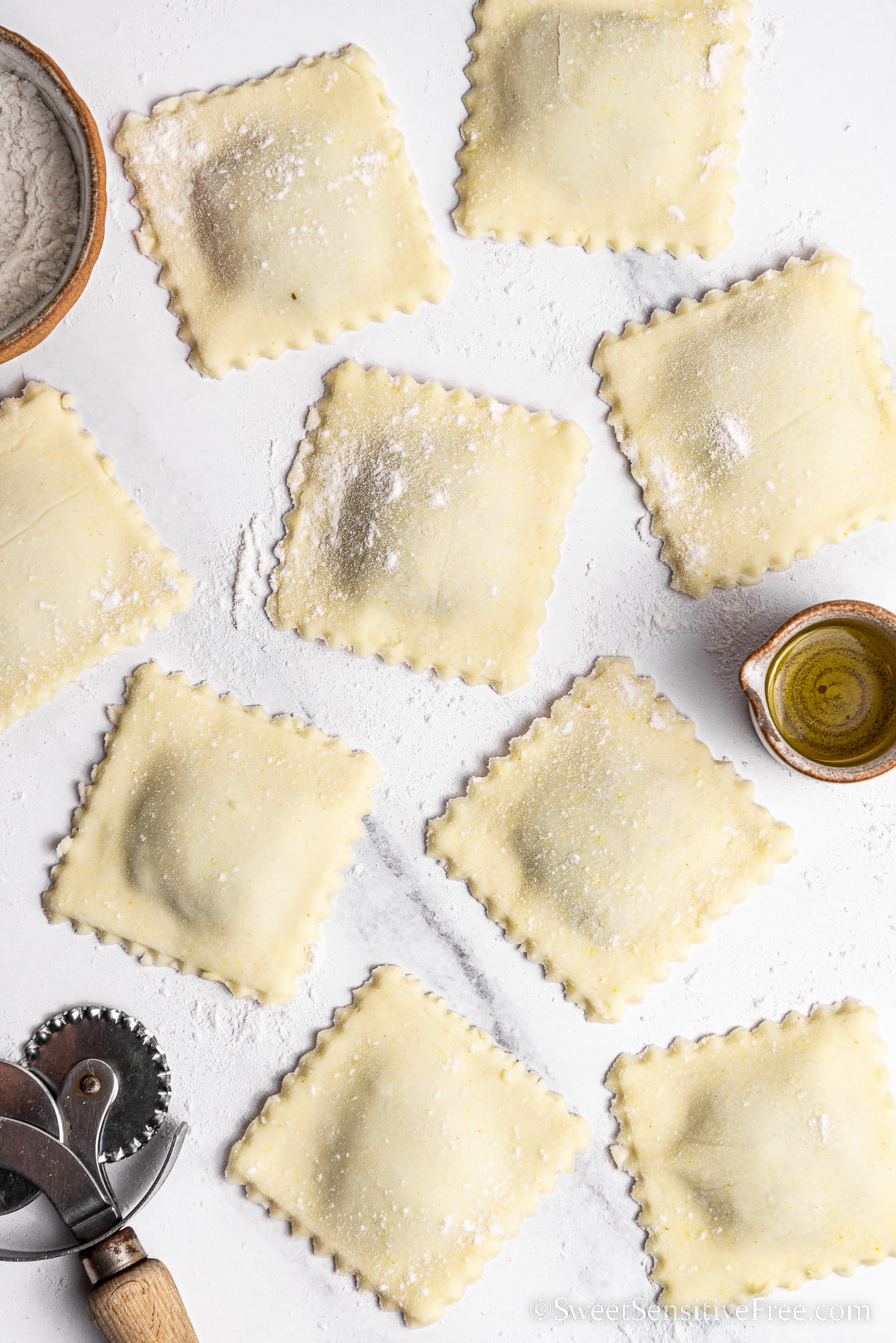 Jump to:
Making gluten free fresh pasta at home can seem challenging sometimes. Which is why I tested and re-tested this gluten free vegan ravioli recipe, to make sure it is as easy as possible. And most of all: it works.
They don't break (or dissolve!) when you boil them and they stay al dente! You just will want to eat more and more of them!
If you love gluten free fresh pasta recipes, you might love these: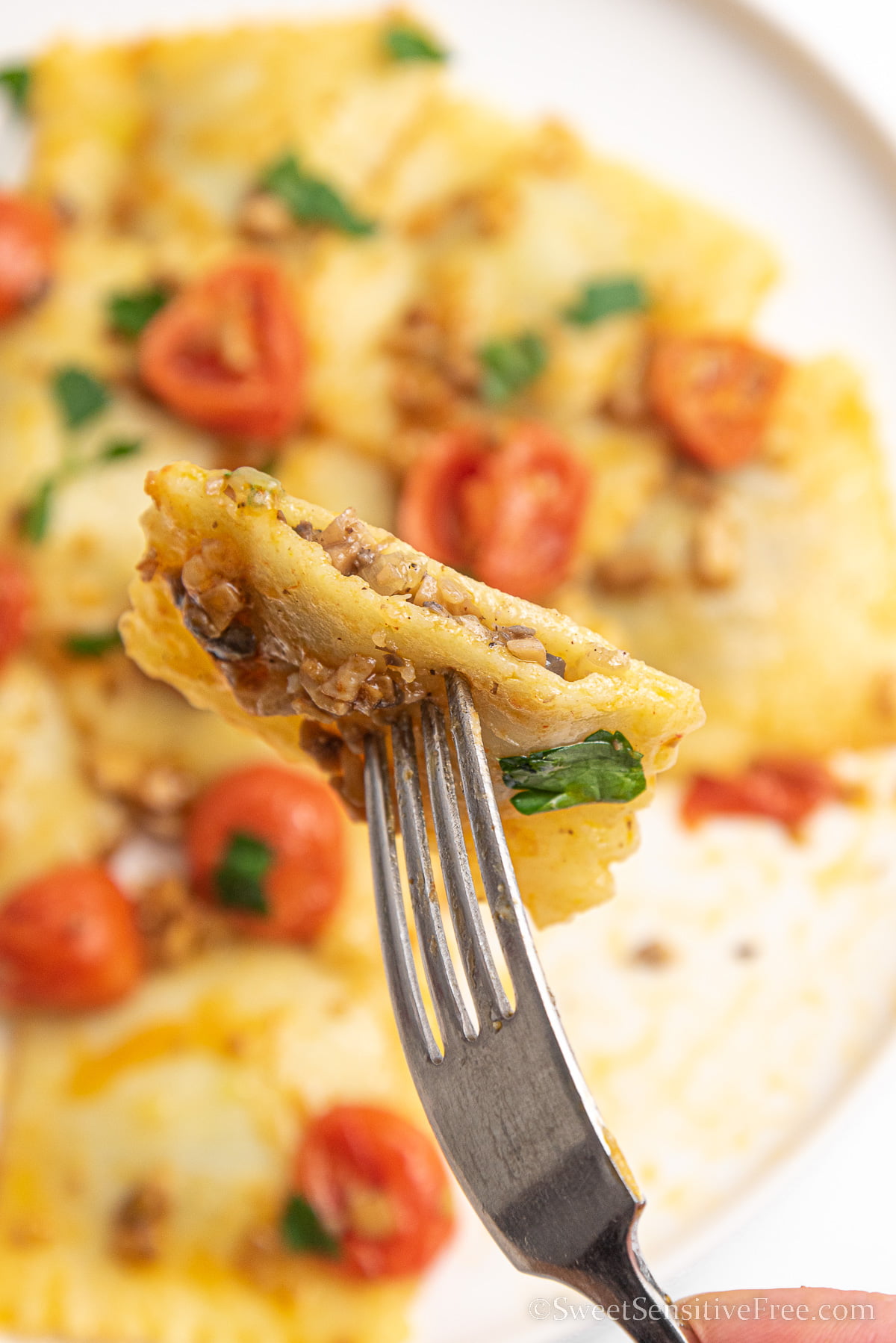 Ingredients
Simple recipe with simple ingredients! Here's what you will need to make gluten free ravioli wrappers.
Fine white rice flour (gluten free, of course), it is important for it to be very fine, for two reasons. One is that the finer the flour, the better the dough will stick together. Secondly, you won't feel a grainy flour texture, once the ravioli are cooked.
Potato starch, or other gluten free starches. I am used to potato or tapioca, I haven't tested others, but my guess is rice or corn starches would work too.
Salt, this is an ingredient that can always be skipped, if desired and/or based on dietary needs. Adding it surely adds a nice layer of flavor.
Xanthan gum. If you know me and my recipes, you know I don't use gums a lot. This homemade gluten free ravioli dough though calls for a strong binder, since we are using no eggs. And we don't want them to break
Turmeric powder, this is totally optional, but a pinch of it will add a yellow-ish color that will resemble that of the eggs in traditional dough.
Olive oil, adds a nice flavor and helps the consistency. I would not replace it with seed or other oils.
Boiling hot water, this is an important step in the recipe. The heat of the water actually helps the rice flour and starch to bind and create an elastic dough. Cool water, warm water or hot tap water won't work.
All quantities are in the recipe card below
Instructions
Here's how to make gluten free ravioli dough. Few simple steps that need to be followed carefully, in order to make the best gluten free ravioli pasta egg free:
in a medium bowl mix well the dry ingredients
in a small bowl or pitcher mix the boiling hot water with the olive oil, then add it to the dry ingredients
immediately and quickly stir with a spoon, until most of the flour is absorbed and big clumps form
move the mixture to the worktop and squeeze the big clumps together first, then kneading it with your hands, until the dough is smooth and compact
devide the dough into 4 parts and roll them into dough balls, dust them with rice flour and cover with a napkin or towel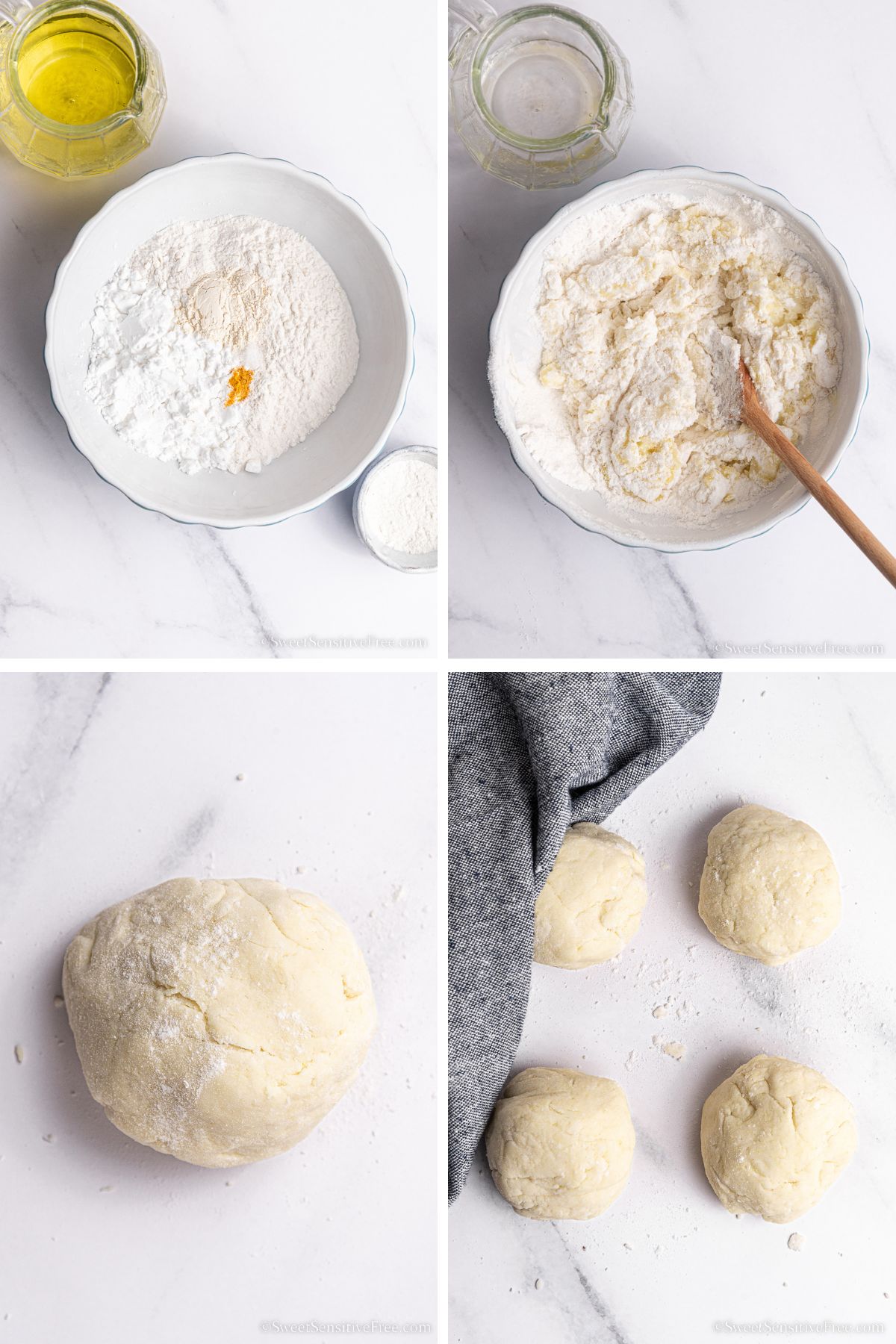 let the dough cool down completely
one dough ball at a time, place them on a sheet of parchment paper generously dusted with rice flour and roll the dough out as thin as possible (around 2 millimeters)
I used a 2-inch square ravioli stamp to outline the shape, you can make the shapes you want, like round or triangle
add a teaspoon of filling and make sure to always leave a half inch room around the filling to close the ravioli
lightly wet the borders of each raviolo (yup, raviolo is the singular for ravioli) and add the second layer on top
with your fingers press the dough down all along the edges
if you want, define their shape with a ravioli stamp or a cutter wheel, otherwise simply cut them with a knife
place them on a large dish or surface, dusting them with rice flour so that they don't stick
let them rest covered with a napkin for a good 30 minutes before cooking, so that the dough will dry up a little
cook them in salted boiling water for 5 minutes and enjoy them with your favorite condiment
Please check the recipe card below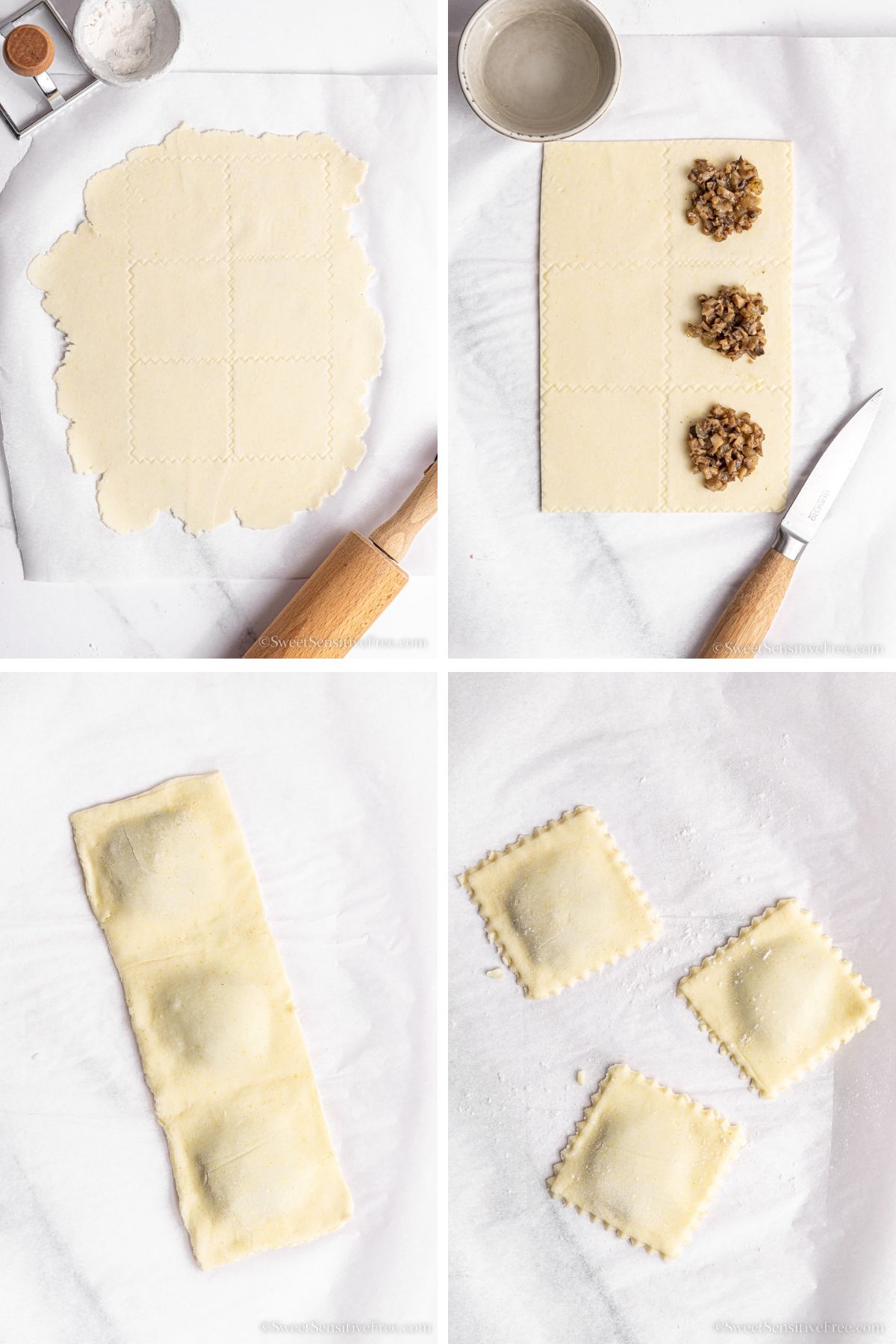 Tips and substitutions
A few tips I want to share after having tested this recipe over and over to make sure you make the best gluten free ravioli at home!
Can I replace the white rice flour with other flours?
I haven't tested other flours. I love the result with this combination of ingredients though, it is so good!
I can't use xanthan gum. What happens if I omit it?
Xanthan gum is the precious binder and egg-replacer in this recipe. If you omit it, chances are your ravioli will break/dissolve while boiling them.
The alternative I can offer is making them using the recipe for my gluten free dumplings (potstickers) and use that cooking procedure (minus the toasting).
How do I store them, if I want to make them in advance?
Place them in an airtight container making layers separated by parchment paper. Always dust the ravioli with rice flour so that they don't stick. Keep in the fridge for max 24h before cooking.
I'm afraid they might stick while boiling ...
Yes it can happen with fresh pasta. Simply add a teaspoon of oil to the boiling water, before adding the ravioli.
How long do they need to boil?
Through my several recipe testings, I have found 4-5 minutes are the right time to have soft, chewy ravioli that are cooked through.
Suggestions for the filling.
Whatever you choose to use as a filling, always make sure it is not wet/runny, or the dough will get soggy and possibly break while cooking in boiling water.
So, especially if you are using vegetables, sautee them and let all the liquids evaporate before filling the ravioli.
Also, for the same reason, use fillings at room temperature, not hot.
Cooking in grams
I cook and bake in grams as they are more accurate (than cups) when measuring ingredients. This is especially important when it comes to gluten free and vegan recipes.
Also, I weigh both dry and wet ingredients in grams and most of the time I share one- or two-bowl recipes, to make everything easier for you.
A simple affordable kitchen scale is definitely a useful and worthy investment for your gluten free cooking.
So you will simply need to place the bowl on the scale and weigh ingredients as you go!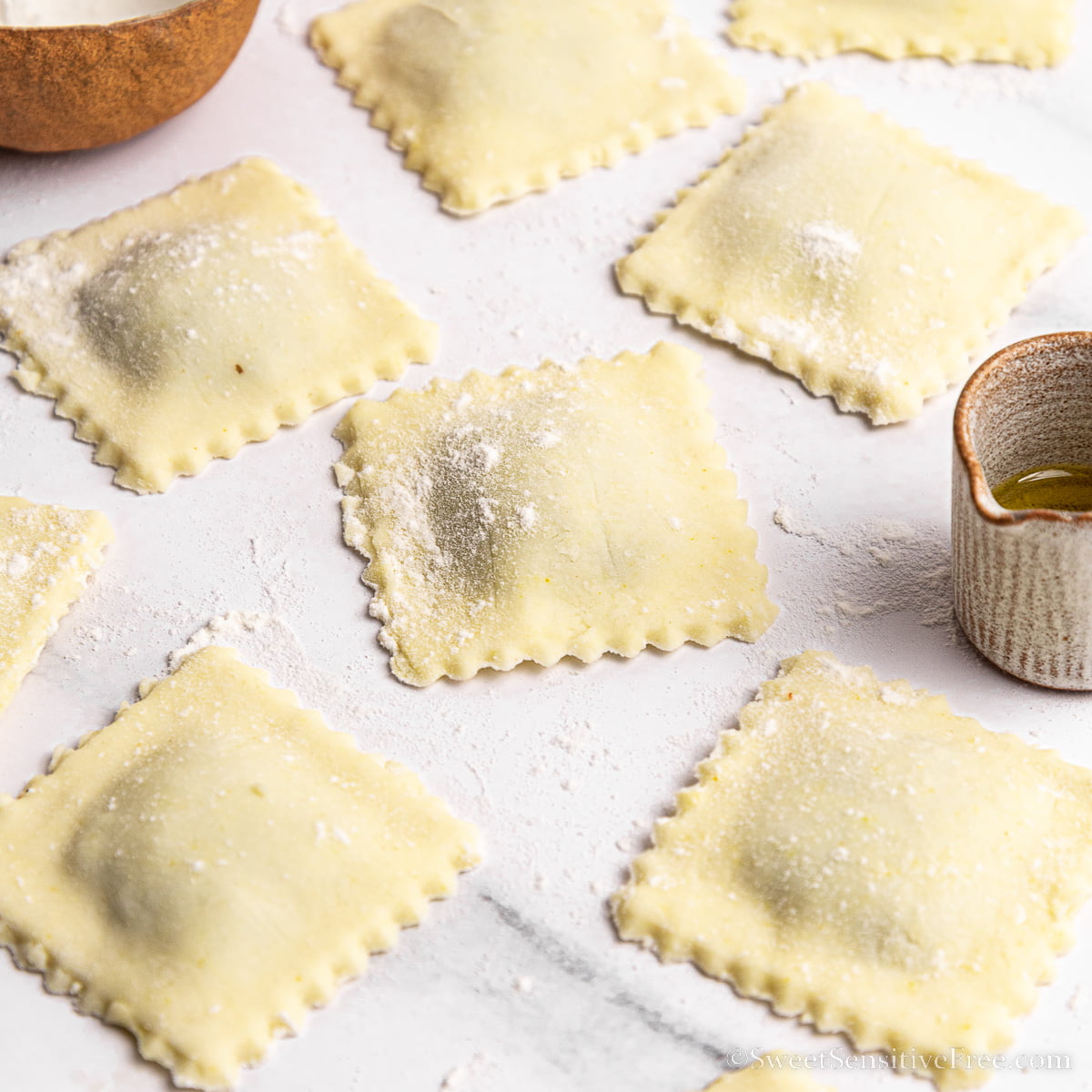 If you make this recipe or have questions, leave me a comment down here!
And don't  forget to follow me on Facebook and tag me on Instagram if you make this or any of my recipes! I absolutely LOVE to see what you make and share it in my stories!

Ciao!
Sonia
📖 Full Recipe
Print Recipe
Homemade Gluten free Ravioli Pasta (Egg free)
Easily make vegan gluten free ravioli from scratch! Egg free gluten-free homemade ravioli dough that is simple and quick to make. Perfect for your favorite gluten free filled pasta!
Servings:
20
- 22 ravioli
Equipment
1 kitchen scale

1 medium bowl

1 cup or pitcher

1 spoon

1 Rolling Pin

parchment paper

1 knife / cutter wheel / ravioli cutter
Ingredients
150

grams

gluten free fine white rice flour

(+ extra for dusting)

75

grams

potato starch (gluten free)

½

teaspoon

salt

1,5

teaspoon

xanthan gum powder

¼

teaspoon

turmeric powder (optional, only for color)

20

grams

olive oil

150

grams

boiling hot water
Instructions
in a medium bowl mix well the dry ingredients

in a small bowl, a cup or a pitcher mix the boiling hot water with the olive oil, then add it to the dry ingredients

immediately and quickly stir with a spoon, until most of the flour is absorbed and big clumps form

move the mixture to the worktop and squeeze the big clumps together first, then knead with your hands, until the dough is smooth and compact

divide the dough into 4 parts and roll them into dough balls, dust them with rice flour and cover with a napkin or towel

let the dough cool down completely

one dough ball at a time, place them on a sheet of parchment paper generously dusted with rice flour and roll the dough out as thin as possible (around 2 millimeters)

I used a 2-inch square ravioli stamp to outline the shape, you can make the shapes you want, like round or triangles

add a teaspoon of filling, or as much needed to leave a half inch room around the filling to close the ravioli

lightly wet the edges of each raviolo (yup, raviolo is the singular for ravioli) and add the second layer on top

with your fingers press the dough down all along the ravioli edges

if you want, define their shape with a ravioli stamp or a cutter wheel, otherwise simply cut them with a knife place them on a large dish or surface, dusting them with rice flour so that they don't stick

let them rest covered with a napkin for a good 30 minutes before cooking, so that the dough will dry up a little

re-knead leftover dough and roll it out to make more ravioli

cook the ravioli in salted boiling water for 5 minutes and enjoy them with your favorite condiment