These fully gluten free, vegan strawberry custard tarts are SO delicious!
It's been such a joy for me creating them, also because making the gluten free vegan custard was no easy task, it took several fails, not so much for the flavour, but rather for the right consistency. Urgh!
So when I finally succeded, I was SO glad I could add the custard to the gluten free tarts!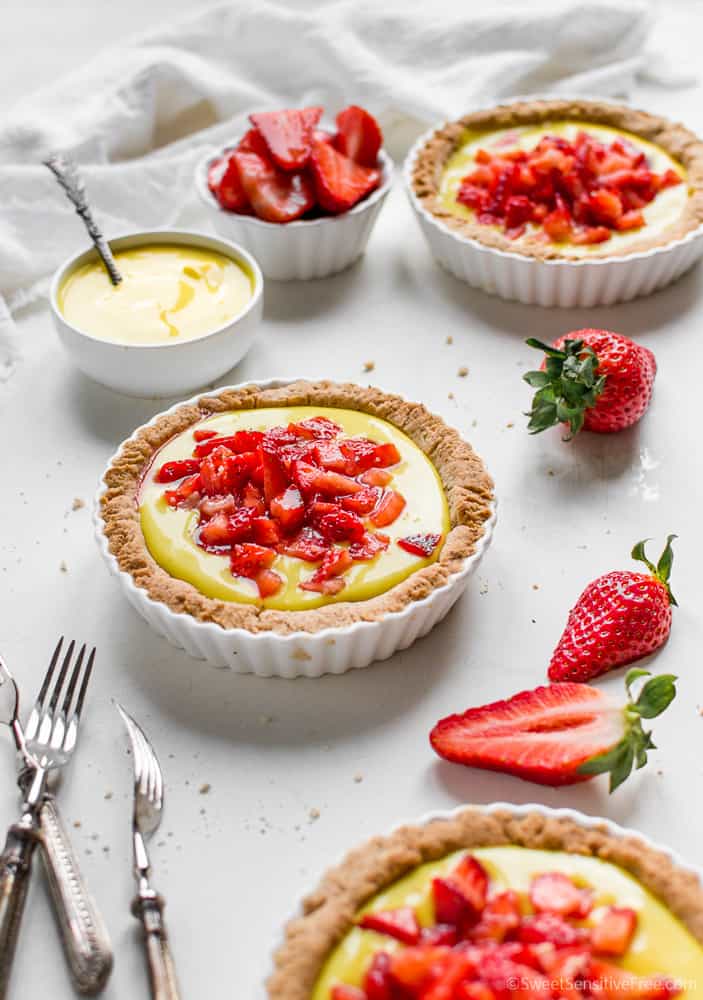 These tarts are am ode to Spring, the vegan custard is so delicate and fresh, a perfect contrast to the sweetness of the tart crust and that pinch of salt that enhances all the flavours!
So keep scrolling for the recipe and don't forget to follow me on Instagram and tag me if you make any of my recipes, I love seeing what you create!
Ciao!
Sonia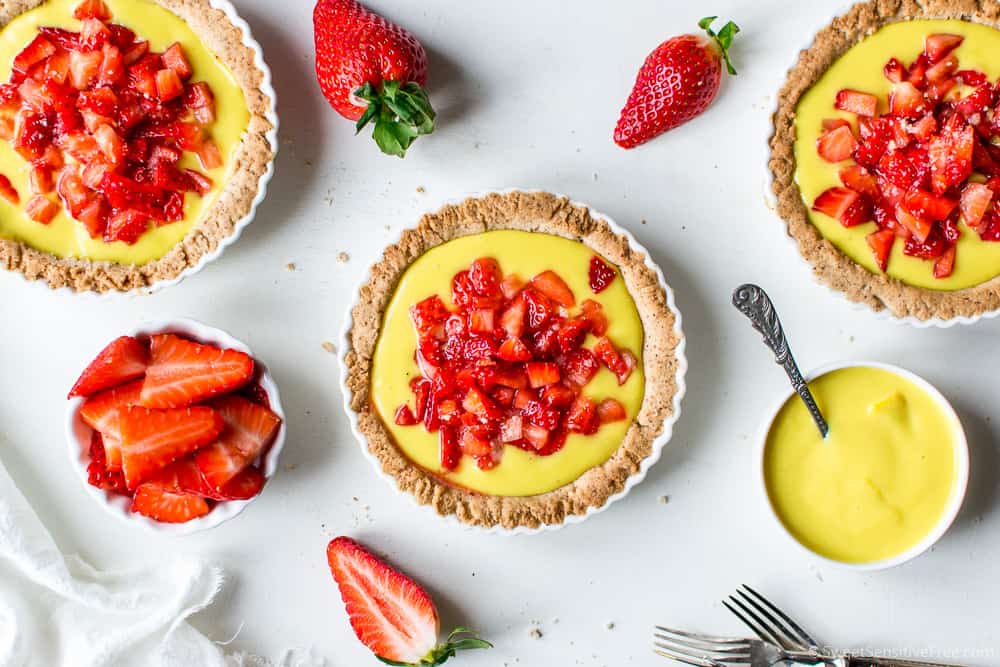 Print Recipe
Strawberry Custard Tarts | Gluten free * Vegan
Delicious tarts with homemade gluten free crust, vegan lemon custard and topped with fresh berries!

Ingredients
For the gluten free vegan tart crust
100

gr

gluten free brown rice flour

100

gr

gluten free almond meal / flour

100

gr

gluten free potato (or other gluten free) starch

grated peel of half lemon

pinch of salt

50

gr

brown sugar

120

gr

margarine / vegan butter

2

tablespoon

gluten free limoncello (lemon based liqueur)
For the vegan lemon custard
5

tablespoon

gluten free potato (or other gluten free) starch

30

gr

brown sugar

pinch of turmeric powder (for color)

3

tablespoon

margarine / vegan butter

250

gr

gluten free dairy free milk (I used rice/soy milk)

peel of half a lemon

vanilla extract (to taste)

fresh strawberries (+ lemon and sugar) for the topping
Instructions
For the tart crust
In a bowl mix rice flour, almond flour, potato starch, pinch of salt and grated lemon peel


Add the margarine/vegan butter and the limoncello, mix everything with a spoon until you get big "crumbs" of dough


Move the dough to the work surface and work the crust dough with your hands, until you get a uniform, compact ball of dough


Cover it in wrapping plastic and let it rest in the fridge for 1 hour (or 30 minutes in the freezer)


Pre-heat the oven at 160° C / 320 F


Take the dough out of the fridge/freezer, cut it into parts (if you are making small tarts), slightly grease the molds and push/spread the dough with your fingers directly into the molds (or the whole dough into the tart pan, if you make a single big one)


The tarts should be more or less half centimeter thick


Pinch the tarts base with a fork and bake them for 20-25 minutes (you can bake for another 5 minutes in grill-mode to get a more golden top


Remove the tart bases from the oven and let them cool down completely

For the lemon custard
In a bowl mix well the starch, the sugar and the pinch of turmeric powder


Add the margarine and the vanilla extract and incorporate the dry ingredients, until you get a creamy mixture


Transfer the mixture into a non sticking pan over low-medium heat, add a small part of the dairy free milk and whisk thoroughly to avoid lumps


Add the rest of the milk and the lemon peel and keep whisking, after 5 minutes the custard will thicken. Keep whisking for another 5 minutes then switch the heat off and let the custard cool down (do not cover it with a lid)


You can then add the custard on the tarts and top them with the fresh strawberries, decorating as you want!  I had seasoned them with some lemon and sugar, but you can totally skip that 🙂