This recipe for gluten free vegan bechamel, or white sauce, is quick and easy to make!
It is ready in few minutes and it's perfect to make your savory dishes creamier and tastier!
What I love the most about white sauce is that it's SO versatile. I love to use it in my lasagna, crepes cannelloni and baked pasta!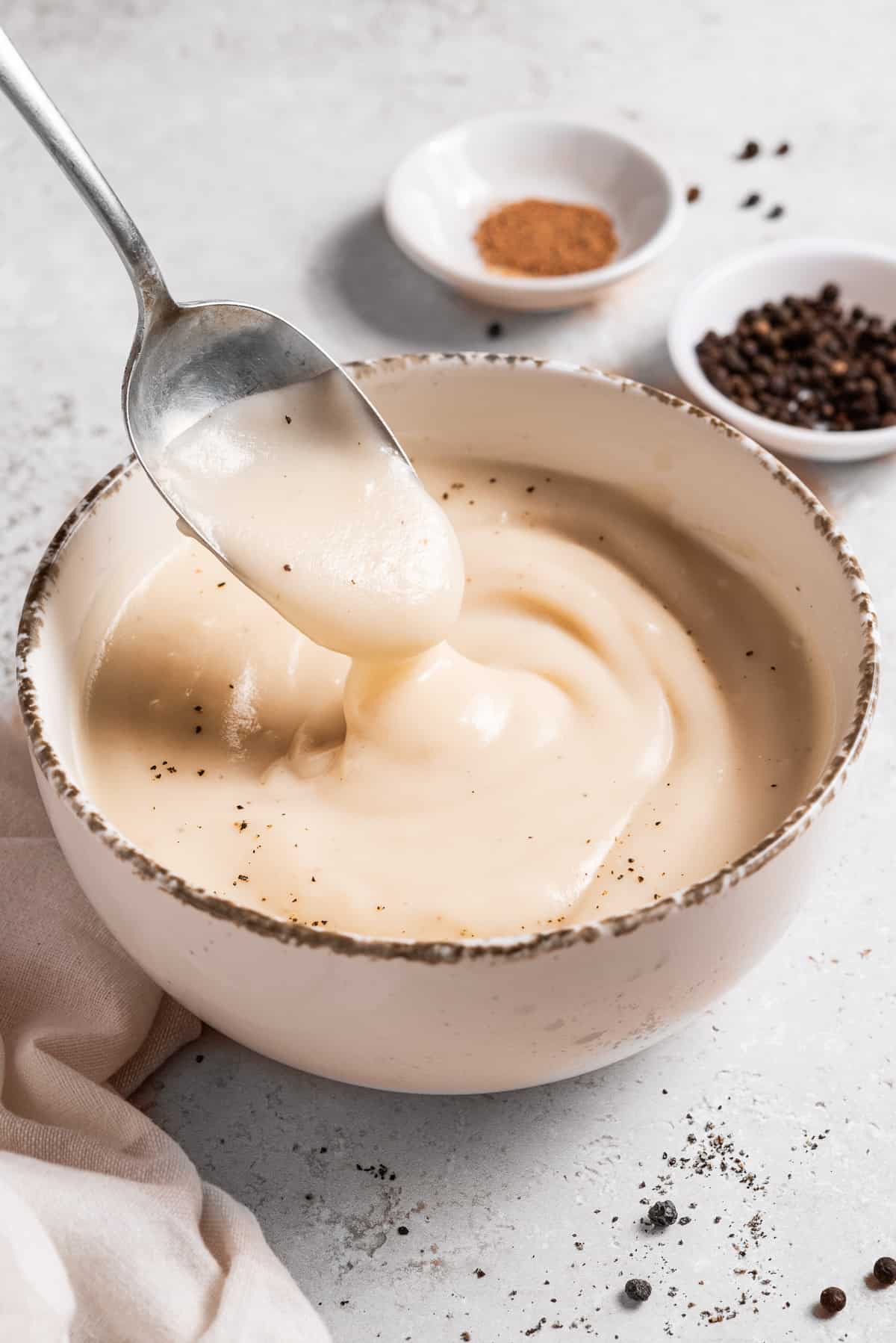 Jump to:
Béchamel sauce, also known as white sauce, is a classic French sauce that serves as a versatile base for many dishes. It is made from a simple roux of butter and flour, to which milk is gradually added while stirring to create a smooth and creamy consistency. Béchamel sauce's neutral yet rich taste and smooth texture provide a delightful creamy element that complements a wide range of flavors.
Ingredients
Making white sauce gluten free is as simple as making traditional one and needs simple ingredients aswell:
vegan butter or margarine
a gluten free starch (potato, corn, rice or else)
salt
nutmeg
plant based gluten free milk
black pepper (optional)
Instructions
The steps to prepare dairy free and gluten free bechamel are few and simple.
The one you can't skip though is always whisking while the sauce is cooking, to avoid clumps.
First steps is preparing the roux, which is the mix of starch and vegan butter or margarine.
You will then add the milk in 2-3 steps, while always stirring and whisking.
After just a few minutes, as the mix heats up, the sauce will get thicker and creamy.

Check recipe card below for quantities and full instructions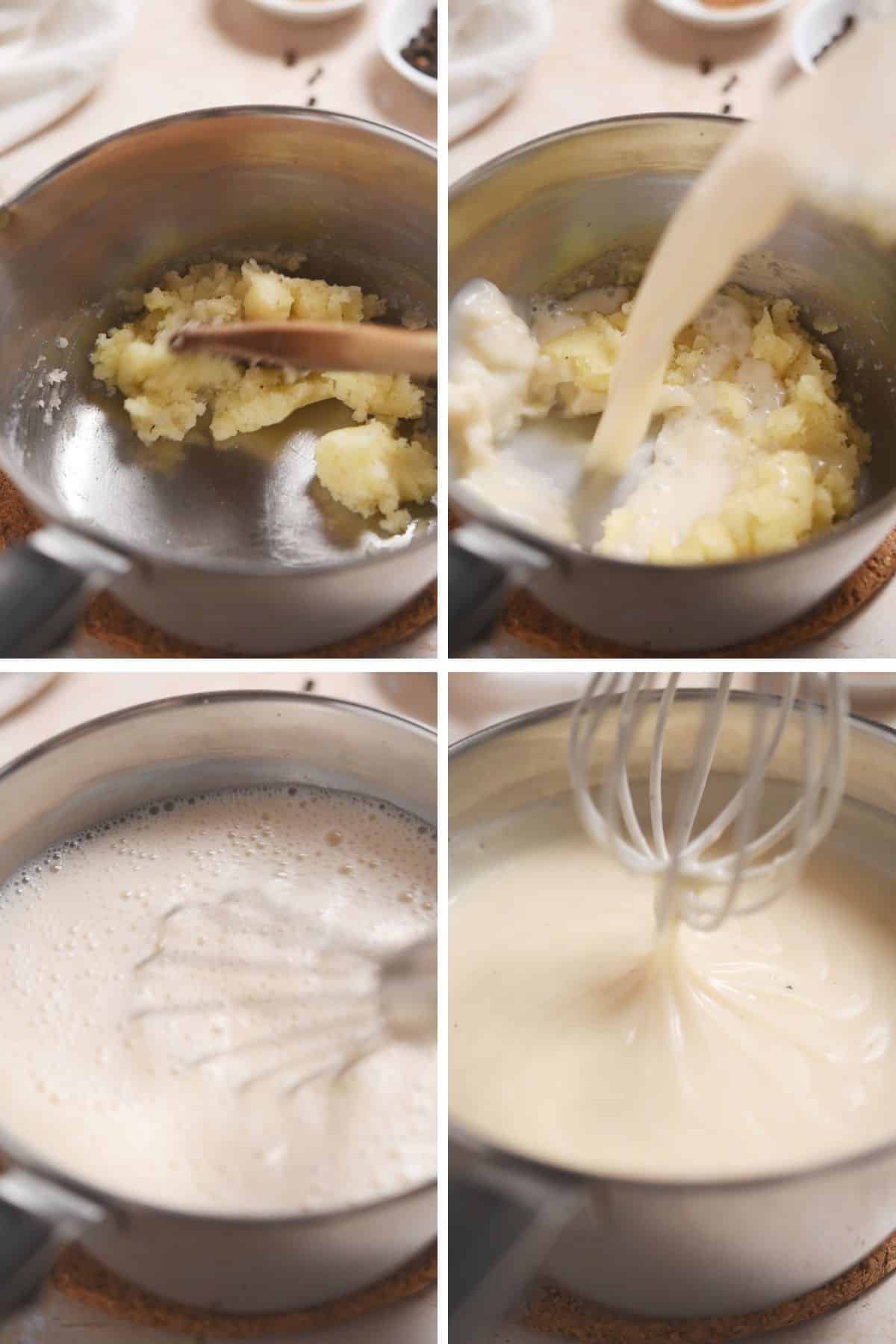 Why using a starch instead of white rice flour
I've tested this recipe both with white rice flour and potato starch and - at least for me - the best result is when using starch (potato or other).
When I use the gluten free starch the texture is very close to traditional bechamel, while with rice flour the white sauce turns out slightly transparent and not very appetizing.
Which plant based milk is better for vegan bechamel
I've made this gluten free vegan bechamel both with rice milk and soy milk and taste and texture are great in both cases.
White rice milk is naturally on the sweeter side, so when using it you will have to add a bit more salt (well, always according to your personal taste too of course!)
What is important is that you choose a gluten free plant based milk that contains no sugar or flavours, so that you have a liquid part that tastes as neutral as possible.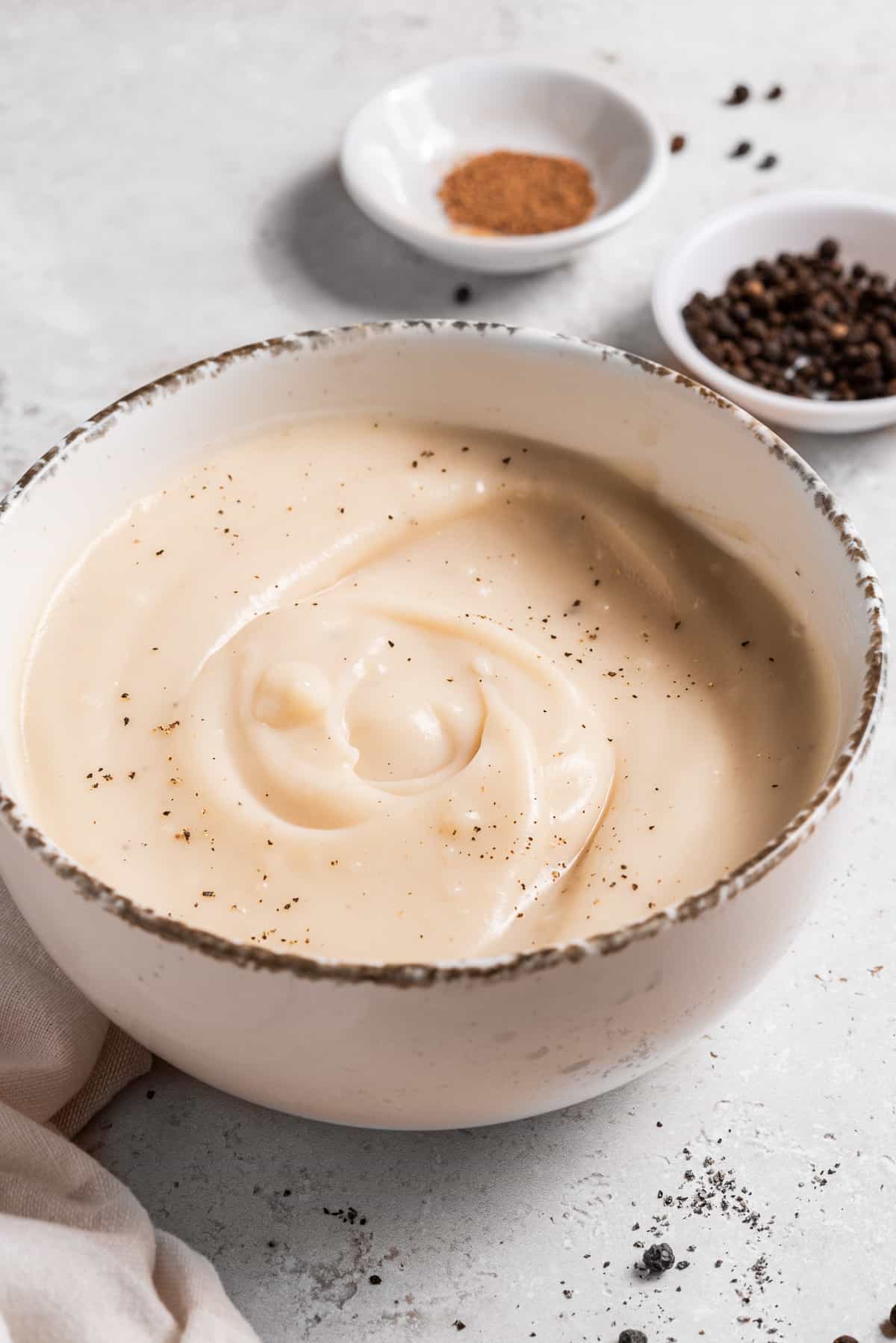 Cooking in grams
I cook and bake in grams as they are more accurate (than cups) when measuring ingredients. This is especially important when it comes to gluten free and vegan recipes.
Also, I weigh both dry and wet ingredients in grams and most of the time I share one- or two-bowl recipes, to make everything easier for you.
A simple affordable kitchen scale is definitely a useful and worthy investment for your gluten free cooking.
So you will simply need to place the bowl on the scale and weigh ingredients as you go!
If you make this recipe or have questions, leave me a comment down here! And a 5 star rating if you have loved it would help me grow the blog 😉
For all the updates, follow me on Facebook and Pinterest and tag me on Instagram if you make this or any of my recipes! I absolutely LOVE to see what you make and share it in my stories!

Ciao!
Sonia
📖 Full Recipe
Print Recipe
Gluten free Vegan Bechamel Sauce
This gluten free vegan bechamel sauce is ready in a few minutes and it's perfect to make your gluten free savory dishes even richer and tastier!
Equipment
1 non stick saucepan

1 whisk

kitchen scale
Ingredients
40

gr

margarine / vegan butter

50

gr

gluten free starch (potato, corn, rice, other)

600

gr

plant based, gluten free milk (sugar free, unflavoured)

⅓

teaspoon

salt

pinch

of

black pepper

(optional)

pinch

of

nutmeg powder

(optional)
Instructions
Put a non sticking pan over low/medium heat, add the margarine and the starch and while the margarine starts to melt, whisk everything until it will look a bit like mashed potatoes

add a third of the milk and whisk pretty fast, so that no clumps form

add the rest of the milk and keep whisking (do not leave the bechamel unattended)

add a pinch of salt (and nutmeg and black pepper, if desired) and mix

taste the sauce and if needed adjust with more salt and spices, according to your taste

keep mixing the bechamel until it gets thicker and creamy (it usually takes around 5 minutes)

when it reaches a texture similar to pastry cream, remove from the stove and cover with a lid if not using immediately (this will prevent a film from forming on top)

if some small clumps have formed it's ok, if you use the sauce for baked dishes the clumps will melt and you won't notice them

if bigger clumps form, consider sifting the bechamel through a fine mesh strainer

you can store it in the fridge in a airtight container, after having let the bechamel cool down completely, covered