I had been wanting to make a tasty, kinda naughty and definitely boozy dessert for a while and then I decided: gluten free chocolate hazelnut rum cupcakes.
I know it's a mouthful, but just keep repeating it and it will become a mantra, a meditation even.
More gluten free chocolate desserts? Try this double chocolate pear tart!
And you could do so while making them, which is super easy and gratifying. With the same doses you can make a cake too.
How to make gluten free chocolate cupcakes:
pre-heat your oven 180° C / 350 F
mix the ground flax seeds with 10 tablespoon of water and let it rest for 10 minutes, until it forms a gel-ish mixture
in a bowl mix the dry ingredients: flours, starch, sugar, cream of tartar and baking soda
add the non dairy milk, the rum and the seed oil and mix well
melt the dark chocolate and add it to the batter
carefully incorporate the flax seed mixture too, until you have a smooth batter
pour the batter into the cupcake molds, almost up to the top of each mold (I got 10 cupcakes with these doses)
bake the cupcakes for 20-30 minutes (check them with a toothpick after 20 minutes)
once the cupcakes have cooled down, top them with chocolate hazelnut spread and the hazelnut grain
Full directions in the recipe card below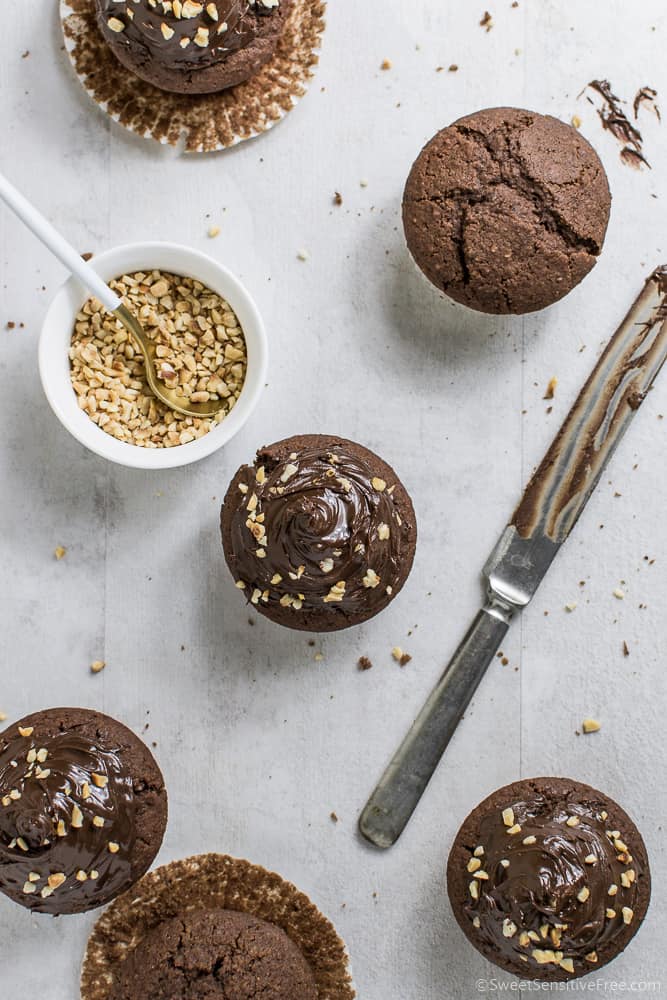 If you make this recipe or have questions, leave me a comment down here!
And don't  forget to follow me on Facebook and tag me on Instagram if you make this or any of my recipes! I absolutely LOVE to see what you make and share it in my stories!

Ciao!
Sonia
Print Recipe
Chocolate Hazelnut Rum Cupcakes | Gluten free * Vegan
Gluten free chocolate hazelnut rum cupcakes, Valentine's Day perfect dessert! They're soft, creamy boozy and delicious! Oh and vegan too!

Ingredients
3

tablespoon

ground flax seeds

100

gr

gluten free hazelnut flour

100

gr

gluten free brown rice flour

100

gr

gluten free potato starch (or other gluten free starch)

80

gr

brown sugar

2

teaspoon

cream of tartar

1

teaspoon

baking soda

100

gr

gluten/dairy free dark chocolate

250

gr

gluten free, non dairy milk

20

gr

seed oil

4

tablespoon

gluten free rum

gluten/dairy free

hazelnut chocolate spread

hazelnut

grain
Instructions
pre-heat your oven 180° C / 350 F


mix the ground flax seeds with 10 tablespoon of water and let it rest for 10 minutes, until it forms a gel-ish mixture


in a bowl mix the dry ingredients: flours, starch, sugar, cream of tartar and baking soda


add the non dairy milk, the rum and the seed oil and mix well


melt the dark chocolate and add it to the batter


carefully incorporate the flax seed mixture too, until you have a smooth batter


pour the batter into the cupcake molds, almost up to the top of each mold (I got 10 cupcakes with these doses)


bake the cupcakes for 20-30 minutes (check them with a toothpick after 20 minutes)


once the cupcakes have cooled down, top them with chocolate hazelnut spread and the hazelnut grain