This gluten free cocoa cake is vegan and uses whipped Aquafaba as an egg substitute!
It is soft and flavorful, a delicious gluten free chocolate cake!
And if you would love to try more aquafaba cakes, check out this gluten free vegan sponge and this Victoria sponge cake!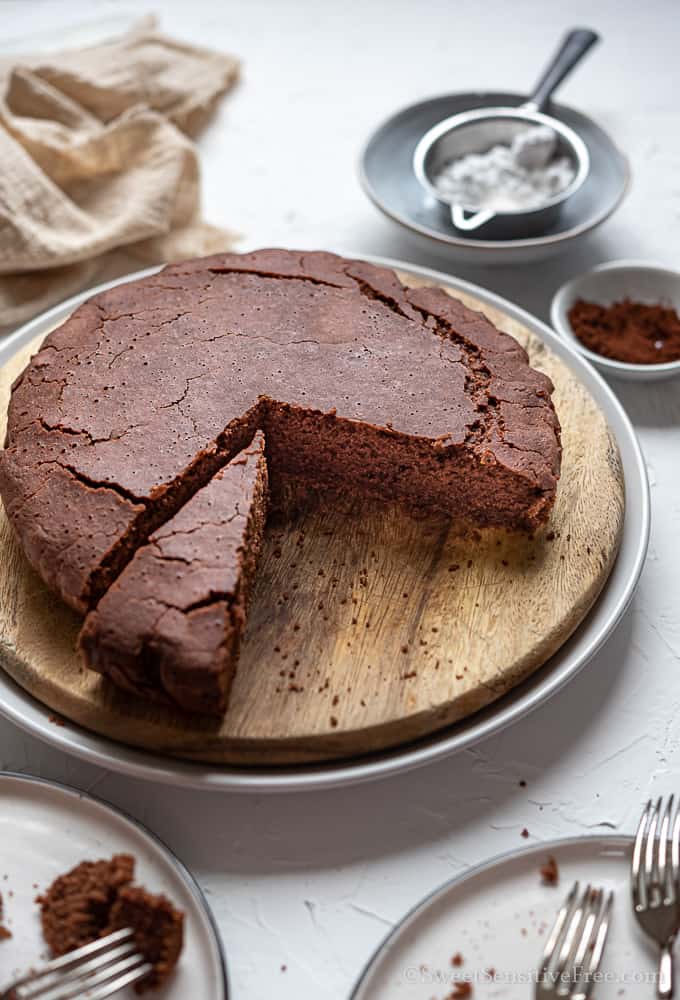 Jump to:
I have been experimenting with Aquafaba and when I managed to get a fluffy batter out of it, I decided to use it to bake a simple gluten free vegan cocoa cake.
Truth be told, I didn't know what to expect. I was bracing myself for a total failure, like the cake wouldn't cook and I'd witness some sort of sad soggy baked pudding in a pan, ready for its journey from the oven to the trash bin.
BUT, the Gods of Baking were watching over me that day! And what I found the moment I cut a piece of my experiment was what you see in the picture. Fluffy, glutenfree, dairyfree and most definitely eggfree cake *_* Thank you Gods of Baking, I know you're there.
Making this aquafaba chocolate cake is super easy, the most "demanding" part is whipping up the Aquafaba, but if you use the cooking liquid out of bean/chickpea cans it will take you 15 minutes top. On the other hand, if you decide to cook dried legumes yourself, like I had done, it will take a tiiiiiiiny bit longer, as you can see from my post about aquafaba.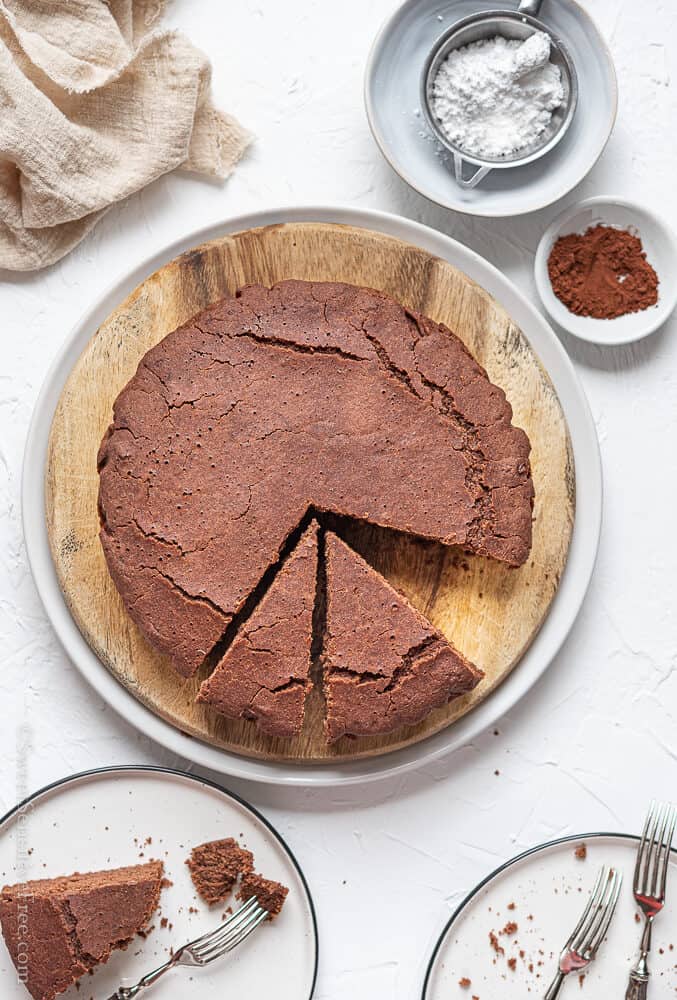 Anyway, pre-heat the oven at 350° F/180° C, then you'll start by mixing the dry ingredients for the cake, then add the wet ingredients, whisk them all together and finally add the whipped aquafaba, as you would do with whipped egg-white, a couple spoons at a time and very gently incorporating it to the cake batter. I noticed immediately that it looked different from my usual cake batters (where I use flaxseeds to replace eggs), more airy, but a bit more liquid too. Hence my worry for the outcome.
Well, now pour the batter in a non-sticking baking pan and into the oven for 30-35 minutes. But after the first 20-25 minutes keep the cake checked every few minutes, especially at the center.
You know, by inserting a toothpick in the cake and when it comes out dry the cake is ready.
Once out of the oven it's very important you let the cake cool down before slicing it.
As happy as I was with the result and the taste, I have to admit it tends to crumble a bit.
Baking without gluten, dairy and eggs definitely is challenging, funny yes, but challenging nontheless.
But I'll keep going and try to perfect my experiments and I would LOVE to hear your thoughts and advice on the matter 😀
Ciao!
Sonia
---
📖 Full Recipe
Print Recipe
Gluten free Chocolate Cake with Aquafaba (Vegan)
Soft and delicious gluten free aquafaba chocolate cake, that uses whipped aquafaba as an egg replacer! Fully vegan and flavorful, this cake is easy to make and versatile!
Equipment
kitchen scale

2 bowls

hand mixer

spatula/spoon

9-inch baking pan
Ingredients
Dry Ingredients
200

grams (1+½ CUPS)

gluten free brown rice flour

100

grams (½ CUP + 2 tbsp)

potato or other gluten free starch

70

grams (½ CUP)

brown sugar

3

tablespoons

unsweetened cocoa powder

3

teaspoons

baking powder

(or 1 teaspoon baking soda + 2 teaspoon cream of tartar powder)
Wet Ingredients
40

grams (3 tbsp)

melted vegan butter

200

grams (1 CUP)

gluten free plant based milk

100

grams (½ CUP)

aquafaba, whipped (see post for direct link to recipe)
Instructions
Pre-heat the oven at 350° F/180° C

In a bowl mix the dry ingredients

Add the milk and the melted vegan butter and mix well

Now add the whipped aquafaba two tablespoons at a time, carefully incorporating it to the batter with a spatula, with movements from the bottom to the top of the bowl

Don't over mix, the batter has to be liquid but airy

Pour the batter in a 9 inch (non-stick or previously greased) pan and bake for 30-35 minutes. BUT, after 20-25 minutes have passed, keep an eye on the cake, checking it - especially in the middle - by inserting a toothpick. When it comes out clean, the cake is ready

Once out of the oven, let the cake cool down completely before slicing, as it may crumble.

Dust it with vanilla powdered sugar for extra flavor
Notes
Please note that measurements in cups may be slightly different from the ones in grams, due also to the difference in texture/grinding of naturally-gluten free flours. Which is why the use of a kitchen scale is advised, for a correct outcome of the recipe.