Truth be told, the first time I made this gluten free vegan coconut & chocolate pancakes I was in need of comfort after one of my many gluten free, vegan baking fails.
I had successfully baked a savory goodie (that I will be sharing on the blog soon) and decided to make a carrot cake … sort of …
Let's just say that when after 15 minutes into the oven, I took a look at it and saw it literally bubbling as if it were deep-frying, all I could do was switch off the oven, take it out and look at it, crying a little inside (if you follow me on Instagram you may have witnessed the aftermath in my IG Stories …)
It was not edible, at all, so it had to be thrown in the bin.
And besides the disappointment, what I really, really hate is wasting food and ingredients. I hate it.
But I still wanted to make something sweet, both for my sweetheart and hopefully to be shared on the blog, but the oven was already off and I was so not going to switch it on again.
So I decided that pancakes were the right thing to go for.
Or not, as my non sticking crepe pan apparently didn't want to be non sticking for the occasion. And I ended up with half scrumbled and half weirdly shaped pancakes. And I was like, what the f … !
Yet, they tasted SO good and they were SO soft, I didn't want to give up and gave them a second try (on another day, as the Gluten free Cooking Gods were clearly on vacation and not willing to help that day), not making them on the crepe pan, but in a small saucepan, so that they got thicker too. And it worked! Woot woot!
So keep scrolling down to get the recipe for these soft, thick, comforting, vegan, gluten free, low in refined sugar chocolate & coconut pancakes!
And tag me @sweetsensitivefree on Instagram to let me know you made them and to be featured in my IG Stories!
Ciao!
Sonia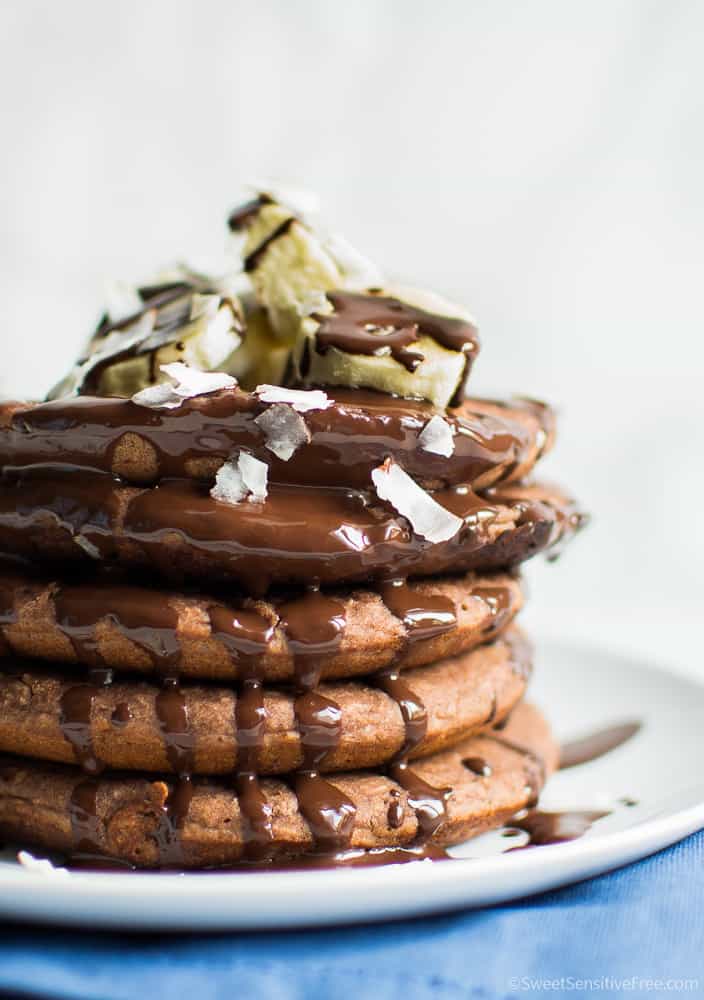 📖 Full Recipe
Print Recipe
Soft Gluten free Vegan Chocolate & Coconut Pancakes
Super easy recipe for thick, soft gluten free vegan chocolate & coconut pancakes!

Ingredients
80

gr

gluten free brown rice flour

70

gr

gluten free coconut flour

50

gr

gluten free (potato) starch

2

tablespoon

gluten free unsweetened cocoa powder

2

tablespoon

ground flax seeds

1

teaspoon

cream of tartar

½

teaspoon

baking soda

1

tablespoon

seed / coconut oil

200

gr

gluten free veg milk (I used rice milk)
Instructions
In a bowl mix well all the dry ingredients first, then add the liquid part and whisk until you get a smooth, uniform batter


On a non-sticking (or greased) pan pour a couple tablespoons of batter at a time, let it cook for a minute more or less, or anyway until bubbles appear on the surface. Flip it upside down and let cook for another minute


If you want to get even thicker pancakes, use a small non-sticking (or greased) saucepan. Pour a couple tablespoons of batter in it, cover with a lid and let cook for a couple minutes, with a spatula make sure the bottom side doesn't burn and when the top side is cooked, remove the pancake from the sauce pan


Add more coconut, fruit or melted chocolate on top and enjoy!