I've actually made this gluten free vegan pastry cream many times before and I don't really know why it took me so long to share it. Sorry!
This eggless pastry cream is very easy to make and so versatile, it's the perfect filling for many desserts, like fruit tarts and bignets. Try it in this gluten free pastry cream pie!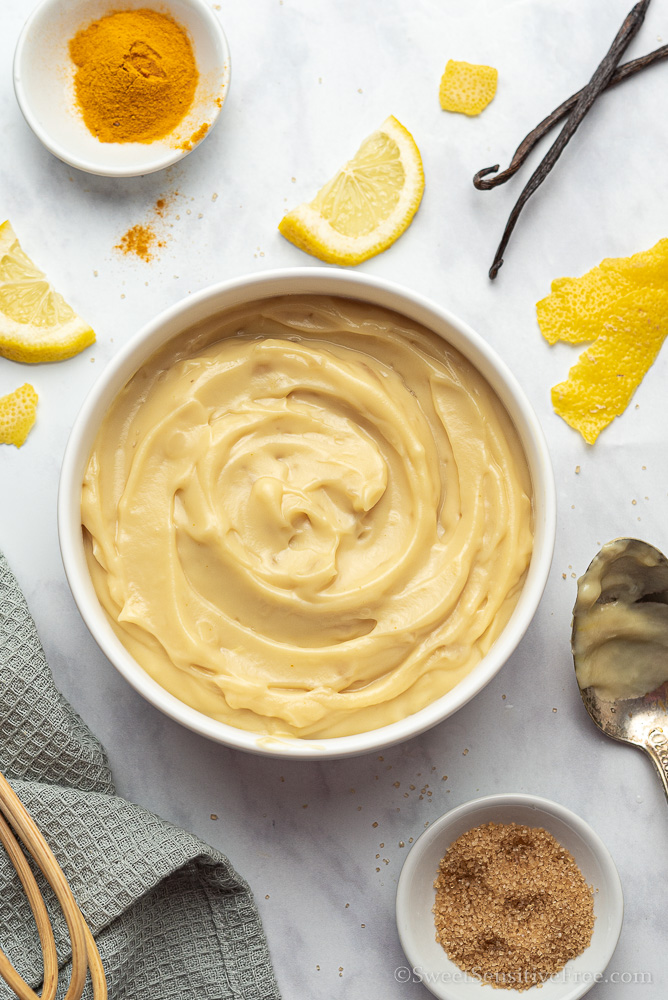 This vegan creme patissiere (French term for pastry cream) is:
without xanthan gum
it contains no butter, no milk, no egg, no cornstarch
easy, quick and thick
small batch, enough to fill a regular pie or tart
Jump to:
Ingredients
Gluten free, plant based milk, soy would be the best option as it contains proteins, but I've made it with rice milk and it works just as great
Vegan butter, or margarine
Gluten free starch, I've used both potato and tapioca starch, they work great. Whatever starch you choose, make sure it is certified gluten free
Brown sugar, white sugar or other sweeteners are ok too
Vanilla bean, or vanilla extract
Lemon zest, when cutting it, leave the white part out as it has a bitter taste
Turmeric powder, this one is optional, it only adds color if you want a yellow vegan pastry cream, but you can leave it out if you want to
See the recipe card below for all the quantities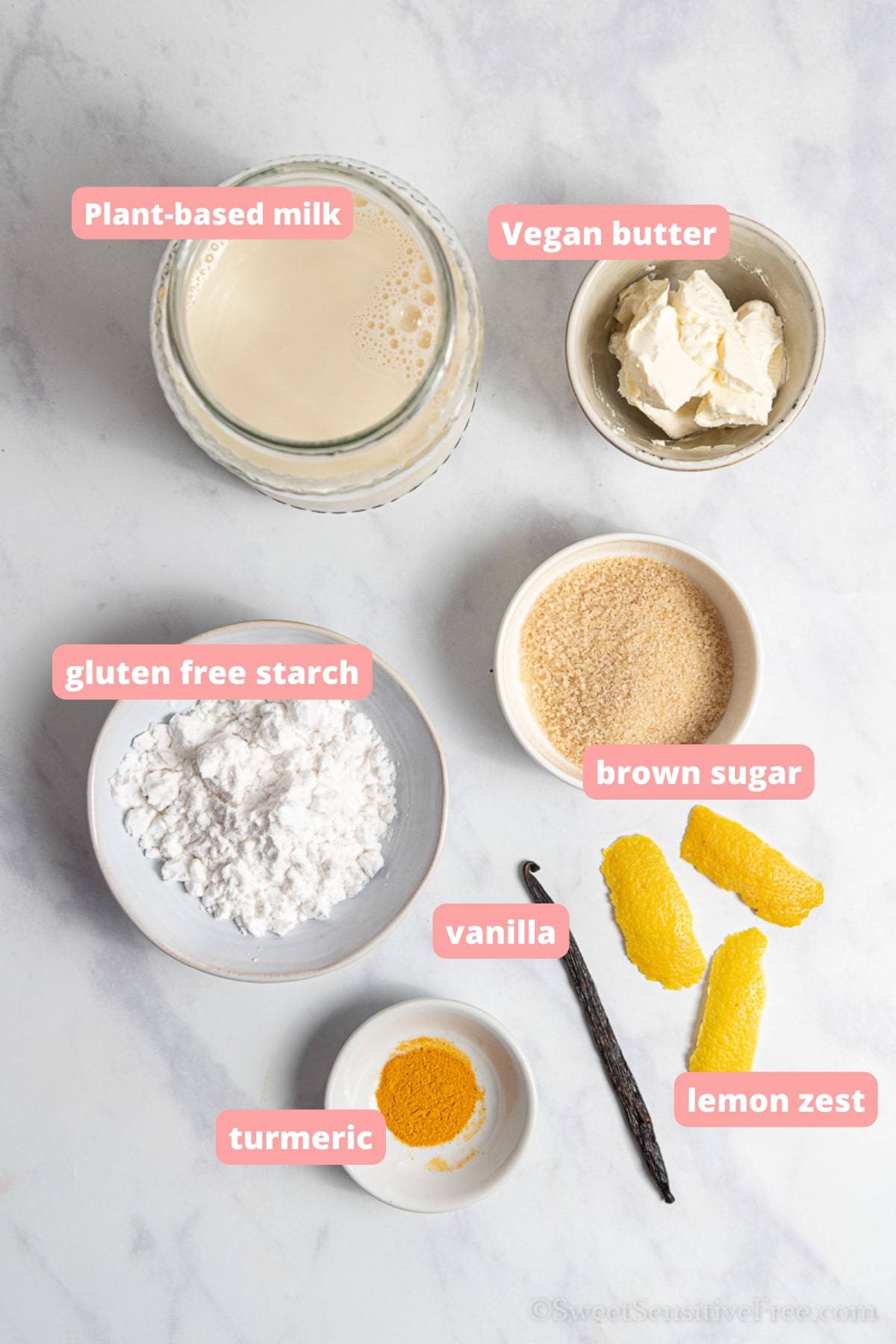 Steps to make vegan pastry cream
add the margarine to a saucepan on low heat and let it melt, add the starch and whisk quickly
add a small part of the plant based milk and keep whisking the mix
pour the remaining milk, keep whisking vigorously to avoid clumps
add the sugar (start with 2 spoons, taste it before adding more)
add the lemon zest, vanilla and turmeric (this one is optional)
keep whisking, it will take a good 10 minutes before the cream thickens
once you have a thick and smooth pastry cream, remove from stove and cover with cling film (also directly on the cream) to avoid the surface to dry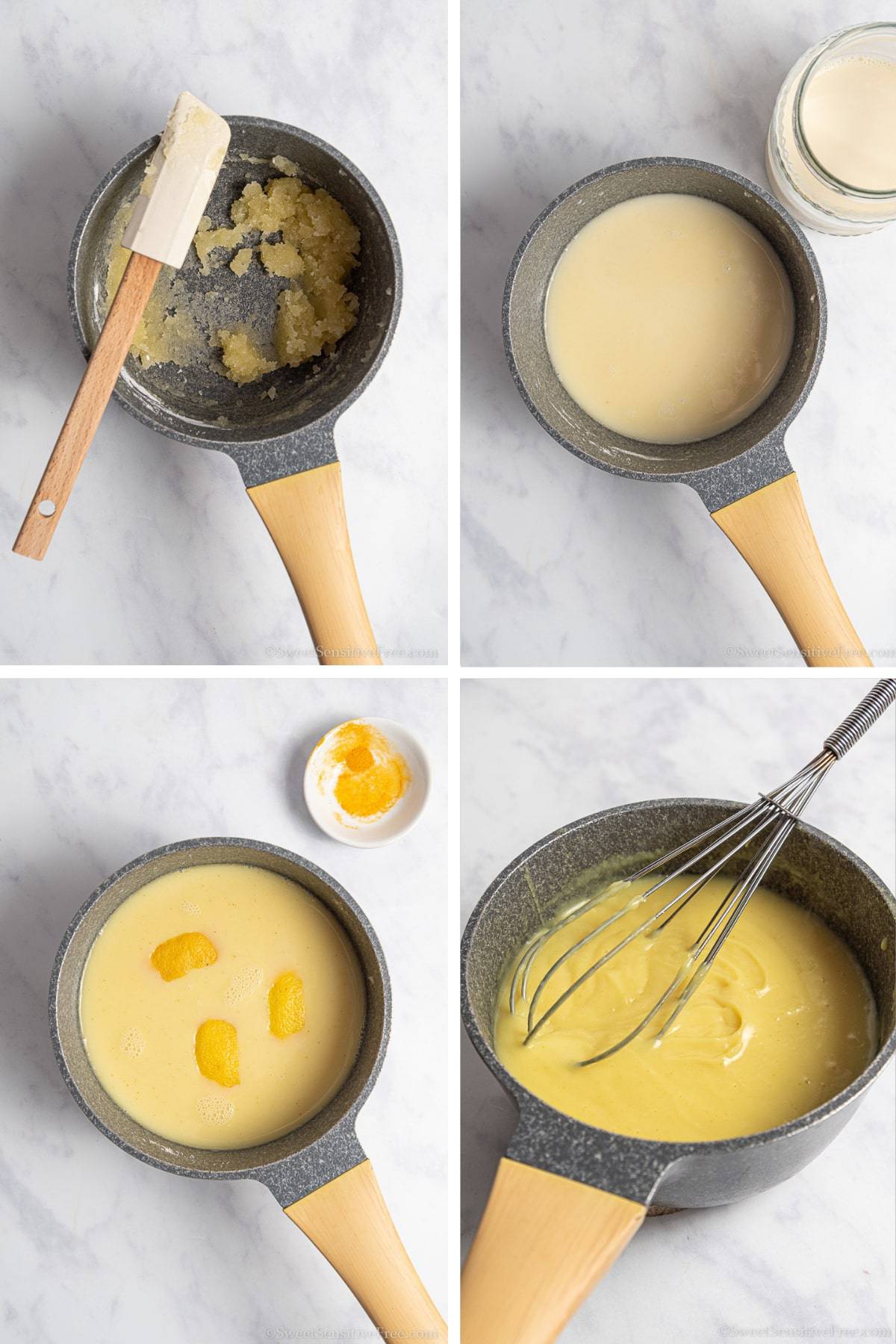 Questions and Tips
What's the best plant based milk for the vegan pastry cream?
I've made it with rice milk and soy milk and they both work well in the recipe.
Soy milk is a bit better, as its proteins help thicken the cream
Can I use white rice flour for this recipe?
I wouldn'd advice it, white rice flour gives the cream a slightly transparent, unappetizing look and texture.
Gluten free starch makes the pastry cream smoother and more uniform.
What do I do if some clumps form in the pastry cream?
For a smooth vegan pastry cream you can "sift" it.
Pour the cream in a sifter (better if it's a fine mesh one) and press the cream through it with a spatula.
Can I avoid using the turmeric?
Absolutely! In this recipe turmeric is only used to add the yellow color typical of traditional pastry cream.
If you decide to add it, start with a very small pinch, stir and taste. If you add too much it changes the cream's taste.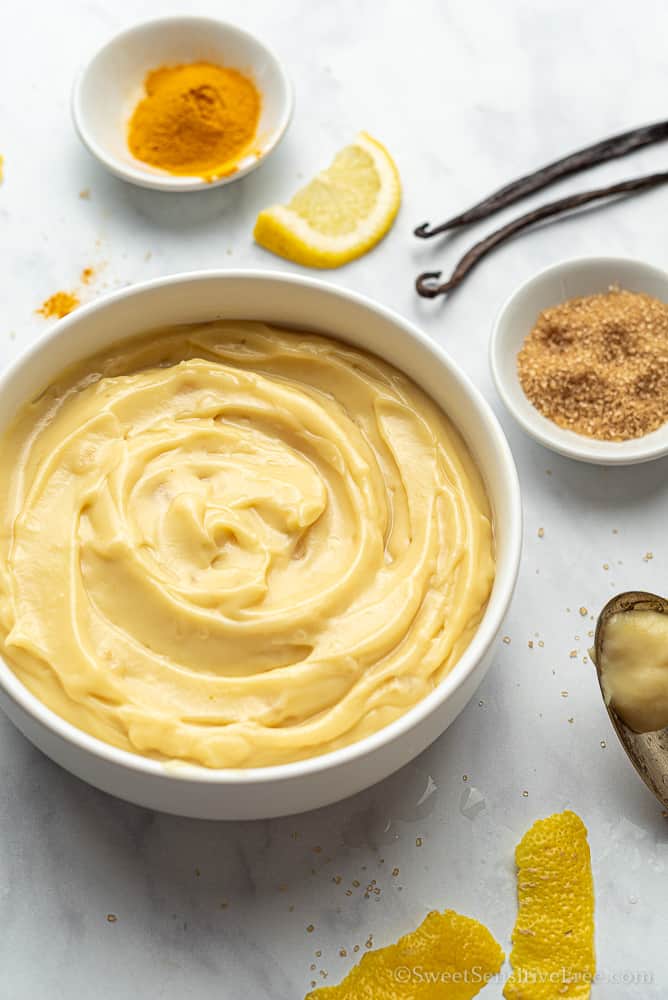 I hope you will enjoy this eggless and dairy free cream!
If you make this recipe or have questions, leave me a comment down here! And a 5 star rating if you have loved it would help me grow the blog 😉
For all the updates, follow me on Facebook and Pinterest and tag me on Instagram if you make this or any of my recipes! I absolutely LOVE to see what you make and share it in my stories!

Ciao!
Sonia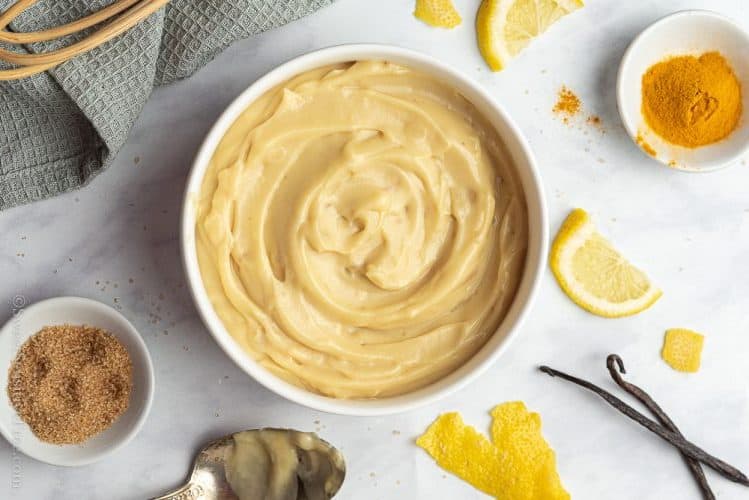 📖 Full Recipe
Print Recipe
Gluten free Vegan Pastry Cream
Make your gluten free vegan pastry cream at home, few simple ingredients to make this scrumptious dairy free pastry cream for your desserts!
Equipment
1 non stick saucepan

1 whisk or spoon

1 kitchen scale

cling film to cover the cream
Ingredients
50

gr

margarine/vegan butter

50

gr

gluten free potato starch (or other gf starches)

2-3

tablespoon

brown sugar

seeds

of

1 vanilla pod (or 1 tablespoon of vanilla extract)

zest

of

half a lemon (3-4 large strips, not grated)

pinch

of

turmeric powder (optional, only for coloring)

500

gr

plant base, gluten free milk
Instructions
place a small non sticking saucepan over low heat, add the margarine/vegan butter and let it melt, then add the gluten free starch and quickly stir everything together with a whisk or spoon, in order to avoid clumps 

add a small part of the plant based milk and keep whisking the mix

add the remaining milk, keep whisking vigorously to avoid clumps

add the sugar (start with 2 spoons, taste it before adding a third spoon)

add the lemon zest, vanilla and turmeric (this one is optional)

keep whisking, it will take a good 10 minutes before the cream thickens

once you have a thick and smooth pastry cream, remove from stove and cover with cling film (also directly on the cream) to avoid the surface to dry

let it cool down before using it in other desserts