Hello again my dear and (belated) Happy New Year!
I hope you had great holidays, filled with tasty, comforting food!
My sweetheart and I spent Christmas out of town visiting family, facing many hours on the road and a few stops at motorway service areas and having food intolerances, we realized how hard it is to find something to eat that meets our needs, while traveling on the road.
You can't really find much besides the good old grilled sandwiches and packaged candies, that is.
He told me how he actually misses having those big stuffed panini, like when you have a trip with friends, everyone has sandwiches filled with all the tasty things in the world and he has the same old cold rice salad, at best. Some fruit and gluten free crackers, at worst.
Or when you need to have a quick lunch out, couldn't really cook anything at home to bring along and are not too willing to go from one place to another, in an endless search for something gluten / dairy / egg free ... ending up having the usual sad green salad.
My gluten free buckwheat bread loaf and millet olive bread are two of the most popular recipes here on the blog, but the "problem" with them is that - since I only use gluten free natural flours without thickeners - I can't really give them the shape I want, except that of a baking pan.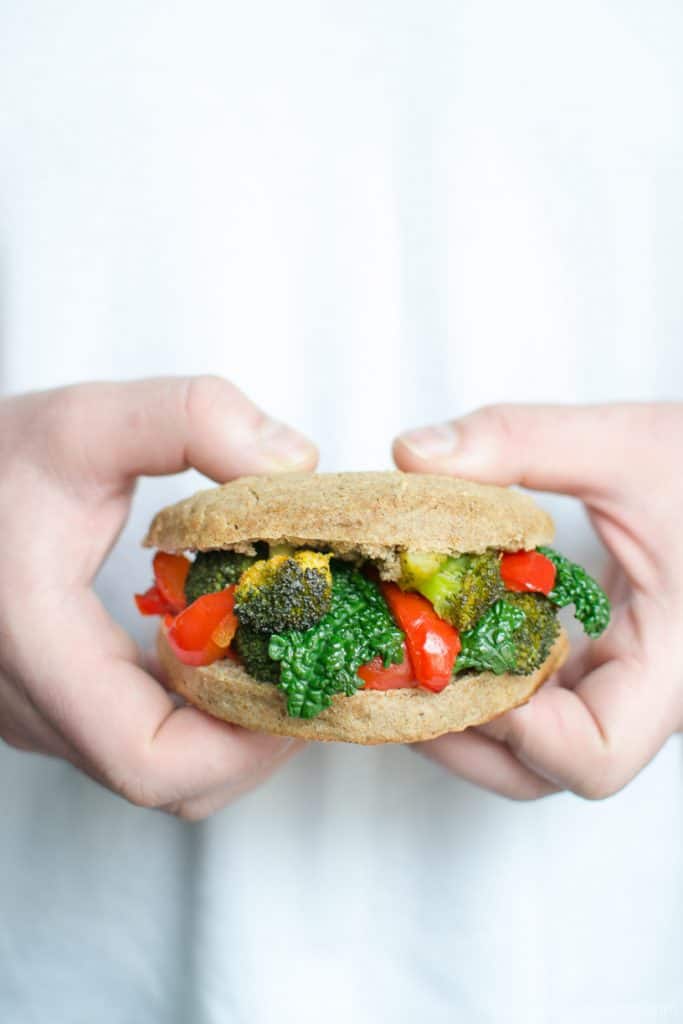 I thought and thought about how I could shape my gluten free bread into round buns and found this very useful video (click here) that teaches you how to make foil rings at home, in a quick and cheap way!
So scroll down for the recipe, it is easy and you will have healthy gluten free buns made with natural flours and no store bought flour blends!
And you can save the foil rings for more baking sessions too!
Let me know if you try these bread buns and what your favourite filling is too!
And if you are looking for more gluten / dairy / egg / corn free recipes, you can find many here on the blog, so why not make yourself a hot cup of tea, relax and take a look around here 😉
Ciao!
Sonia
📖 Full Recipe
Print Recipe
Easy Homemade Gluten free Bread Buns
Easy recipe to bake your own gluten free bread buns with a homemade flour blend, to fill with anything you want, perfect for a quick, healthy, tasty lunch break!

Ingredients
For the foil rings:
Aluminum foil

Stapler

Parchment paper
For the buns
200

gr

glutenfree brown millet flour or buckwheat flour

200

gr

glutenfree brown rice flour

100

gr

glutenfree potato starch

1

teaspoon

salt

1

tsp

cream of tartar

½

teaspoon

baking soda

3

tbsp

ground flax seed + 9 tablespoon water

9

gr

gluten free instant dry yeast

400

gr

warm water

2

tablespoon

olive oil

1

teaspoon

honey or sugar
Instructions
Make the foil rings following the instructions in the video linked up in the post, lay them on a baking sheet covered with parchment paper and a parchment paper ring in each foil ring (so that the buns won't stick)

Mix the ground flax seeds with the water and let it rest a few minutes

In a bowl thoroughly whisk the dry ingredients, then add the water, olive oil, honey and flaxseeds, mix everything with a spoon and pour the batter into the molds

Let them rest for 30 minutes and pre-heat the oven at 360 F / 180 C

Bake for 30-40 minutes, once out of the oven let the buns cool down before removing them from the molds

To keep them soft a couple days, wrap them in parchment paper and then aluminum foil
If you have one left that goes dry, cut into small cubes, sautee them with some seed oil until crunchy and you have some croutons to add to soups or salads!