A delicious vegan peach dessert! This gluten free peach crisp is so simple to make, it is dairy free and without oats and it's the perfect amount of crispy, sweet and juicy!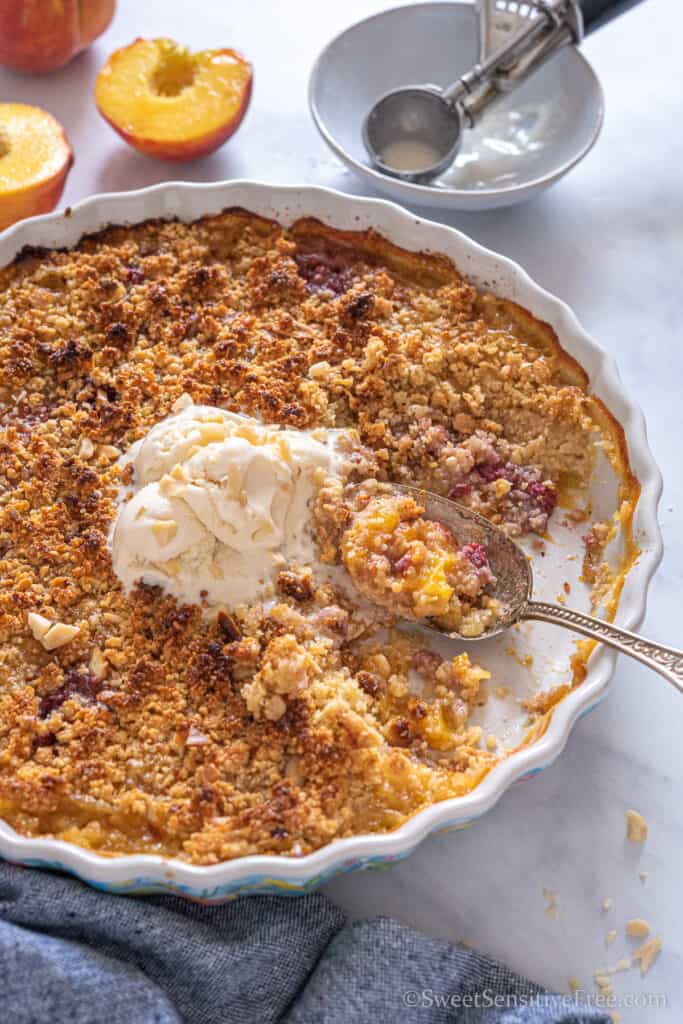 Jump to:
It is the season of peaches, some of the most juicy and delicious fruits of the whole year, which (as you may already know) I can't eat raw because of cross reactivity with my pollen allergy. Urghhh!
So I decided tomake a gluten free vegan peach crumble, a baked dessert with a juicy fruit base and a crunchy sweet topping.
Looking for another deliciously summer-y dessert? Check out this gluten free vegan lemon cake with coconut frosting!
Ingredients
As you know, for most of my recipes I like to keep things as simple as possible.
For the fruit base you will need:
fresh peaches, they shouldn't be over ripe
brown sugar, you can omit it or use another sweetener of your choice of course
rum, this one is definitely optional but nice for an extra kick
berries (optional), I usually add them when I have a handful of frozen ones that need to be used up
For this vegan peach crisp topping without oats you will need:
almond flour, or make your own almond meal by finely grinding raw almonds in a food processor or blender
margarine or vegan butter, it has to be cold and not softened/room temperature
brown sugar, here too you can omit it or use another sweetener of your choice
vanilla extract, this is optional or can be replaced with grated lemon zest too
pinch of salt, to contrast the sweetness
sliced or chopped almonds for extra crunch
plant based and gluten free ice cream or yogurt, great for that warm/cold contrast when you serve this gluten free peach crisp slightly warm!
Find all the quantities in the recipe card below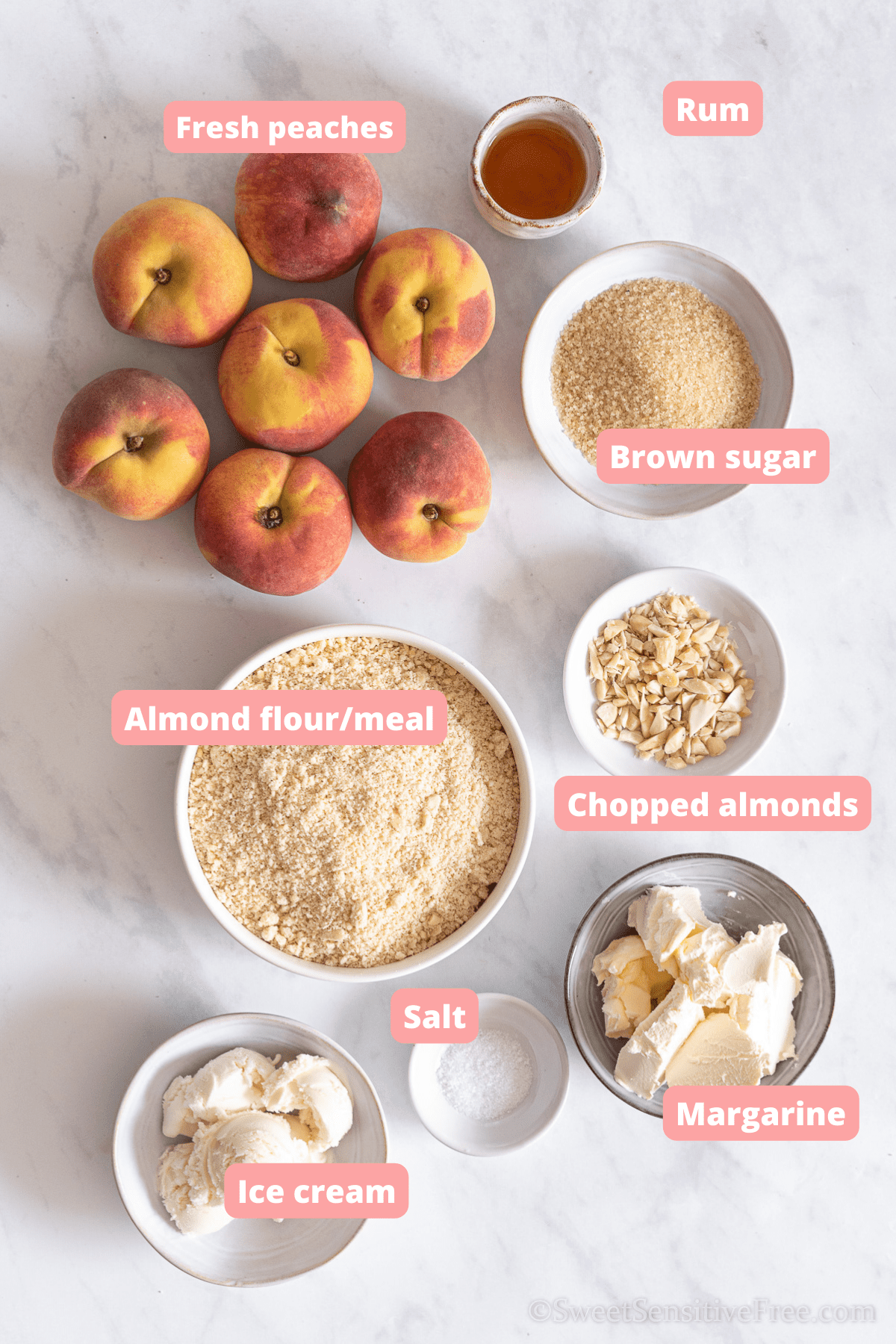 Instructions
Here's how to make your homemade non dairy peach crisp gluten free and without oats:
slice the peaches as you prefer, either into wedges or irregular pieces
place them in a non-sticking pan, add the sugar and let simmer on medium-low heat for a few minutes
if desired, add the rum and let simmer for another 5 minutes
add almond flour, sugar (optional), salt, vanilla (optional), margarine and the chopped almonds to a bowl and mix well, squeezing all the ingredients together with your hands
refrigerate for 30 minutes
pre-heat the oven at 180 C / 350 F
spread the cooked peaches in a baking pan, sprinkle a handful of (frozen) berries (optional) and crumble the almond mixture all over the peaches
bake for 20-30 minutes or until the fruit base is bubbly and the topping is nice and golden-brown
serve warm topped with ice cream or yogurt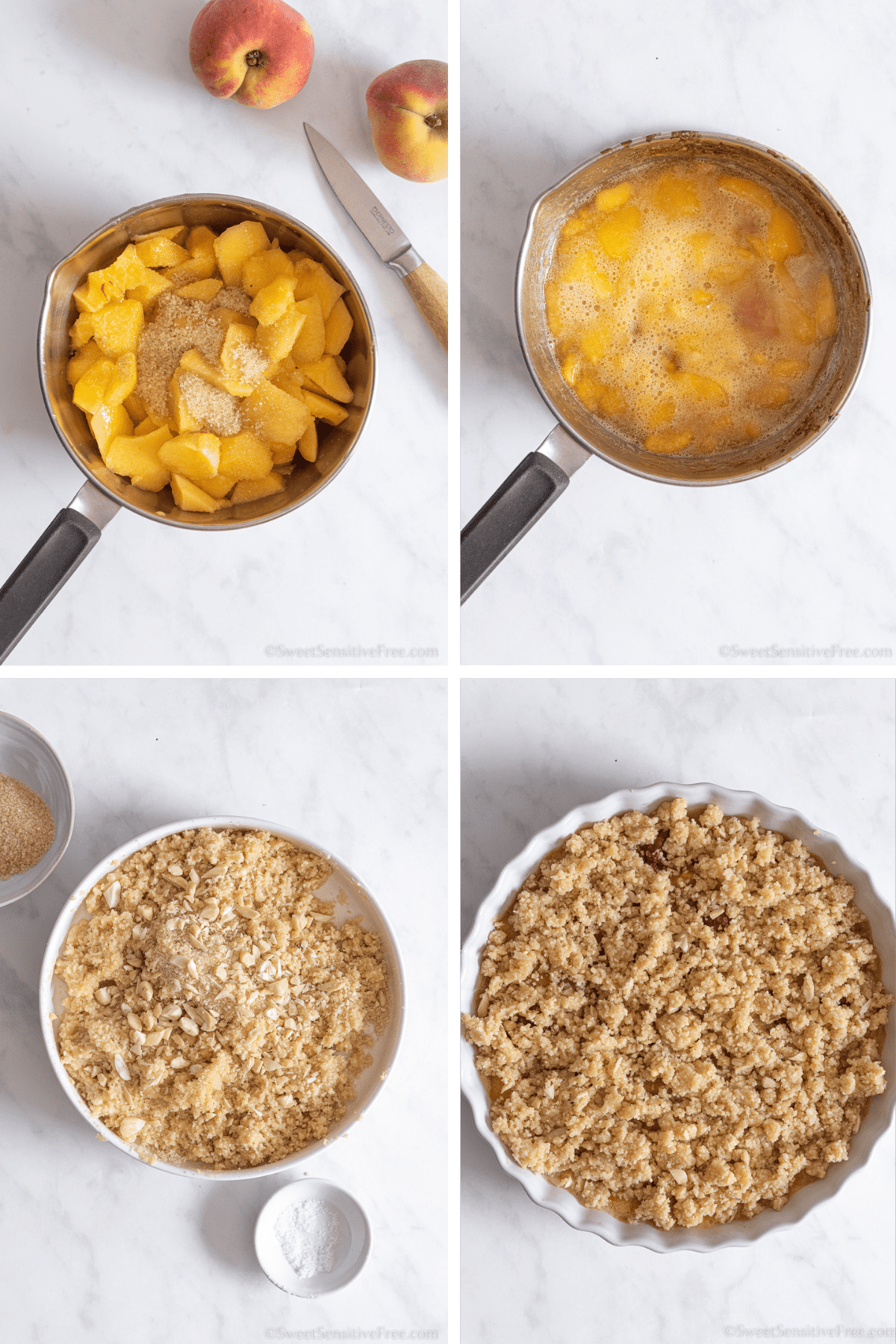 It is super easy and quick to make, you can add more fruit, like in my case, I had some berries in the fridge to use up, but apricots, strawberries, plums are perfect too!
Oh and this gluten free peach crumble is best served warm and definitely calls for some icecream or yogurt on top!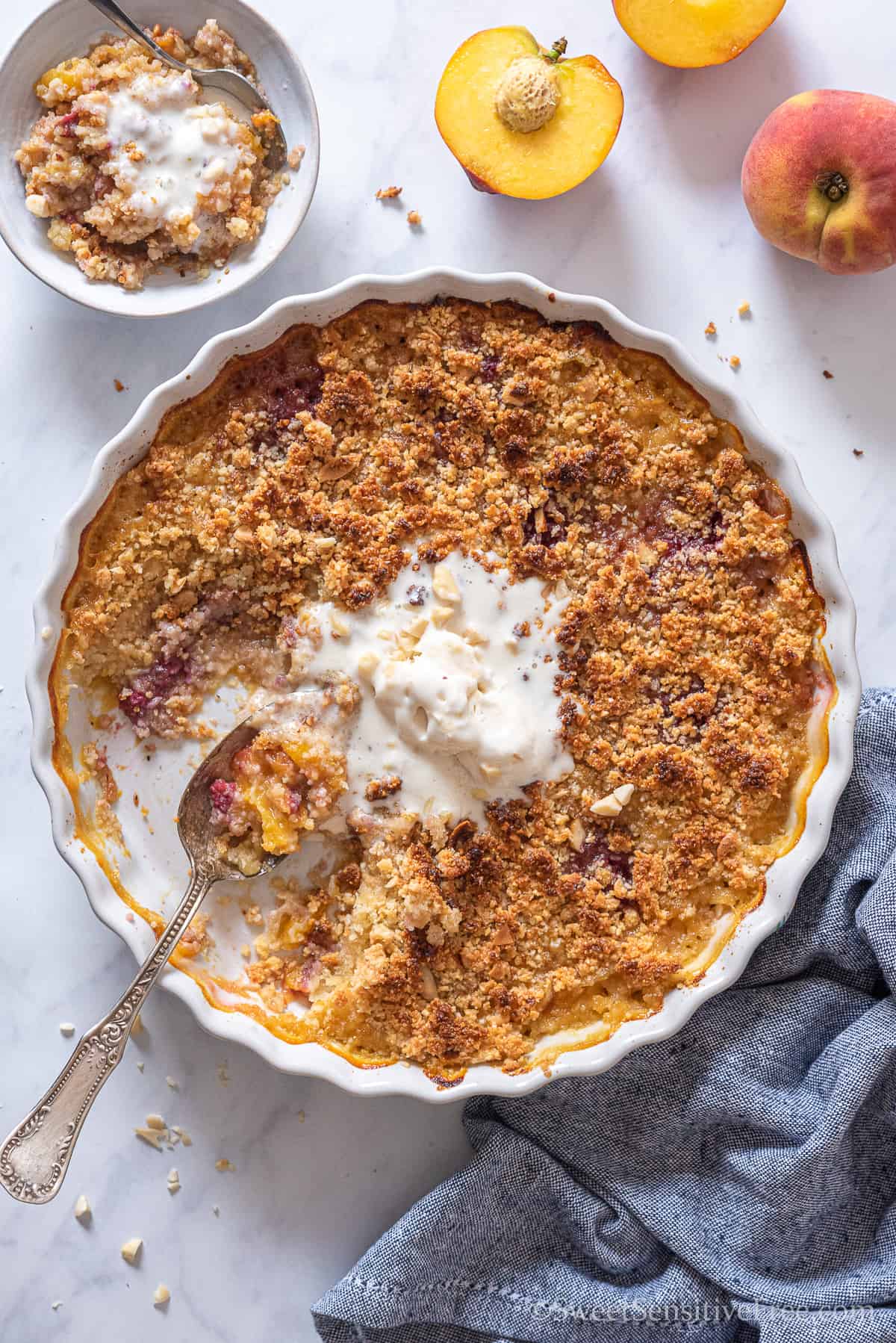 If you make this recipe or have questions, leave me a comment down here!
And don't  forget to tag me on Instagram if you make this or any of my recipes! I absolutely LOVE to see what you make and share it in my stories!

Ciao!
Sonia
📖 Recipe
Print Recipe
Gluten free Peach Crisp | Vegan + Oat free
A super easy recipe for vegan gluten free peach crisp, an easy dairy free dessert to serve warm and topped with ice cream or yogurt!
Equipment
1 knife

1 non sticking pan

1 bowl

1 10-inch baking pan or pie dish

1 kitchen scale
Ingredients
For the fruit base
7-8

yellow peaches

3

tablespoon

brown sugar or other sweetener (optional)

3-4

tablespoon

rum (optional)
For the crumble
300

gr

almond flour (or homemade finely ground almond meal)

Alternatively you can also use 200 gr almond flour + 100 gr rice flour

3

tablespoon

brown sugar or other sweetener (optional)

¼

teaspoon

of salt

100

gr

margarine or vegan butter

vanilla

extract to taste (optional)

2

tablespoons

sliced or chopped almonds

(vegan)

yogurt or icecream for serving
Instructions
slice the peaches as you prefer, either into wedges or irregular pieces

place them in a non-sticking pan, add the sugar and let simmer on medium-low heat for 5-10 minutes, until the peach juices come out

if desired, add the rum and let simmer for another 5 minutes

in a bowl add almond flour, sugar (optional), salt, vanilla (optional), margarine and the chopped almonds and mix well, squeezing all the ingredients together with your hands, until big crumbs form

refrigerate the almond mixture for 30 minutes

pre-heat the oven at 180 C / 350 F

spread the cooked peaches in a baking pan, sprinkle a handful of (frozen) berries (optional) and crumble the almond mixture all over the peaches

bake for 20-30 minutes or until the fruit base is bubbly and the topping is nice and golden-brown

serve warm, topped with ice cream or yogurt